It's great to see how the electronics industry is responding to the global COVID19 pandemic. Intel, for example, said it will source and donate more than 1 million items of personal protective equipment – masks, gloves and other gear – to healthcare workers.
NVIDIA is giving COVID-19 researchers free access to Parabricks for 90 days. The genome-sequencing software for GPUs accelerates the journey to understanding the novel coronavirus.
Wright Williams & Kelly, Inc. (WWK) (https://wwk.com), a leader in Cloud-based cost and productivity management software and consulting services is offering access to its software platforms at cost to any organization shifting production to help fight the Covid-19 virus.
What I'm NOT seeing is any kind of organized effort at addressing the vast shortage of ventilators. These are relatively simple machines – at least by semiconductor manufacturing equipment standards – that help patients breath during the late stages of infection.
Ventilators aren't particularly complicated: inventor James Dyson designed one in 10 days and now has it in production with the goal of producing 15,000 soon.
A ventilator (also called a respirator) is made of a compressed air reservoir, air and oxygen supplies, a set of valves and tubes, and a disposable or reusable patient circuit. The air reservoir is pneumatically compressed several times a minute to deliver room – air or in most cases an air/oxygen mixture. The lungs elasticity allows releasing the overpressure, this is called passive exhalation, and the exhaled air is released usually through a one-way valve within the patient circuit. The oxygen content of the inspired gas can be set from 21 percent (ambient air) to 100 percent (pure oxygen). In short, they consist of a pump, sensors, electronics, software and a display – all to control pressure and flow. Here's a link to a NXP report that describes the basic functions and hardware/software requirements of a ventilator: https://www.nxp.com/docs/en/application-note/DRM127.pdf
So how could the semiconductor industry help? For one, the industry is very adept at organization, innovation, collaboration, managing complex supply chains and roadmapping. It should be relatively straightforward to take that expertise and create an open source advanced ventilator design that many equipment manufacturers could use to start immediate production.
Second, I would venture that no one understands pressure and flow better than those that have developed processes for deposition and etch, which require extremely precise control of pressure and gas flow. Surely, engineers at Applied Materials, Lam Research, TEL and other firms could lend their expertise.
I'm also quite certain that the electronics in even the latest state-of-the-art tools from Medtronic and others could benefit from some optimization to reduce cost. Given that there's a long approval process for any kind of medical electronics, it's almost always the case that the chips are outdated by the time the machine is released. That approval process could be greatly sped up at this point so state-of-the-art chips and homegeneous integration/advanced packaging could be employed.
What gives me hope is that at least two groups are already working to put out an open source ventilator design.
In the U.S., Boston-based MIT is working on rapid deployment of an open-source, low-cost ventilator. However, to my untrained eye, this looks like a robot squeezing an inflatable bag – wouldn't a simple pump be better?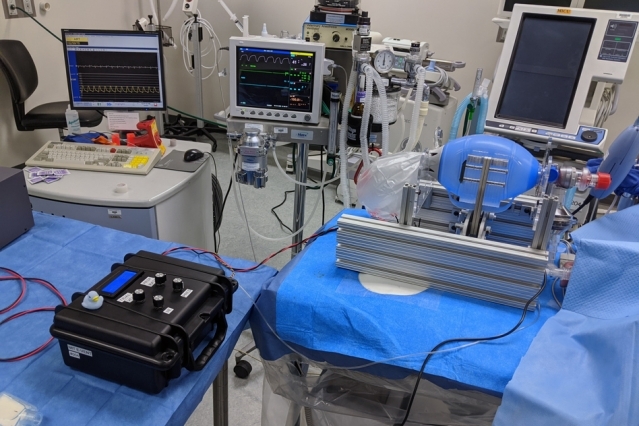 In Ireland, engineers and doctors have teamed up on the Open Source Ventilator project, which is working to begin development of a Field Emergency Ventilator (FEV). Again, however, this is a relatively simple ventilator for use in the field — not the advanced ones used in hospitals.
Tesla has also been in the news recently, announcing that it has the capabilities to design and produce ventilators through it's automotive and space exploration arms. The company did, in fact, make 1000 ventilators available to local hospitals in CA although my understanding is that these were sourced from China. The company announced a New York ventilator "Gigafactory" was going to open as soon as humanly possible. Elon Musk said distributing and installing the machines is that hard part.
Medtronics has increased production by more than 40 percent to date and is on track to more than double its capacity to manufacture and supply ventilators.
And just today, a deal with General Motors and Ventec Life Systems to produce tens of thousands of ventilators fell through due to the high cost.
I'm sure there are a lot of other activities in place, but wouldn't it be great if a SEMATECH-like group formed and provided a forum to enable manufacturers to collaborate to quickly get a world-best open source ventilator design approved and make it available to capable equipment manufacturers? Manufacturers of ventilators should also make the details of their designs available to such open source efforts and forget about patents for the moment – if not, how hard would it be to reverse engineer them? This would let everyone with some equipment building expertise turn over a least part of their lines to producing ventilators. Such a grass roots campaign would surely be faster than rerigging a Ford or Tesla assembly plant. Desperate times call for desperate measures, and the semiconductor industry needs to step up. Pressure and flow, let's GO!
Update, 3/30/2020: Medtronic has now released the design files of its PB560 ventilator system with this message: "Medtronic is mobilizing to fight the COVID-19 pandemic — and we're inviting innovators everywhere to join us. Currently, there is a shortage of respirators and ventilators around the world. As recently announced, Medtronic is responding to this crisis by making the design files for the PB560 ventilator system available to the public. Our hope is that manufacturers and engineers will use this intellectual property to inspire their own potentially lifesaving innovations." Way to go Medtronic.
On March 27th, President Donald Trump ordered General Motors to make ventilators under the Defense Production Act hours after criticizing the company for not acting quickly enough to produce the devices amid the coronavirus pandemic. The order came hours after GM announced plans to build critical-care ventilators with Ventec Life Systems at one of the automaker's component plants in Indiana. A New York Times report describes the efforts at GM and Ventec to ramp ventilator production quickly.