TECHCET—the electronic materials advisory firm — announced silicon parts demand is outpacing supply given pandemic-induced needs for increased safety stocks and high chip production. Even if the pandemic subsides next year, the supply tightness is expected to continue beyond 2022 as parts will be needed to support growing 3DNAND and leading-edge logic device production.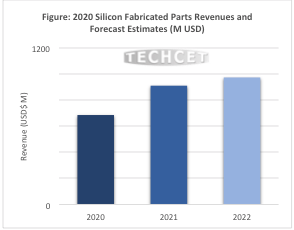 Top Concerns About Supply Availability
Silicon Parts capacity is likely to remain below demand for the next year as equipment and ingot materials needed to increase volumes are experiencing long lead-times 2-3X normal.
Strong growth in 3DNAND and advanced logic devices is expected to drive healthy parts revenue growth through 2025, growing 8.7% per year (CAGR 2020-2025)
The OLED market, which also depends upon silicon parts, is experiencing strong growth adding to the supply availability issues
As identified in TECHCET's latest Critical Materials Report™ on Silicon Equipment Components, these concerns about supply availability are revealing opportunities for smaller and potentially new fabricators. IDMs are increasingly receptive to engaging with smaller suppliers in hopes of alleviating supply-chain shortages.
Opportunities for Fabricators of Si and SiC Parts
The upturn in equipment components sales stimulates opportunities for smaller fabricators, "Mom & Pop" shops, that can cater to requests from larger fabricators or IDMs that own the parts designs. This is most prevalent in Asia.
The shorter lifetime and potentially lower cost of ownership of silicon parts compared with CVD SiC parts are essential factors that will continue to stimulate a transition away from silicon to CVD SiC. Additionally, because SiC is not dependent on the silicon ingot supply-chain, CVD SiC may also have better availability over the next few years.
2021 is estimated to be up 33% to total $911M in 2021, an unprecedented 2nd year of high growth.
For more information on the silicon parts market, check out our new Critical Materials Report™ on silicon parts: https://techcet.com/product/silicon-equipment-components-research-report/ which includes detailed profiles on Applied Ceramics, CoorsTek, Daewon, DS Techno, FerroTec, Global Wafers, HANA Materials, Hayward , Quartz Materials/ Sungrim, Sanwa, Schunk Xycarb, Silfex, SKC Solmics, Techno Quartz, WorldEx/ WCQ, and others.
TECHCET CA LLC is an advisory services firm expert in market analysis and business development of electronic markets and supply-chains for the semiconductor, display, solar/PV, and LED industries.