At the SEMI FLEX 2019 and MEMS & Sensors Technical Congress (MSTC) (MSTC) February 18-21 in Monterey, California, I had the pleasure of meeting many old friends and colleagues as well as making some great new acquaintances. With MEMS and sensors still a relatively young industry, I am delighted that our community is thriving. We continue to see double-digit growth rates, there is plenty of innovation, and the technology generates massive amounts of data that gets everyone excited about artificial intelligence, deep and machine learning, and blockchain. Those are all the buzzwords that any tech startup needs for funding these days.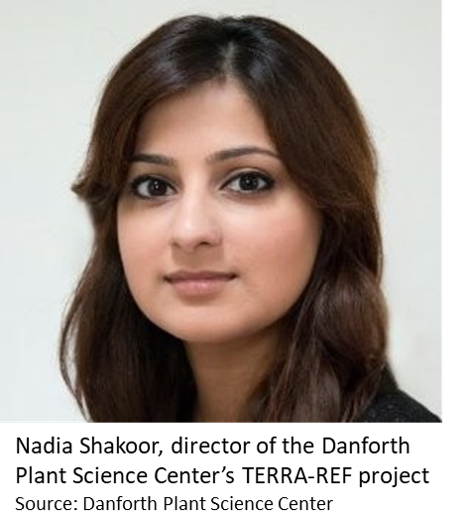 While it is hard to single out any one presentation at conferences, I was particularly struck by Nadia Shakoor's keynote address, "Driving Advances in Crop Breeding and Smart Farm Management." From Nadia I learned that the world's largest agriculture sensing platform was a mere 45 minutes south of where I live in Phoenix, Arizona. This is a major embarrassment to admit as I have lived here for almost 30 years, have been involved in MEMS and sensors for a decade, and have a particular passion for the use of sensors in agriculture and food to improve crop yields and food quality, and to reduce food waste. This humongous sensor was hiding in plain sight right under my nose!
After Nadia's keynote, I just had to speak to her at the break. Nadia is the senior research scientist and project director for TERRA-REF at the Danforth Plant Science Center based in St. Louis, Missouri. Nadia's work employs field-level crop phenomics, the biological study of the set of physical and biochemical traits belonging to a given organism (phenomes). Phenomes are fascinating because they change in response to genetic mutation and environmental influences. The Danforth Plant Science Center and its partners are involved in many phenotyping projects using autonomous vehicles, drones, field scanners, satellite imaging and more.
After the FLEX MSTC event, I emailed Nadia to ask if I could visit the field scanner and her partner team at the University of Arizona in Maricopa, Arizona. She kindly introduced me to Maria Newcomb, a plant research scientist at the site, who gave me a good look at this mother of all field scanners: the Transportation Energy Resources from Renewable Agriculture Phenotyping Reference Platform (TERRA-REF). TERRA-REF aims to transform plant breeding by using remote sensing to quantify plant traits such as plant architecture, carbon uptake, tissue chemistry, water use and other features to predict the yield potential and stress resistance of 400+ diverse sorghum lines.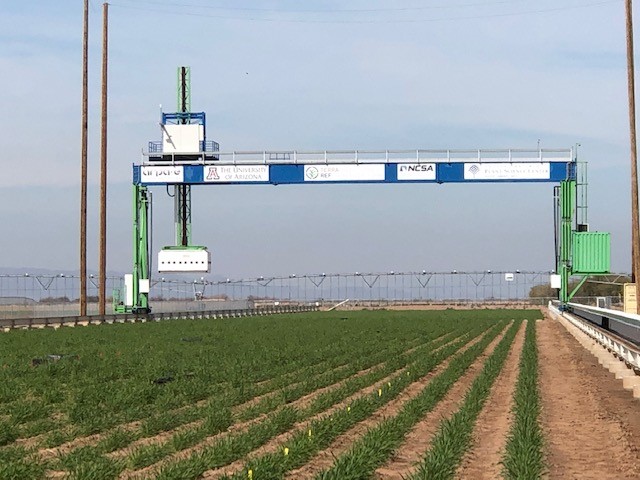 TERRA-REF's Lemnatec Field Scanalyzer is the largest field crop analytics robot in the world. This high-throughput phenotyping field-scanning robot has a 30-ton steel gantry that autonomously moves along two 200-meter steel rails that have recently been extended another 170 meters. It continuously images the crops growing below it by using a diverse array of cameras and sensors to observe the field at a dense-collection frequency with high resolution. These sensors include RGB stereo; thermal, chlorophyll fluorescence imaging system; hyperspectral cameras; a 3D laser scanner; and environmental monitors.
Plant breeding is currently limited by the speed at which phenotypes can be measured, and the information that can be extracted from these measurements. Current instruments used to quantify plant traits do not scale to the thousands or tens of thousands of individual plants that need to be evaluated in a breeding program. The TERRA-REF field scanner system, on the other hand, uses sensors to scan over one acre of plants, collecting thousands of daily measurements throughout the growing season, and these are used to determine plant phenotypes and inform breeding decisions. TERRA-REF's advanced sensor technologies include:
Hyperspectral (250nm-2500nm)
Thermal Infrared
2D and Stereo RGB
PSII chlorophyll fluorescence
3D laser
Environmental sensors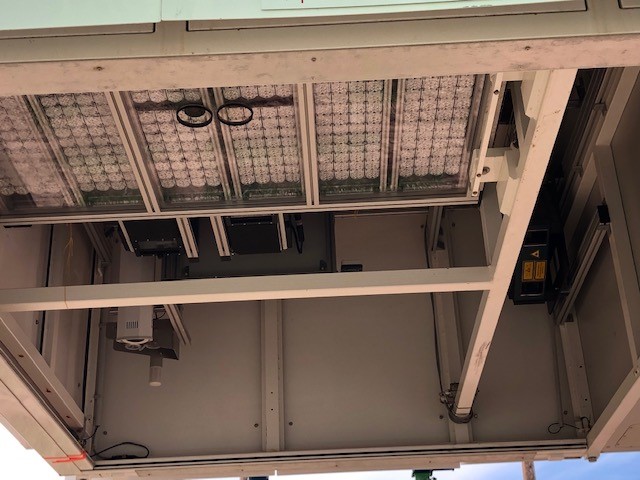 The humongous TERRA-REF field-scanner was certainly a sight to behold, looming like a cargo-ship container crane in the vast flat plains of the Arizona desert landscape. I've only scratched the surface of what this enormous sensor platform can accomplish so if you are a MEMS/sensor company interested in agriculture and food production, I encourage you to get more information at terraref.org and pay a visit next time you are in the area.
Steve Whalley, CEO, Strategic World Ventures, is a strategic consultant to SEMI-MEMS & Sensors Industry Group (MSIG). He also consults with established and emerging semiconductor, MEMS and sensors companies.