TECHCET— the electronic materials advisory firm providing business and technology information on semiconductor supply chains — is forecasting a -2.4% reduction in the 2023 CMP Consumables market composed of pads and slurry following strong performance in 2022. This slight drop is the result of an oversupply in DRAM and general corrections within the market. Despite the drop, the CMP Consumables market is expecting an overall upward 5-year CAGR of 5.2%, as mentioned in the newly released CMP Consumables Critical Materials Report™. During this period, CMP Consumables for copper, tungsten, and oxides will continue to represent most of the market. The largest growth rate in demand over the next 5 years is expected for new metals (Co, Mo, and Ru) pads and slurry combined.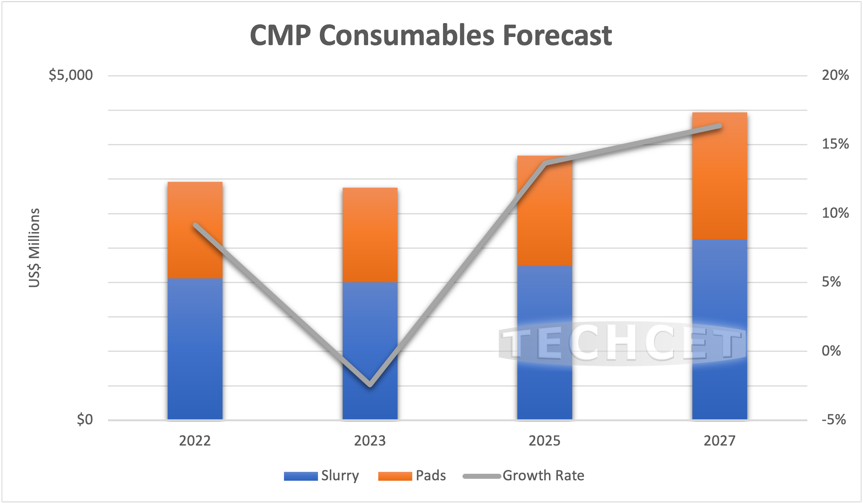 Developments in new methodologies like GAA/Nanosheet, ForkSheet in logic are driving a new set of challenges for thinner layers and better thickness control.​ Additionally, new BEOL materials, such as cobalt, ruthenium, molybdenum are being evaluated to replace W and some minimum dimension Cu interconnects levels. Because of this, new CMP consumables are required to process these materials.
Device makers are continuing to look for ways to reduce consumables costs. In the current market climate with high inflation rates and the high degree of customization, there is little chance that prices will go down. Possible supply chain disruptions due to geopolitical events in China and Russia could also cause delays and price increases as suppliers work to qualify alternate sources of supply for raw materials that they were importing from these countries. Despite these hurdles, there could be an upside for CMP consumable suppliers as "local" equipment suppliers gain traction since they will need to develop process recipes, which could result in an increase in consumables demand.​