By MIKE HOWARD, VP of DRAM and Memory Research at Yole Développement (Yole), in collaboration with SIMONE BERTOLAZZI, PhD, Senior Technology & Market analyst Memory, WALT COON, VP of NAND and Memory Research, and EMILIE JOLIVET, Director of the Semiconductor, Memory & Computing Division at Yole.
The DRAM industry continues to be one of the corner stones of the semiconductor industry. In 2020 it comprised approximately 15% of the total semiconductor market and threatens to garner a larger share in coming years due to a healthier pricing environment. Although the industry has become less volatile than it was five or ten years ago, make no mistake – the DRAM market is still volatile and there are plenty of new tricks for this nearly 50-year-old industry.
2020
Entering 2020, DRAM was poised for a year of growing revenues and increasing prices. 2019 had been a difficult year for the industry with Average Selling Prices (ASPs) declining nearly 50% compared to 2018. Given that suppliers cannot reduce costs more than 10% per year, 2019 saw an enormous erosion of profitability for DRAM suppliers. But 2020 had a few surprises instore. First among all was the pandemic. This severely muddied the visibility into demand and sent DRAM prices up when they were expected to decline, and down when they were expected to increase. The spike in 1H2020 demand driven by Server and PC (and corresponding increase in prices) was matched by softer 2H2020 Server demand and falling prices. One thing was clear, however, exiting 2020: DRAM suppliers had maintained their investment discipline and Capital Expenditure declining in 2019 and 2020 (FIGURE 1). This set the industry up for a recovery as soon as a broad-based recovery in demand.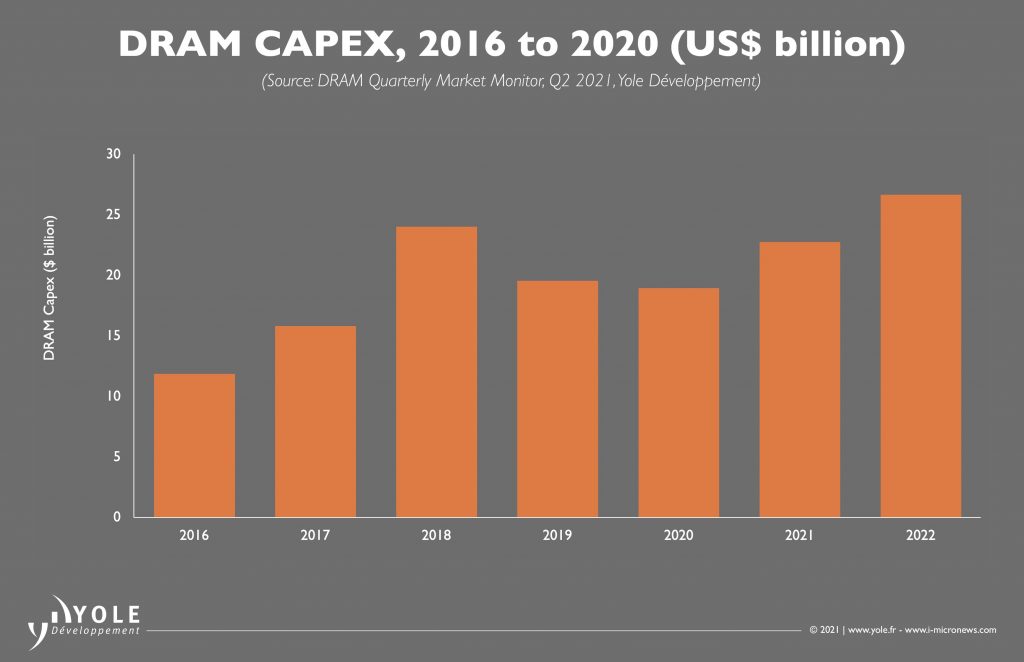 2021
Vaccines started getting approved for distribution in late 2020, giving the world its first real hint of light at the end of the COVID tunnel. The impact on consumer sentiment has been clear. Since vaccines became widely available in the US (~ March 2021) the US Index of Consumer Sentiment has jumped from 76.8 to 86.4, meanwhile US unemployment dropped to 5.8% in May, its lowest level since the pandemic hit in March 2020. While this is only US data, similar impacts can be expected globally as vaccines are rolled out and economies return to normal. The return to global economic normalcy is perfectly timed for the DRAM industry. The recent underinvestment in production capability, coupled with the return of strong demand, have pushed the industry into an undersupplied situation with prices jumping up rapidly as buyers scramble to meet their demand.
The full article appeared in the June/July issue of Semiconductor Digest. Click here to read the full article.