By Dimitrios Damianos, PhD, Technology & Market Analyst, MEMS, Sensors, Photonics & Imaging, in collaboration with Eric Mounier, PhD and Fellow Analyst from Yole Développement (Yole).
MEMS have been continuously evolving. From the first sensors in the 90's, measuring pressure then acceleration (acoustic/mechanical quantities), they moved to rotation sensing (gyroscopes) and visible light management (DLP), followed by light sensing beyond visible (microbolometer, thermopiles), microfluidics, RF, ultrasound, multi-spectral, etc. Currently we are heading to an era of more holistic perception, where many parameters are monitored by many different sensors (a sensor hub for example). Furthermore, MEMS are moving toward an era with more processing/computing because it brings more quality to the data.
In 2019, the global MEMS market amounted to US$11.5 billion as shown in FIGURE 1. This includes the following MEMS devices present in a multitude of applications: inkjet heads, pressure, microphone, inertial, IR, Si microfluidics, optical, RF, oscillators, environmental, ultrasonic, microspeakers, etc. This year, revenue is expected to drop by -5.2% due to the negative effect of COVID-19 in some specific markets: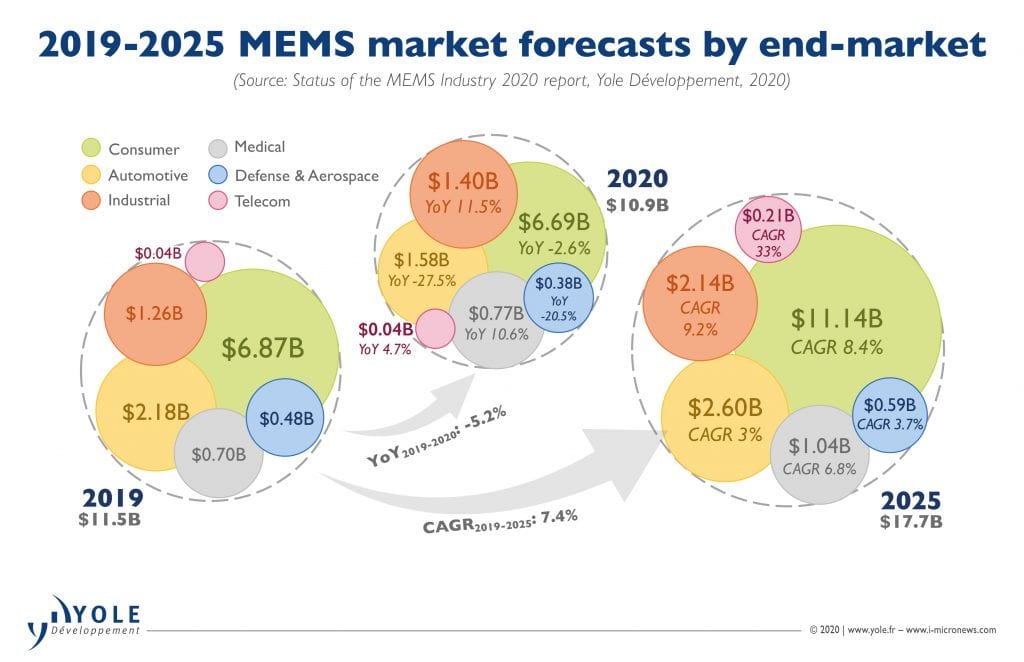 The automotive MEMS market will suffer due to the dramatic drop in demand for cars during the lockdown, but also due to economic insecurity. Furthermore, car factories were closed down for extended periods of time, fueling the negative impact.
In the defense & aerospace segment, traditional MEMS sensors (pressure, inertial) used mainly in civil aviation will suffer due to the paralysis in air travel earlier this year, but also as new aircraft orders have been reduced. MEMS used in defense applications won't be affected as much since governmental programs will still continue, and the procurement budgets are intact.
In consumer applications, the impact is mixed depending on the end-system. Mobile demand seems to have remained low in 2020 as people were concerned about their jobs and economic insecurity has prompted many people to postpone upgrades. But during the 1st half of 2020 PC/laptop/tablet demand has been strong as users have bought new systems to cope with stay-at-home demands, both professional and educational/recreational.
The revenue from medical, industrial and telecom will not be tremendously affected. On the contrary, medical and industrial MEMS are expected to grow in 2020 due to their uses in the combat against the pandemic: microfluidics for PCR diagnostics, pressure and flowmeters for ventilators helping patients with critical respiratory conditions in hospital ICUs, thermopiles in temperature guns and microbolometers in thermal cameras helping with the screening of febrile people, as fever is one of COVID-19's main symptoms.
Growth will resume from 2021 onwards, and the market is expected to reach almost US$17.7 billion in 2025, at 7.4% CAGR2019-2025. The biggest growth relative to market size is expected from consumer, industrial and medical MEMS. Yole's previous analysis in calendar 2019 predicted approximately US$18 billion by 2024, so the forecast has been pushed out by a year due to the slowdown caused by COVID-19.
MEMS prices are low, but where could they go from here?
Price pressure was always present during the past years in the MEMS market, especially in consumer & automotive applications (FIGURE 2).
Various waves of device ASP erosion have appeared historically, first in the automotive market (inertial, pressure), then in  consumer electronics (inertial, pressure, microphone), followed by RF connectivity (BAW filters) and mass adoption in other consumer goods (for example inertial MEMS and microphones in wearables). We are now at a point ($0.4-$0.5) where prices can't get much lower. Indeed, some MEMS, such as inertial, microphones, etc., which already can cost as low as $0.1-$0.2, will still need some active sensing area (Si) that will come with a base-line cost.  Also, beside the BOM, the companies will still need some margin, even if it is very low… The question is, therefore, where are we headed next? Various scenarios are possible:
First, due to COVID-19 supply and demand adjustments, ASP could very slightly increase momentarily, also fueled by supply allocation, then fall back to pre-COVID levels and continue with its slowly decreasing path.
There is a possibility that a new wave of stronger ASP erosion will arrive due to industrial, medical and consumer IoT trends.
ASP will increase again due to added functionalities married with the sensor, such as more software, data preprocessing, edge computing, AI on edge, etc.
Yole thinks that players will try to acquire more value by adding functionalities/processing to the sensors, therefore the third scenario or a mix of the first and third scenarios are most possible.
The peculiarity of each MEMS device will drive its future
Electronic megatrends are the holy grail for explanations around the drivers of various components, including sensors. Indeed, it is true that AVs, EVs, ADAS, AR/VR, industrial IoT & connected factories, healthcare transformation & telehealth are just some of the aforementioned trends at a general, market level. But it is also true that not all components are impacted in the same way. MEMS cover a broad spectrum, including many types of MEMS devices associated with different end-markets/applications.
The inkjet printhead consumer market is suffering from weak home printer demand due to digitization, despite the 2018 rebound related to loyalty programs offered by the top consumer companies. Inkjet based single-pass office printers are also still suffering from low demand, competing with laser printers. In the future, slight growth is expected due to the commercial and industrial markets with appetite for large MEMS printheads. Ink recirculation is becoming of high interest for inkjet printhead makers to increase print quality and printhead lifespan, in industrial applications or where inks could clog nozzles.
The green mobility trend will cause more pressure sensors to be needed in automotive (MAP, BAP, transmission oil pressure, GPF, DPF, etc.), partially offset by the shift to more EVs (no ICE powertrain). While the TPMS market suffered in 2019, future growth relays could be industrial and medical applications such as process control & HVAC as well as blood monitoring equipment & respiratory equipment. For sure, device makers are under pressure (sic) from the strong demand for ASP decreases by automotive system & consumer goods manufacturers.
The popularity of voice personal assistants (VPA), such as Siri by Apple, Alexa by Amazon, and Google Assistant, have pushed audio technologies into new systems that are adopting VPA as a new human-machine interface. This interface can be seen as a gadget, e.g. for smartphones, but it is more obvious for kitchen/smart-home assistant or smartwatches because their accessibility or small size prevents a touch interface; or for cars, because the need for both hands while driving also prevents a touch interface. The general Internet of Voice trend will drive the MEMS microphone market.
Inertial sensors are becoming smarter. Performance is continuously increasing, which allows functionalities to be added in the form of algorithms at the sensor level and on edge for numerous use-cases (step-counting, gesture recognition, sports activity recognition). They also have a high potential in wellness and fitness wearables and are gaining support for medical wearable applications to monitor patient activity. The trend from stand-alone sensors to more combos (IMUs) continues.
Optical MEMS are still struggling (for example projector and pico-projector). However, MEMS micromirrors for LIDAR or other light projection applications seem promising, with many companies betting on this technology: AEYE, Luminar, Velodyne, Robosense, Benewake, Valeo, Infineon, Innoviz.
Thermal sensing/imaging MEMS (thermopiles & microbolometers) have seen an explosion in demand for fever-screening applications due to COVID-19. This craze during 2020 could lead to consumerization of thermal imaging/sensing (integration in smartphones) if technical/cost requirements are met and consumers are educated about this technology. Huawei released a smartphone in June 2020, the Honor Play 4 Pro, which integrates a thermal sensor for temperature measurement.
In microfluidics, an increasing number of promising companies are using silicon chips for point-of-care testing, which will increase the size of this market segment. New point-of-care products based on silicon/CMOS chips are being developed and are starting to arrive on the market (InSilixa, DNAe, Mobinostics, Qorvo Biotechnologies, Genalyte, Ontera) and this trend will certainly continue in the coming years. COVID-19 will also boost the microfluidics-based diagnostic test market.
5G will increasingly be adopted in smartphones, and it will need 4×4 MIMO filters based on RF MEMS. A quicker than expected penetration could result in a quicker ramp-up of high-frequency BAW technologies. The market is expected to continue growing, especially due to the arrival of new frequency bands dedicated to 5G. There is increasing adoption of MEMS timing (oscillators) in phones from multiple manufacturers and they are also needed in the deployment of new 5G base stations.
Environmental (open) hubs, that include microphones, temperature, humidity and pressure sensors, are gaining more and more interest for smart home devices/products. Also, instead of integrating gas sensors in cars, another possibility would be to use them in various infrastructure across key points in cities, for example. Then cars could connect to those infrastructures via V2X, acquiring this way a real-time feed of local air quality.
Finally, there will be an increasing demand for future MEMS, such as microspeakers, which could leverage their potential for low-power and smaller size, along with high sound directionality, and be integrated in many consumer devices. Legacy electrodynamic speaker technology has not changed for more than 50 years, and MEMS could offer an alternative for miniaturization. Another company, Butterfly Networks, is opening the way for ultrasound democratization and consumerization of medical tests with its cMUT. Also, pMUT for ultrasonic fingerprint sensor in smartphones seems promising, despite ongoing competition from other technologies (optical fingerprint or 3D facial recognition to unlock the phone, etc..). The need for better privacy in our data-flooded world could mean that more than one identification solution will be mandatory, for redundancy.
The next steps and the way forward?
MEMS are mature technologies and over the past 10 years no dramatic breakthrough occurred in MEMS manufacturing. The major technological trends are shifting; previously they were to improve yields, low cost, increase integration; now MEMS devices are shifting to higher accuracy, ultra-low power and embedded intelligence.
Furthermore, the MEMS market is going through some challenges. On one hand, increasing development costs for new generations of MEMS devices require more, expanding markets in order to amortize those costs and minimize any associated risks. On the other hand, focusing on the sensor itself (at the transducer/hardware level) and its intrinsic performance is not sufficient to open new markets.
In order to obtain more value from sensors and other types of data (inertial, audio, environmental, etc.) there is a move to a more complex level of algorithms, software and computation. One goal, for example, is to make smartphones and wearables smarter, so that they can anticipate user needs. For that reason, various inputs can be fused, such as GPS and inertial/pressure sensors (position), calendar, travel reservations, motion sensors (level of activity), etc.…
From their side, MEMS sensor manufacturers are searching for differentiation while trying to move up the value chain and remain cost-efficient at the same time. To do that they can follow one of three paths (FIGURE 3):
Search for new applications and use-cases by reaching new markets;
Aggregate functionalities by improved algorithms and software, applied to existing use-cases;
Add extra processing and eventually computing which could translate to more Si sold to the same client.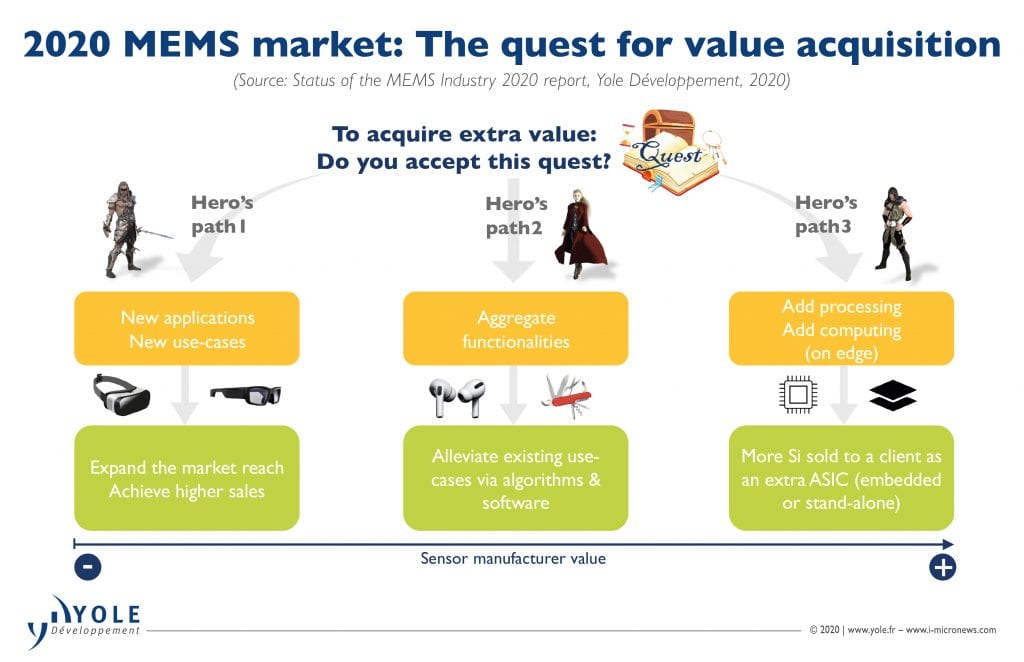 Of course, these are not the sole options. There are players that already follow different strategies in this quest to acquire value (Figure 4). One example is Bosch, which uses Qualcomm's software development platform to improve their algorithms for existing client use cases. Examples include a gyro for automotive applications with an improved angle detection algorithm as well as an environmental sensor with an improved sensing algorithm.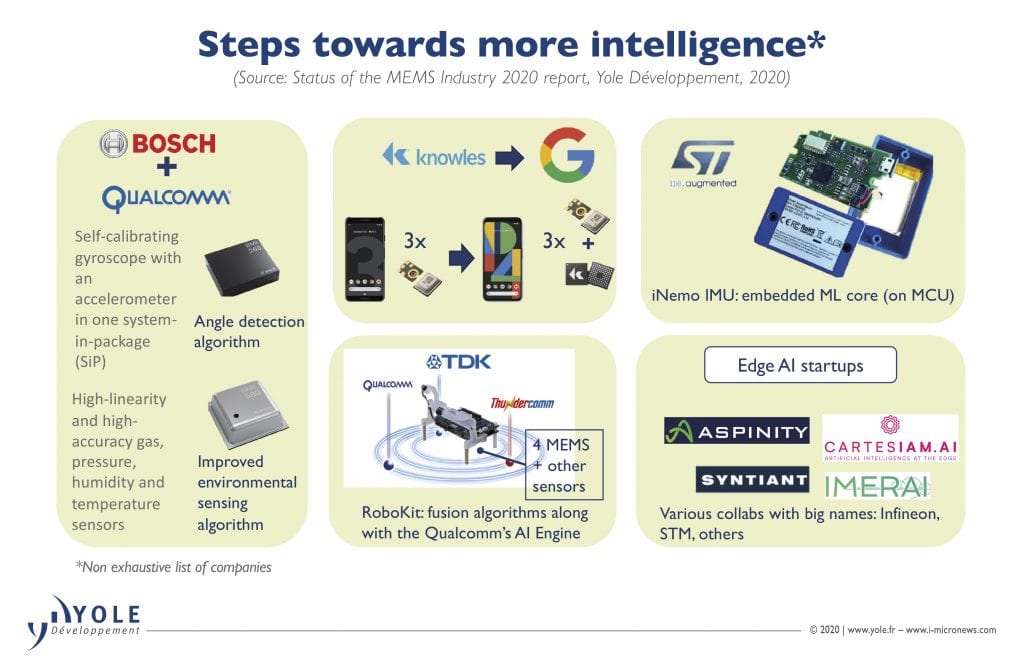 Acoustic players, like Knowles, bet more on data processing close to the sensor and on extra intelligence on the edge. This is what they achieved with the Google Pixel Phone. Pixel 3 incorporated 3 Knowles' mics (at a cost of $0.25 each) but in the Pixel 4 they managed a design-win for a stand-alone audio processor outside of the application processor (which costs $1.5), eventually managing to increase the value with this one client by 200%.
TDK is collaborating with Qualcomm having a development kit (RoboKit) which uses fusion algorithms along with Qualcomm's AI engine. STMicroelectronics has an inertial sensor product (iNemo which is a MEMS IMU) that includes an embedded machine learning core in an MCU.
Finally, there are some startups that work on edge AI that don't necessarily manufacture the sensors but collaborate with MEMS players (Aspinity and Syntiant with Infineon, Cartesiam with STMicroelectronics) in order to leverage sensor data. Processing and intelligence on the edge, especially for MEMS mics and inertial, are becoming more and more critical.
Those previous examples point to one thing: collaboration of various players in the ecosystem, from the software to the hardware and to the system level is mandatory in order for the industry to move forward. In the end, a holistic perception is key, particularly now that end-users demand more complete solutions, rather than stand-alone components. For MEMS players to escape the commoditization cycle and the erosion of sensor value, they could reposition themselves by changing business model or by means of M&A, moving up the value chain toward more data processing and eventually computing, which can be done firstly in the cloud and eventually at the edge (Figure 5).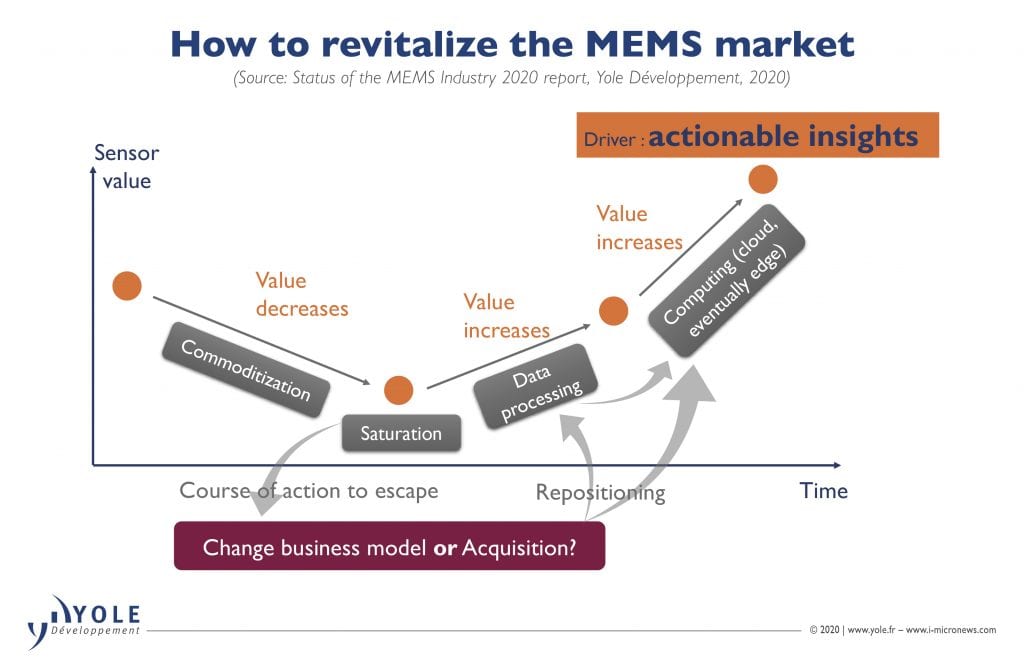 A very fresh example supports this view: mCube (an inertial MEMS company) recently acquired Kinduct, a company offering a complete analytics platform solution mainly for sports players (but not only), leveraging inertial sensor data which is processed in the cloud and can give actionable insights to the customer. Kinduct has a lucrative customer list, like the Olympic games committee, the biggest names from NFL and NBA, etc. mCube has understood what is currently at stake, and is targeting this growth relay. Actionable insights are becoming ever more relevant with our ultrasensitive wearables and other smart products all around us. For sure, the extra intelligence from MEMS (and generally other sensor) data will drive more innovations at the sensor and system level and will open new opportunities for the MEMS industry.
About the author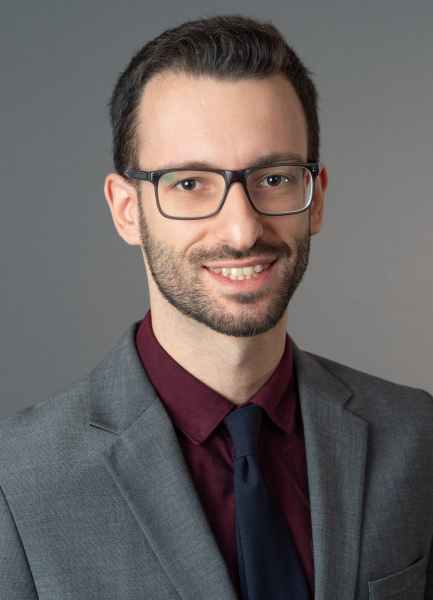 Dimitrios Damianos, PhD, joined Yole Développement (Yole) as a Technology and Market Analyst and is working within the Photonics, Sensing & Display division. Dimitrios is daily working with his team to deliver valuable technology & market reports regarding the imaging industry, including photonics & sensors. After his research on theoretical and experimental quantum optics and laser light generation, Dimitrios pursued a Ph.D. in optical and electrical characterization of dielectric materials on silicon with applications in photovoltaics and image sensors, as well as SOI for microelectronics at Grenoble University (France). In addition, Dimitrios holds an MSc degree in Photonics from the University of Patras (Greece). He has also authored and co-authored several scientific papers in international peer-reviewed journals.
This article was written in collaboration with Eric Mounier, PhD. and Fellow Analyst from Yole Développement (Yole).