By Alan Ifould, Head of Marketing, Operational Excellence, Edwards Vacuum
Smart manufacturing and Industrie 4.0 are hot topics right now. Most agree they are the future and they are everywhere … but what do they really mean and what in the world is everyone so excited about?!
We'll use this blog to challenge what smart manufacturing and Industrie 4.0 really mean, the role the SubFab and the wider vacuum system plays within these concepts, and the solutions that we see moving into the future.
Back to Basics
Let's start at the beginning, defining what we currently believe smart manufacturing and Industry 4.0 mean:
| | |
| --- | --- |
| Smart Manufacturing | Industrie 4.0 |
| Emphasis is placed on the intelligent use of data to enable adaptability in process | Emphasis is placed on the intelligent networking of machines and (business) processes |
Common Theme: Data and information technology connect machines, people, and processes!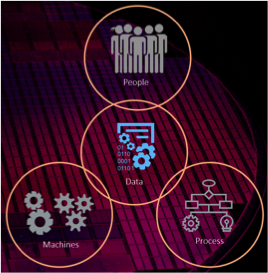 Simply put, the overall vision is one where better-connected machines, processes, and people reduce risk and uncertainty to improve operational flexibility and effectiveness. But this vision is grounded in technology first rather than the outcomes achieved through these concepts. We need to consider not only how we connect equipment to collect data (the technology), but also how we introduce the essential subject matter expertise that generates actionable sights from that data (facilitating outcome-based insights).
The Changing Reality
A lot is changing, both in the semi industry and the world at large. A new vision for manufacturing is emerging through recent developments in the fields of integrated devices and sensors, data management, analysis, and artificial intelligence (AI). This vision includes integrating supply chains and enabling the circular economy; creating virtual factories using cyber-physical systems and digital twins; and using Big Data infrastructure and technology to provide advanced analytics on tool, process, yield and facility data.
But with all these different tools and technologies hitting the market, it's hard to cut through the noise to figure out what's real and what's buzz. How are we going to implement this?
Let's step back in time 2 or 3 decades. Companies have gone through an evolution in the way they think about technology and process. Initially, focus was all on process and standards, with little thought or care placed on product quality or the outcomes achieved. Over time, this thinking has evolved into an approach that drives proactive improvements into operational effectiveness and quality.
This learning drives Edwards' vision of smart manufacturing beyond implementation of "big data analytics" or other technology-led plays. Edwards' vision is one of a change management program, a technology development program, and perhaps above all, a business model innovation program.
The future of the SubFab and vacuum system support
At Edwards, we envision a future that consists of a well-managed eco-system of machines, people, and processes, enabled by data analytics and digital technologies. We take a holistic approach to enabling smart manufacturing in the SubFab and beyond. We bring equal emphasis to safely and consistently connecting machines, people, and processes up and down the vacuum and abatement supply chain. We directly collaborate with our customers and other suppliers to resolve challenges and uncover solutions. We align our performance metrics to Fab performance metrics.
We need to make sure that smart manufacturing in the SubFab enables smart manufacturing in the clean room. We need to provide the stability of vacuum system performance that is the foundation of reducing risk and uncertainty for clean room equipment. Our vision isn't grounded solely in the technology of Smart Manufacturing or Industrie 4.0; it's based on the interaction of machines, people, and process, enabled by data analytics and domain expertise – operational excellence at its best. This is how we think about operational excellence and it's how we enable the future of the Semiconductor SubFab.
Driving improvements across the entire Fab
Let's explore this through a real-world example that Edwards is involved in:
In partnership with one of our strategic customers, we leveraged data analytics to solve a problem. A bottleneck batch process tool was suffering unplanned downs every 2 or 3 days. The data analytics provided a good indication of developing faults in the vacuum pump and abatement, evidenced by fault signatures in the data.
Once a fault was indicated, the abatement system was maintained, and the pump changed out; however, the problem did not go away. In reviewing maintenance data, we learned that this happened routinely: maintenance activities provided only temporary resolution of the fault, and tool uptime metrics were suffering. There was high risk the pump would fault mid-process run and threaten wafer losses.
The fault at the pump and abatement were symptoms of another fault located in the wider vacuum system: leaks were occurring. But the broader issue at hand was that the maintenance processes did not work effectively. The final solution drew on domain expertise to recommend changes to machines (the pumps and gate valves), and for people and
processes to work effectively together. Tool uptime recovered: the outcome was delivered. This additional tool uptime had an estimated value of over $2M per year* by reducing unplanned down events and eliminating the threat to wafer throughput.
A strong SubFab management strategy includes a strong operational excellence model to drive safe and stable operations. In practice operational excellence incorporates four key areas: standards and procedures; team competency and capability; strong operational models and cultures; and knowledge systems (which include data analytics and domain expertise). This is the holistic approach required to provide the solid foundations from which to drive data-driven decision making and deliver outcomes.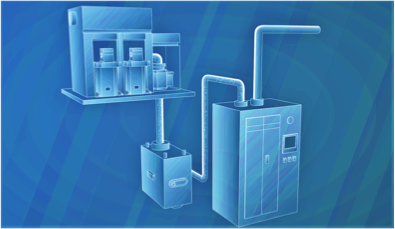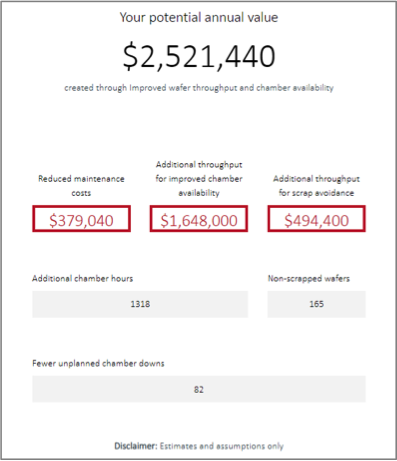 What are the changes that need to be made?
Deploying the Operational Excellence model will not be without its challenges. But we see those as positive and will drive more innovation and opportunity into the things we, and others in the Fab, do. Here are a few simple examples.
Standards and procedures
Standards and procedures will change rapidly as Smart Manufacturing drives innovation. Richer, analytics-driven information will help pinpoint root causes of faults more quickly, but we need to get that information to our teams. Information technologies are allowing us to embed that information in a dynamic way in new format operational documentation.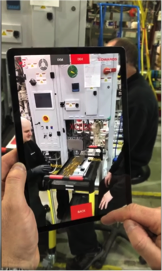 Operational models and cultures
The SubFab and wider vacuum system can be a dangerous place, and safe working practices must be maintained. By providing advance notice of required equipment interventions, activities can be better planned. That reduces time-pressure risks and is something we see as an enabler to a safer working environment.
But not all faults can be predicted. How do we ensure the discipline of safe working practices are maintained against the inevitable pressures as expectations rise? We will continue to enable a safety-first culture where every employee has authority, and is encouraged by the customer, to identify and prevent unsafe activities.
Team competency and capabilities
Analytical models and data need training for truly effective analytics. That puts new demands on teams in the SubFab as they must become familiar with new data gathering technologies. They will interact with roles and skill sets they have no experience of. We are embedding these skills into our SubFab teams, and broadening training for others, to deepen interaction across functions.
Knowledge Systems
Knowledge systems are at the heart of managing data analytics. SubFab sensor data alone cannot deliver good analytics: domain knowledge and context data are needed to truly understand why events happen and to then eliminate or mitigate causes. For example, what happened during that last maintenance activity (context data) and how did it influence that excursion in the vacuum system (domain knowledge)? We are building extensions and interfaces to our many knowledge systems to provide simple, point of use access.
Collaboration and governance
Let's end this blog by revisiting a point made earlier. Data integrates machines, people and processes in deep way. It is apparent that effective Smart Manufacturing will require new levels of collaboration and governance across functions. That is not just between teams in the SubFab, but between the many stakeholder groups throughout the Fab. Our network is growing, and new relationships are being actively developed.
Stay tuned for future blogs in this series, where we'll dive deeper into operational excellence, safety, analytics and the positive influence they have on successful smart manufacturing and fab success.