By Pete Singer, Editor-in-Chief
During the COVID pandemic, the world has become acutely aware of the value of semiconductor technology, which enable the ability to work from home with broadband internet, telehealth visits, Zoom calls, gaming, cloud computing, and all the great things the future will bring, such as 5G, self-driving cars, AI, virtual reality and so much more. Soaring pandemic-inspired demand for chips will drive an 8% increase in global fab equipment spending in 2020 and a 13% increase in 2021, according to SEMI's new World Fab Forecast report.
But the pandemic also laid bare the fragility of a supply chain the relies so heavily on worldwide commerce, particularly the reliance of the U.S. on goods produced in China and elsewhere in Asia. "It was interesting to find out during the COVID crisis that 90% of our pharmaceuticals are already made in China," Robert Maire, president of Semiconductor Advisors said in a keynote talk at the Advanced Semiconductor Manufacturing Conference (ASMC).
Could semiconductor manufacturing suffer a similar fate? Already, many companies rely on Taiwan's TSMC to manufacture the most leading edge chips, and earlier this year Intel – arguably the most advanced semiconductor manufacturer in the U.S. — said it is considering going "fab-lite" and outsourcing some manufacturing to TSMC. In more recent news, Intel said it was selling its memory chip business to Korea's SK Hynix.
China, which sees IT and semiconductor technology as essential to its survival, is spending over $100 billion to get to the point of building their own semiconductors, through an effort called Made in China 2025. China currently consumes about 60% of the worldwide production of semiconductors, but only manufacturers 15%.
China's view of Taiwan as a "renegade province" has many wondering if the U.S. is in an increasingly perilous position when it comes to the future of semiconductor technology. "We think it's not a question of if, but a question of when Taiwan will become part of China again," Maire said. "Does that happen in 5 years, 10 years, 50 years? It's hard to say, but clearly with what's going on in Hong Kong and with the South China Sea, we think the odds of China being more aggressive against Taiwan are increasing over time." If China were to take over Taiwan, that would give them instant dominance in the semiconductor industry. "China may view TSMC as a prize worthy of the risk of getting into a military conflict with the United States," Maire said.
Maire also wonders what the United States would do about it. "We look to Russia's takeover of Crimea as a prime example of what won't happen," he said. "They took over a country which was right on their border and spoke the same language — much as with Taiwan and China — and the U.S. didn't do anything, unfortunately."
The U.S. has, of course, flexed its muscle in widely publicized efforts aimed at cutting the advanced chip supply to China-based Huawei, followed by more recent efforts designed to limit access to advanced semiconductor manufacturing tools by China's leading foundry, SMIC (U.S. suppliers of such tools such as Applied Materials, KLA-Tencor, Lam Research and others must apply for a license to sell to SMIC).
In June, TSMC announced plans to build an advanced $12 billion semiconductor fab at an un-disclosed location in Arizona. The fab is described as a 5nm fab capable of 20,000 wafer starts per month that would come on-line in 2024. But, of course, these kinds of plans can change, such as what happened in Wisconsin, where Taiwan-based Foxconn's 2018 promise of a $10 billion investment in a 20 million-square-foot LCD manufacturing complex, and 13,000 jobs, never materialized.
U.S. federal incentives for domestic semiconductor manufacturing needed
In September, the Semiconductor Industry Association (SIA), in partnership with the Boston Consulting Group (BCG), released a study analyzing the impact of proposed federal incentives for domestic semiconductor manufacturing .
The report, titled "Government Incentives and U.S. Competitiveness in Semiconductor Manufacturing," finds robust federal incentives would reverse the decades-long trajectory of declining chip production in America and create as many as 19 major semiconductor manufacturing facilities (fabs) and 70,000 high-paying jobs in the U.S. over the next 10 years (FIGURE 1).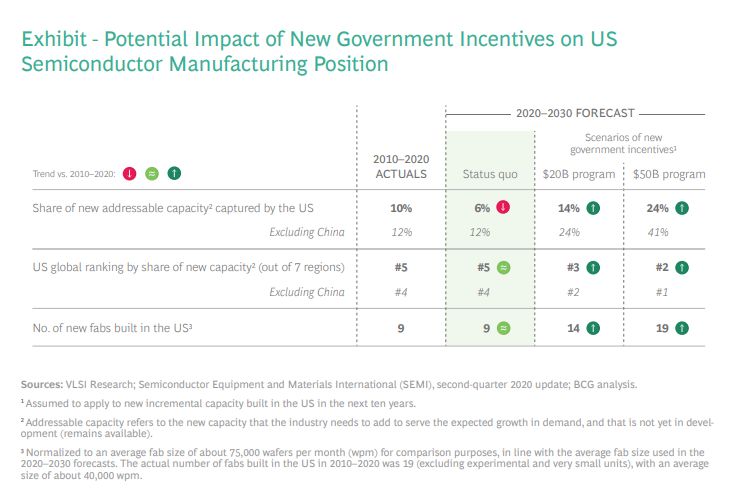 "Federal incentives for U.S. semiconductor manufacturing are an investment in America's economic strength, national security, supply chain reliability, and pandemic response," said Keith Jackson, president, CEO, and director of ON Semiconductor and 2020 SIA chair, in a press release announcing the study. "With swift, ambitious action, the U.S. government can help turn the tide of decades of decline in the share of global chip manufacturing done in the U.S., which now stands at only 12 percent, and make America one of the most attractive places in the world to produce semiconductors."
Key report findings:
A strong domestic semiconductor manufacturing presence is critical to America's economic competitiveness, national security, and supply chain resilience. Strengthening U.S. chip manufacturing will help ensure America out-innovates the world in the strategic technologies of the future – artificial intelligence, 5G, quantum computing, and more – that will determine global economic and military leadership for decades to come. Producing more semiconductors domestically would also make America's semiconductor supply chains more resilient to future global crises and ensure the U.S. can domestically produce the advanced chips needed for our military and critical infrastructure.
The share of global semiconductor manufacturing located in the U.S. has plummeted in recent decades, mostly because competing governments offer large incentives and the U.S. does not. While U.S.-headquartered companies account for 48 percent of the world's chip sales, U.S.-based fabs – including those operated by companies headquartered abroad – account for only 12 percent of the world's semiconductor manufacturing capacity, down from 37 percent in 1990. Seventy-five percent of the world's chip manufacturing is now concentrated in East Asia. China is projected to have the world's largest share of chip production by 2030 due to an estimated $100 billion in Chinese government subsidies. Depending on the type, a new fab in the U.S. costs approximately 30 percent more to build and operate over 10 years than one in Taiwan, South Korea, or Singapore, and 37-50 percent more than one in China. As much as 40-70 percent of that cost differential is directly attributed to government incentives.
Robust federal incentives for semiconductor manufacturing are needed to strengthen national security, attract substantial chip manufacturing to the U.S., and create tens of thousands of American jobs. Federal manufacturing grants and tax relief totaling $20-50 billion would re-position the U.S. from an unattractive investment destination to the most attractive (excluding China) and create as many as 19 fabs in the U.S. over the next 10 years, a 27 percent increase over the current number of U.S. commercial fabs (70). Federal manufacturing incentives would create up to 70,000 high-paying jobs in the U.S., ranging from highly educated engineers to fab technicians and operators to material suppliers. The global semiconductor industry is expected to increase manufacturing capacity by 56 percent in the next decade. With a $50 billion federal investment, the U.S. is projected to capture nearly a quarter of new global capacity that is not yet in development, compared to only 6 percent with no government action.
The report also highlights several other areas where government action could help enable a thriving domestic semiconductor manufacturing sector. These include fundamental research in materials and manufacturing sciences, training to ensure the U.S. can have a robust and talented pool of workers, a continued commitment to maintaining U.S. R&D leadership, and ensuring access to global markets.
"The country that leads in advanced chip research, design, and manufacturing will have a big leg up in the global race to deploy new game-changing technologies, such as 5G, artificial intelligence, and quantum computing," said John Neuffer, SIA president and CEO. "Leaders in Washington should seize this opportunity, level the global playing field to attract chip production, and invest boldly in domestic manufacturing incentives and research initiatives that will strengthen U.S. tech leadership for decades to come."
The CHIPS for America Act, American Foundries Act and NDAA
The U.S. presently has legislation pending that would support domestic semiconductor manufacturing in the form of The CHIPS for America Act, which includes a range of federal investments to advance U.S. semiconductor manufacturing, including $10 billion for a new federal grant program that would incentivize new domestic semiconductor manufacturing facilities.
The SIA noted that research is critical to advancing semiconductor innovation in the U.S. American semiconductor design and manufacturing companies invest approximately one-fifth of revenue in R&D, almost $40 billion in 2019, representing the second-highest rate of research investment of any industry. Federal government investment in semiconductor research, however, is only a small fraction of total semiconductor R&D in the U.S. and has been relatively flat as a share of GDP for many years. Meanwhile, China and others are increasing their government research investments.
The CHIPS for America Act would make significant federal investments at the Department of Defense, the National Science Foundation, and the Department of Energy to promote semiconductor research and drive chip technology breakthroughs. The bill would establish a National Semiconductor Technology Center to conduct research and prototyping of advanced chips, as well as create a center on advanced semiconductor packaging. These investments are needed, says the SIA, to enable U.S. companies to maintain their technological edge in semiconductor materials, process technology, architectures, designs, and applications.
There's also the American Foundries Act of 2020, also introduced in June, which would provide federal investments totaling tens of billions of dollars for semiconductor manufacturing and research.
According to the SIA, the U.S. currently maintains a stable chip manufacturing footprint, but says the trend lines are concerning. There are commercial semiconductor manufacturing facilities, or "fabs," in 18 states, and semiconductors ranked as the nation's fifth-largest export in 2019. Significant semiconductor manufacturing incentives, however, have been put in place by other countries, and U.S. semiconductor manufacturing growth lags behind these countries due largely to a lack of federal incentives.
The American Foundries Act includes a range of federal investments to advance U.S. semiconductor manufacturing, including a $15 billion federal grant program that would incentivize new domestic semiconductor manufacturing and R&D facilities. The bill also authorizes $5 billion for public-private collaboration on the construction or modernization of fabs for national security, intelligence, and critical infrastructure. The act would authorize $5 billion in new federal investments to promote semiconductor research at the Department of Defense, National Science Foundation, Department of Energy, and the National Institute of Standards and Technology. The bill also mandates that the White House Office of Science and Technology, in coordination with federal research agencies and the private sector, develop a plan to guide funding for advancing next-generation semiconductors.
In July, the House passed the National Defense Authorization Act (NDAA), legislation that includes an amendment calling for the establishment of a federal grant program to promote semiconductor manufacturing, as well as federal investments in semiconductor research.
SIA's Decadal Plan Interim Report
In mid-October, the SIA and the Semiconductor Research Corporation (SRC) released a preview of their upcoming "Decadal Plan for Semiconductors," a report outlining chip research and funding priorities over the next decade that will help strengthen U.S. semiconductor technology and spur growth in emerging technologies such as artificial intelligence, quantum computing, advanced wireless communications.
The Decadal Plan, developed with contributions from a broad cross-section of leaders in academia, government, and industry, identifies five "seismic shifts" shaping the future of chip technology and calls for an annual $3.4 billion federal investment over the next decade to fund semiconductor R&D across these five areas.
The Decadal Plan makes specific recommendations on how this increased funding should be allocated, identifying the following seismic shifts that require a renewed focus on semiconductor research:
Smart Sensing: Fundamental breakthroughs in analog hardware are required to generate smarter world-machine interfaces that can sense, perceive and reason.
Memory and Storage: The growth of memory demands will outstrip global silicon supply presenting opportunities for radically new memory and storage solutions.
Communication: Always-available communication requires new research directions that address the imbalance of communication capacity vs. data generation rates.
Security: Breakthroughs in hardware research are needed to address emerging security challenges in highly interconnected systems and Artificial Intelligence.
Energy Efficiency: Ever rising energy demands for computing is creating new risks while new computing paradigms offer opportunities with dramatically improved energy efficiency.
"The future holds unlimited potential for semiconductor technology, with emerging applications such as artificial intelligence, quantum computing, and advanced wireless technologies promising incalculable societal benefit," said Dr. Todd Younkin, SRC president and CEO. "The Decadal Plan provides a blueprint for how we can convert this potential into a reality. Working together, we can boost semiconductor technology to keep it strong, competitive, and at the tip of the spear of innovation."
The case for international collaboration
Another study released in September comes from the Information Technology and Innovation Foundation (ITIF), a self-described think tank for science and technology policy, urges international collaboration. The report, titled "An Allied Approach to Semiconductor Leadership," notes that countries seeking self-sufficiency in this semiconductor space threaten their own competitiveness, as succeeding entirely independently is almost impossible in such a complex sector. In order to lead, like-minded allies should collaborate in technology and infrastructure development, calibrate protective measures like export controls and investment screening, and support rules-based trade, the study says.
The study highlights the complexity of the manufacturing process and the supply chain, noting that the typical production process toward a final electronics product can see the underlying semiconductors within it cross international borders 70 or more times in a process that takes over 100 days and includes 3 full trips around the world. Individual semiconductor companies have very complex supply chains. For instance, Intel has 15 wafer fabs in production worldwide at 10 locations, including 4 in the United States, and its supply chain comprises more than 11,000 suppliers in over 90 countries. South Korea's Samsung identifies over 2,500 global suppliers, and SK Hynix has approximately 1,200 global suppliers. Taiwan's TSMC operates 2 dozen fabs across multiple continents, producing 12 million wafers annually using 270 different silicon technologies that support 10,700 different customer products. Taiwan's TSMC is supported by more than 3,000 suppliers globally.
"While national policies are important for spurring semiconductor research, development, and production, countries also must recognize that self-sufficiency cannot and should not be the goal in this sector," said Stephen Ezell, ITIF's vice president for global innovation policy, who authored the report. "The increasing expense, complexity, and scale required to innovate and manufacture semiconductors means that no single nation can afford to go it alone. Like-minded nations should come together to open trade and fair economic competition and collaborate in ways that collectively empower the competitiveness of their respective semiconductor industries."
Each segment of the global semiconductor value chain has, on average, 25 countries involved in the direct supply chain and 23 involved in support functions, ITIF notes. In this environment, successful semiconductor innovation depends on numerous scientists, researchers, and engineers from numerous countries working together across international companies, universities, government agencies, research institutions, and public-private research consortia.
"The semiconductor sector promises to produce tremendous innovations for generations to come, and these will arrive faster and with greater impact if like-minded nations find constructive ways to work together," added Ezell. "Separately, each country needs to focus on policies that make their nations attractive environments for semiconductors and other advanced-technology sectors. That includes creating strong IP regimes and regulatory environments, ensuring access to a skilled labor force, and providing favorable tax and investment environments. Together, strong partners form strong partnerships. In the semiconductor sector, it is important that each nation in this global race fosters an environment conducive to breakthrough technologies for the world's benefit."