By David Lammers
Buoyed by the synergies between 5G and AI-empowered data analysis, the semiconductor industry is set for remarkable growth, analysts said at the SEMI 2021 Industry Strategy Symposium (ISS), held virtually in mid-January.
Mario Morales, IDC's vice president of enabling technologies, predicted that the semiconductor industry will hit the $500 billion mark in revenues by 2024, led by 5G wireless deployments and continued strength in data center silicon. That is up from $420 billion in semiconductor revenues in 2020.
A startling longer-term number came from Andrea Lati, vice president of market research at VLSI Research, who predicted semiconductor industry revenues would hit the trillion-dollar level by "the early 2030s." Equipment revenues will be in the $200 billion range roughly ten years from now, he added, up from about $95 billion expected in 2021.
Lati said the overall electronics industry will account for "much of world growth" over the next decade. (For perspective, the World Bank estimated the size of the world economy was $133 trillion in 2019.)
5G Will Lead Demand
Mark Thirsk, a managing partner at Linx Consulting, a market research firm specializing in electronic materials, said the semiconductor industry is entering a "supercycle" powered by the emergence of Internet of Things solutions that are enabled by 5G and bolstered by on-chip data analysis. Previous supercycles include one beginning in 1992 when the first Web browser debuted, and another beginning in 2000 when 3G wireless began service. "The next five to 10 years will see another supercycle, or what we are calling 'The Interconnected World,'" Thirsk said.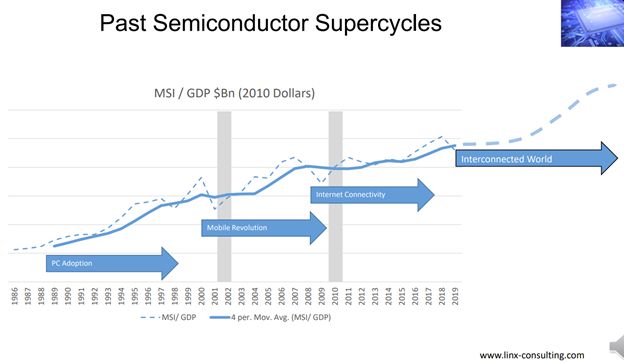 Not everyone painted such a rosy picture. Catherine Mann, global chief economist at Citibank, told the ISS participants while the COVID-19 pandemic is expected to come under control as vaccines are administered more widely this year, the world economy has a lot of repair work to do. Global economic growth in 2021 will be in the range of "5 percent to north of 7 percent." However, that only will bring the world economy back to the point it was at 18 months previously.
"There has been a rebound, but it only brings us back to zero," Mann said, noting that while goods industries have been stable, services such as travel and entertainment have been hard hit. The Chinese economy has been strong and the U.S. economy is rebounding, but Europe remains in a damaged state. "Europe, the third big player in the world economy, is not expected to get back on track until late 2022," she said.
Morales said the demand strength shown during the last year of pandemic challenges, including a rebound in PC sales, shows that information technology overall "is very resilient," and is now the "critical backbone" of the world economy. Looking forward, 5G phones will put new life into the mobile IC market. And Morales said, "AI is extending into the edge, and that will require a lot more semiconductors."
Surprising PC Growth
Remote work and virtual learning transformed what had been a stagnant market for personal computers. IDC's January 2021 PC report counted 92 million PCs shipped in the fourth quarter, and for all of 2020 total PC volume growth was 13.1%. "That type of growth we have not seen in over 10 years," he said.
The memory market was another market driver in 2020, with IDC counting 10.8% growth in the memory market in 2020, driven by strong bit growth for both DRAM and NAND.
Looking forward, IDC predicts that demand for ICs used in 5G systems will see a CAGR of about 110 percent ibetween now and 2024. Mobile phones with 5G capabilities hit 200 million units last year and are expected to increase to over 500 million units in 2021. "This increase in mix will drive a significant growth in silicon content," which he said is at least 50 percent higher in a 5G phone compared to a 4G phone.
No Incumbent in Edge AI
"Edge AI" will also bolster demand. "There is a big movement towards more inferencing at the edge and at end points," Morales said. "We are starting to see a lot of companies are building in their own AI engines across a lot of these different end points. We're going to see a tremendous amount of growth for semiconductor companies in this domain."
While companies such as Intel, NXP, Nvidia, and other large IC vendors are readying solutions for edge AI, Morales said "there is no incumbent player today, and that represents a tremendous opportunity for semiconductor companies in this space, including startup companies that are going after edge points."
Volumes for chips used in edge-based systems will grow, on a unit basis, from about 1.5 billion to 3.5 billion by 2024. About one-third of these edge systems will have AI processing capability, within either the main processor or in a discrete inference processing engine. "We are seeing not only AI grow robustly in the data center, but now it is extending itself into the edge and into end points, and that's going to drive a lot more semiconductor content across the board," Morales said.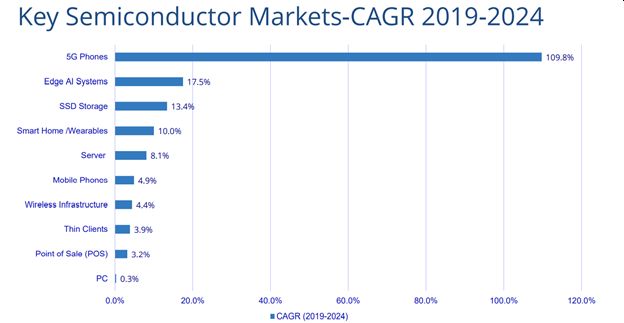 Upsides by VLSI Research
VLSI Research was taken by surprise when the 2020 equipment market – which came in at plus 17 percent for the year — grew much faster than early-2020 predictions, with Lati saying the 2020 growth in IC revenues of 8 percent was "within a couple of percentage points from our December forecast. However, equipment blew out our expectations."
With the combination of COVID-19 and restrictions on trade with China, Lati summed up 2020 by calling it "a very volatile year, which is not surprising. The pandemic and the restrictions imposed on China led to a pretty lumpy buying pattern throughout the year."

Normally, IC sales and worldwide GDP growth are somewhat parallel, but not last year. This year, worldwide GDP is expected to grow by around 5 percent, and Lati said "there is a lot of pent up demand, and a lot of liquidity in the market. Another important driver is the big expansion in the cloud that's boosting server demand."
The 5G proliferation will be a big driver starting this year, including baseband deployments.
Capital investments by the "hyperscale" data centers hit an all-time high last year, "surpassing the previous peak set in 2018 by quite a significant margin," Lati said. Amazon was the biggest spender last year, as both on-line shopping and public cloud drove investments. For AWS, Microsoft, and a few others, the public cloud is proving to be a highly profitable business, with strong growth in sales and operating profits.
"The cloud has been a great business for these companies. They are generating a lot of sales, a lot of profits. So the spending levels that we're seeing there are clearly sustainable," Lati said.
Overall, VLSI Research predicts that semiconductor sales will increase 8 percent this year, with memory "growing by double digits as the recovery there gains more traction. The ongoing recovery in the automotive industry, and also the recovery in the broader economy, will drive growth for analog, digital, discrete, and optoelectronics.
Capital investments were up 8 percent last year, and VLSI Research is projecting a 7 percent increase this year. Capital investments remain very top heavy, with the biggest six semiconductor companies accounting for 73 percent of the total.
While the share of the biggest six has been fairly stable, in the "mid seventies" share for many years, Lati said if the list is expanded to the 10 largest spenders, China-based companies account for the last four companies on the list. Chinese manufacturers accounted for about 13 percent of spending last year, up five percentage points from the previous year, which Lati said "is a significant portion of the overall Capex."