By Lita Shon-Roy, President / CEO, and Sachi Brown, Communications Specialist, TECHCET
What is the root cause of the semiconductor chip shortage? Is it simply a matter of chipmakers not having enough production capacity, or is something else at play? While semiconductor chips are often made out to be the primary bottom-level building block for everyday electronic products, these chips themselves are highly dependent on a myriad of "critical materials" – and these materials also happen to be in short supply. The same way chips are essential for building our cars, computers, and smartphones, specialized raw materials (like chemicals and gases, slurries, and other consumables) are needed to manufacture chips. As many know, today's current chip shortage has exacerbated many supply chain issues for electronic products, but the overriding limitation to chip production is the shortage of these critical materials.
Materials shortages are stemming mainly from materials companies hesitant to invest in increasing their production ahead of fast-growing demand from chip fabricators (Fabs). But the situation has been exacerbated by the following events: the Russia-Ukraine conflict, rising prices of energy, limited materials production capacity, rising raw materials costs, and the impact of COVID-19 on consumer demand for electronics and logistics. Because of these events (amongst many others), the semiconductor materials industry continues to play "catch up" to accommodate persistent high demand for chips.
Geopolitical issues in the Russia-Ukraine region have further aggravated supply-chain concerns of raw materials. Russia is a main global exporter for metals, rare gases, and natural gas (essential for electricity), each of which are crucial to chip manufacturing. Fluorocarbons, in particular C2F6, are essential semiconductor specialty gases that are now constrained due to regional complications. One reason why supply disruptions are occurring is because key importers (like the U.S.) have placed sanctions on Russian state-owned material companies following the Russian invasion of Ukraine. Additionally, many key Ukrainian rare gas manufacturers (neon, krypton, and xenon) are also dependent on Russia, and have had to halt their operations this year due to Russian attack threats.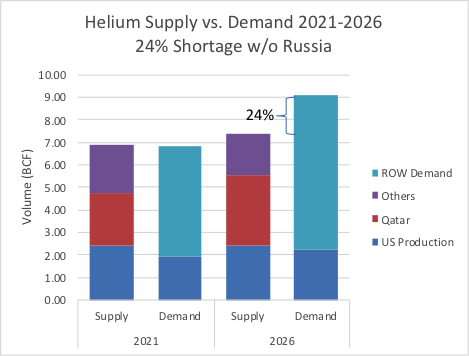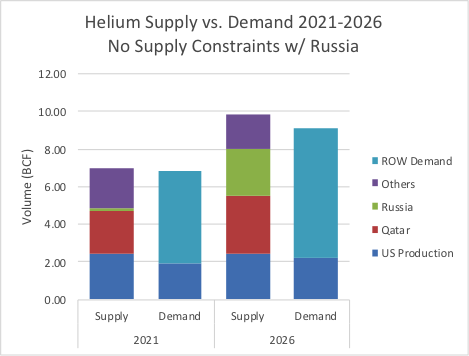 Figure 1. Helium Supply will be 24% Short of Demand w/o Russia, Unless Other Regions Increase
Given these and other materials supply complications, TECHCET and the Critical Materials Council have been actively tracing origins of supply-chains, and root causes of supply-chain disruptions emanating from Russia and elsewhere. Those in the Russia-Ukraine region are especially alarming since both countries are major global sources of semiconductor-grade rare gases. To put this into perspective, TECHCET estimates that 40%-50% of the world's semiconductor grade neon comes from Ukraine. As of now, chip companies in the U.S. have not yet run short of neon, but vulnerability in Russian-Ukrainian supply have led to supply allocations and a search for alternative sources in anticipation of future interruptions. U.S. neon suppliers are also looking to increasing their own production capacity, but it will likely take 1-2 years before any additional new product will be available due to long lead times for the equipment, and time required to build and qualify these facilities.
Helium is another rare gas that is facing supply disruptions from the Russia-Ukraine war. During the COVID-19 pandemic, helium faced supply pinch points, which many hoped would be relieved by new Russian production sources. Gazprom, a Russian state-owned natural gas and helium provider, was constructed to address these supply concerns, putting Russia on track to eventually produce a third of the world's helium. Now that the Russian-Ukraine conflict has made it difficult to obtain these Russian produced materials, TECHCET has forecasted worldwide helium demand will soon outrun supply unless additional sources come into the market by 2026. Currently in the U.S., helium supply is running dangerously close to demand which has caused higher prices and longer lead times. As shown below, without Russia sources, a shortage in helium is expected of approximately 1.5 billion cubic feet (BCF) by 2026. 
Similar to Russia, TECHCET and the CMC Council are highly attuned to materials supply-chain issues and dependencies on materials coming from China. Due to tariffs on Chinese exports, trade logistics complications from COVID-19, and sporadic price spiking, it has become very problematic to rely on materials, mainly chemicals and metals, coming from China. For example, in the past, Chinese material companies have unexpectedly lowered their prices in order to gain share, while increasing prices for the raw/starting material (as shown in Figure 2 below).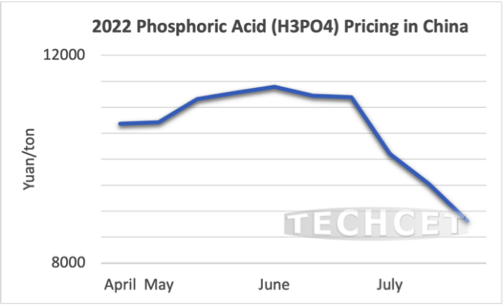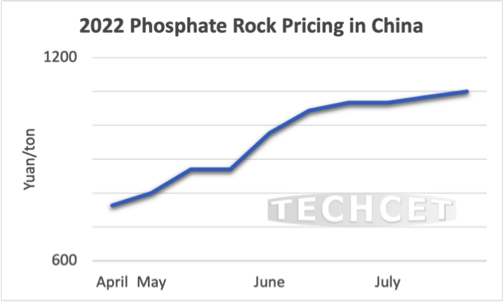 Figure 2. Unstable Chinese Pricing on Phosphate Rock and Phosphoric Acid (H3PO4)
(Phosphor rock is a mineral used to make phosphoric acid.)
This often results in damage to the profitability and viability of other companies in the space, causing chipmakers to be more dependent on materials from a vulnerable Chinese market. Today, China is a lead supplier for raw materials needed for critical materials manufacturing (mostly rare earth elements and wet chemical starting materials), as it supports a large portion of global raw materials production. TECHCET estimates China chemical factories supply approximately 45% of the various wet chemicals and feedstocks used for worldwide chip manufacturing. This introduces one of the current focuses and needs of the semiconductor materials industry – establishing more local and dispersed material production facilities to lessen the gap between material suppliers, chip fabricators, and electronic producers.
Ultra-High Purity (UHP) wet chemicals is another vulnerable supply-chain whose origins are condensed in Asia.Currently, 100% of all UHP purity sulfuric acid and isopropanol are being imported into the U.S. from Asia – and many of the material supply-chains in Asia are dependent upon raw materials from China. For all semiconductor grade wet chemicals, TECHCET estimates U.S. demand of wet chemicals will increase up to 50% over the next 4-5 years to serve U.S. chip expansions. To date, U.S. chemical companies have virtually no capability to supply any additional UHP chemicals, and domestic supply does not appear ready to support the forecasted demand. The cost of building production plants can range from US$10 million to US$100 million depending on whether it is an expansion to an existing plant or green field facility. However, without new added capacity, the U.S. will have to import 97% or more of its ultra-high purity chemicals needed for chip fabricators.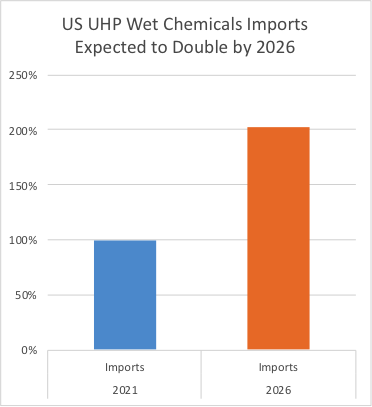 Figure 3. UHP Chemical Imports Will Need to Double to Keep Up with U.S. Chip Expansions
Given these issues with the materials supply chain, there is an inherent need for navigating the uncertainties of the chip market. The CMC, originally founded by Sematech, functions as TECHCET's guiding light, directing the work needed to identify and address these issues. CMC Members include: Intel, Samsung, Micron, ST Micro, Texas Instruments, Infineon, ONSemi, GlobalFoundries, Broadcom, TowerJazzPanasonic, NXP, YMTC,  Nexperia, Microchip, and Qorvo,. TECHCET's work enables the CMC to anticipate and, where possible, mitigate supply-chain interruptions and pinch points in semiconductor materials supply chains. Through TECHCET's work with the CMC, chip fabs strengthen their connections with the supplier community to build an effective network for addressing materials related problems. Specifically, the CMC has been able to quickly communicate and address supply-chain issues due to natural disasters, chemical plant explosions or sudden shutdowns, COVID-19 shipping interruptions, and other problems driven by this dynamic and growing industry.
Over the past couple of years, TECHCET has been focused on supporting the enactment of the U.S. CHIPS Act (a revised version of the Senate's USICA bill from 2021) in order to remedy key supply-chain strains. President Biden is expected to sign the final approval of the U.S. CHIPS ACT now it has passed Congress. The CHIPS Act is expected to buoy up the domestic semiconductor market allowing for further growth. However, the question remains, "Will there be set-asides in the CHIPS Act for materials production and R&D?" As of right now, it is unclear what, if any, attention is being put on investment into semiconductor material suppliers, despite their essential role in chip production. Because of this uncertainty, many materials companies and TECHCET (through the CMC) are advocating the need for more financial support for materials producers in the CHIPS Act. Without such support, building a semiconductor gas or chemical plant in the U.S. looks financially prohibitive for most chemical manufacturers. However, if additional material production capability is not developed in the U.S., continued and increased dependence on unstable sources like China, Russia and other parts of the world will remain.  Additionally, the aftermath of COVID-19 will continue to increase production uncertainty and potential logistics interruptions, putting U.S. supply-chain imports at further risk.

Figure 3: The Materials Supply Chain: Long and complex with a myriad of international dependencies
At the core of today's materials supply-chain complications is the overreliance on distant foreign sources. When unexpected problems hit – war, pandemics, trade complications, etc. – these supply-chains strain and cannot successfully keep up with required demand. This is especially problematic given that chip demand is only expected to keep growing come 2024-2025. While TECHCET and the CMC plan to continue navigating these impending supply chain concerns, only so much can be done once a problem has hit. Luckily, most of these future issues can be mitigated by stabilizing supply-chain sources with more localized materials production. This starts with increasing materials production expansion efforts in the U.S., which is highly dependent on support from the U.S. CHIPS Act. By doing this, the chip materials industry can successfully build the infrastructure needed to support a more reliable, local, and efficient stream of critical materials to support the rapidly expanding U.S. semiconductor industry.