Agilent 10 Minutes Learning Pill on
Semiconductor Impurities Testing
The Leading ICP-MS/MS Approach for Measuring Inorganic Impurities: Addressing the New Challenge of Metallic Nanoparticles
To meet the requirements for higher integrated circuit (IC) performance and improved device yield, contamination must be controlled in the wafer substrate and on the surface of the device during fabrication. Given the nanometer scale of device features, there is a critical need to monitor metallic nanoparticles (NPs), as well as dissolved metals.
Analysis of NPs present in bulk chemicals, silicon wafers, and cleaning bath solutions is important. If a particle is present between two metal lines, it may cause electrical shorting to occur and surface defects can affect the growth of new layers on the silicon wafer.
To fully investigate the cause/source of any particle contamination, multi-element analysis of NPs is necessary. ICP-MS is used increasingly to measure nanoparticles directly in sample solutions, using single particle inductively coupled plasma mass spectrometry (spICP-MS). With growing interest in characterizing NPs in various semiconductor samples, the technique is currently being evaluated within the industry.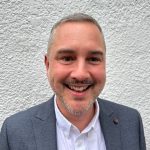 Andrew Brotherhood, Atomic Spectroscopy Application Engineer
Agilent
Andrew has over 15 years' hands-on experience with ICP-MS, ICP-OES and Ion Chromatography instrumentation. He has mainly worked in the pharmaceutical analysis industry gaining significant experience with developing and validating methods to pharma regulations. Andrew started working for Agilent as a full time employee in January 2018 working as an Atomic Spectroscopy Application Engineer based at the Agilent Centre of Excellence in the UK.