Advertise with Semiconductor Digest
Through a mix of news, contributed articles and staff-written articles, Semiconductor Digest is dedicated to providing information about the design, manufacturing, packaging and testing of semiconductors and other types of electronic devices, including MEMs, LEDs, displays, power electronics, optoelectronics/photonics, biomedical devices, solar cells, thin film batteries and flexible electronics. Our focus is on the unique requirements of each of these devices in terms of the design tools, process equipment and materials, and test equipment.
We seek to understand how end applications are driving the requirements for these devices, including telecom (5G), personal computers, mobile (smart phones/tablets), IoT, automotive, data servers (cloud computing, networking, gateways, storage), aerospace, industrial uses (i.e., smart manufacturing), consumer (TVs, cameras, household appliances), wearables, lighting, agriculture, healthcare, military, signage, oil exploration and many others.
Our coverage is global, looking at manufacturing activity in the U.S., China, Taiwan, Korea, Japan, Europe and Southeast Asia (Philippines, Singapore, Malaysia), as well as Brazil, Russia and India.
We are specifically focused on the processes and materials used in semiconductor manufacturing, including lithography, deposition, etch, planarization, implant, annealing/diffusion and cleaning, as well as the inspection tools needed to measure film thickness, critical dimensions, check for defects, etc.
We are also focused on the infrastructure needed to support the multi-billion fab that houses these tools. That includes the cleanroom, the chemical/water and gas handling equipment, the automation/robotics, the vacuum pumping and exhaust gas abatement gear, the software that controls it all (MES/SAP).
Advertising Options
Brand your product or communicate your message to an engaging semiconductor manufacturing audience with our marketing solutions. We have many options available in our media kit as well as the ability to create custom options. Let us assist you with your marketing efforts by putting together a media package to help you achieve your marketing goals and objectives and stay within budget.
2022 Editorial Calendar and Media Planner
2023 Editorial Calendar and Media Planner
What's Inside?
2023 Editorial Calendar (pages 5 – 7)
NEW Pre-recorded Webinar Promotion (bottom of page 14)
NEW Survey Promotion (page 18)
NEW Custom Article Program (page 18)
Tip: to make sure you are viewing the most up-to-date media planner, please bookmark the link or come back to this page to download the most current version.
Contact us to create your 2023 advertising plan!
Click here to be added to the distribution list for editorial highlights and special promotions
Contact Kerry Hoffman, kerryh@semiconductordigest.com with questions
Semiconductor Digest Platforms
Website
The Semiconductor Digest website provides a mix of news, contributed articles, blogs, magazine content and videos built around seven topic centers: Semiconductors, AI, Design, Packaging, MEMS, Displays and Events.
Email Newsletters
Semiconductor and electronics manufacturing professionals stay informed each week by linking from Semiconductor Digest's e-Newsletters to important industry news, product information, research, videos and more.  Newsletters include a daily newsletter and six topical newsletters — Wafer Digest, Advanced Packaging Digest, MEMS Digest, Displays Digest, AI Digest and Design Digest, plus a SEMICON West Featured Products Newsletter and Show Daily Newsletter.
Magazine
Our global and qualified audience of buyers is the largest and most diverse served by any electronics manufacturing-focused magazine. They rely on our leading-edge and strategic articles and commentary to help make semiconductor, packaging, MEMS, LEDs, and display manufacturing technology decisions that impact product and supplier choices.
Custom and Editorial Webinars
Our technology-rich webinars are delivered to a captive, global audience and generate hundreds of targeted leads, increase brand visibility and promote thought leadership.
Technology Papers and Videos
Technology-rich white papers and videos add a valuable resource to the website.
SEMICON West Show Daily
The Show Daily Magazine is distributed electronically each day of the SEMICON West show with fresh editorial written by our editorial team. Readers can choose to read it on their phones, tablets or computers when it's convenient for them to keep up with everything happening at the event.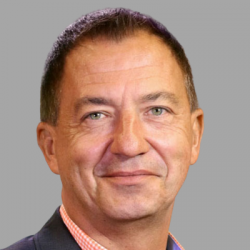 For Germany, Austria, Switzerland & E. Europe,
Holger Gerisch, Sales Manager
Holger.gerisch@gmx.de
+49-(0)8847-6986656