At SEMI's 2020 Industry Strategy Symposium (ISS), held January 12-15th at Half Moon Bay in California, Handel Jones, CEO, International Business Strategies (IBS), spoke on the opportunities and threats in the China market.
Jones (as did Bob Johnson of Gartner) sees positive growth for 2020's semiconductor market, estimating it to grow at about 8%, reaching a trillion dollar market in 2030. "We're showing this going up nicely year by year, but in reality, there's going to be volatility," Jones said. "Exactly when that volatility will occur is a little bit unclear, but we will have volatility."
He also noted that last year's dip was primarily due to the memory cycle. "The DRAM market last year declined 38%. This year it will go up about 19%. The NAND market last year went down by 27%. It'll go up this year about 17%. And, of course, the big difference is the supply demand and the impact on pricing," he said. A decline in shipment volume of smartphones was another factor impacting demand for semiconductors, but the smartphone market is projected to grow in 2020 due to anticipated growth of 5G smartphones.
Jones, a leading expert on China and the author of "China's Globalization (How China Becomes No. 1)" gave some deep insights into semiconductor activities in China. Figure 1 shows the consumption of semiconductors by geographic region, indicating that China in 2019 was about 53% of the total. By 2030, China will have about 58% of the total, according to IBS. "China's a huge market for semiconductors," Jones said, "And of course, it's also been growing its own semiconductor capabilities."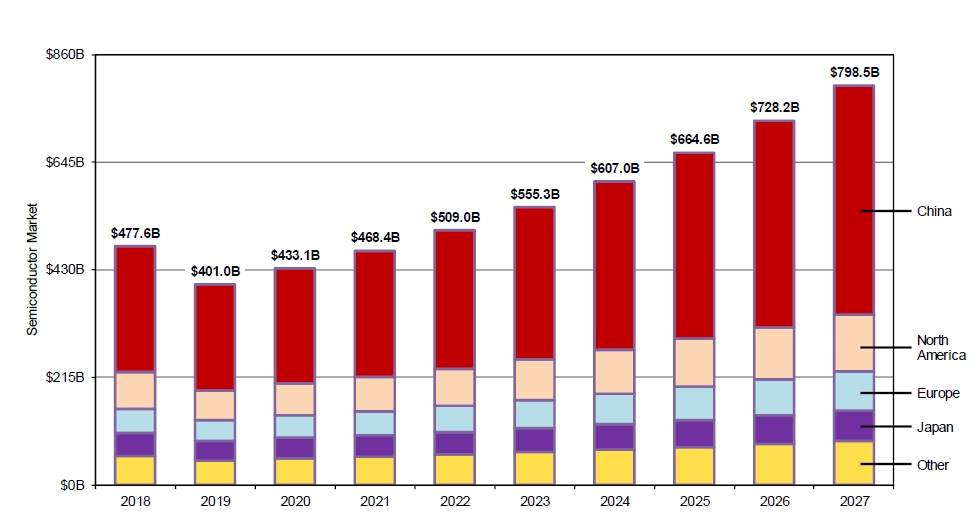 Jones said that how semiconductors are consumed in China is changing. "If we go back to 2006, about 11.5% of the semiconductors consumed in China were consumed by Chinese companies. The rest were for export, such as in personal computers. When we look in 2019, consumption is about 43% by Chinese companies. This is now in smart phones, data centers and automobiles. When we look to 2030, we're projecting about 69% of the semiconductors consumed in China will be consumed by Chinese companies," he said. "That's a major change. The China market has changed significantly in a short time, and it's going to continue to change."
One of the key initiatives in China that is leading to higher levels of semiconductor consumption is 5G. 5G is split into millimeter wave and sub six GHz. "Millimeter wave gives you very high bandwidth but you get very limited range, so it is limited in application. Sub six will be used for autonomous driving, for use in terms of medical activities and a wider range of applications," Jones said.
This year, China will have about a million base stations installed for 5G. "There's a major commitment in China to 5G, Jones said. "It's probably a $100 billion to install country-wide capabilities for 5G."
In addition to having the 5G infrastructure, there are 5G phones. This year, IBS is projecting about 200 million 5G phones. "Chinese companies probably will produce 65-70% of those," Jones said. "In the past, Chinese smart phone companies were way behind, but now since the biggest market is in China, the biggest vendors will also be in China. That is going to increase the semiconductor consumption going forward," Jones said.
Figure 2 shows the semiconductor supply chain in China, indicating the percentage of the supply coming from foreign companies vs Chinese companies. Even in 2030, 60% of the supply will still be bought from outside of China, according to IBS.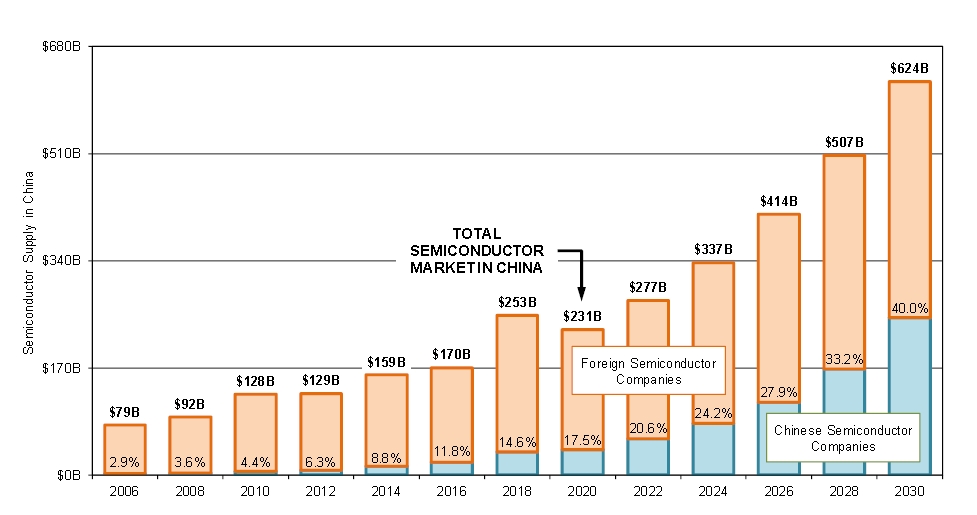 Another big focus in China that will drive semiconductor consumption is on electric vehicles, which will reduce consumption (and therefore imports) of oil, and also reduce pollution. "Electric vehicles are going to change the global supply chain of cars," predicts Jones. "You need significantly less labor for electric vehicles than you need for an internal combustion engine. I think you're going to see significant bankruptcies among automobile companies that don't have the resources to switch from internal combustion engine to electric vehicles. This a 10-15 year issue in the US and Europe, but in China, it's 5-10 years." Jones said he sees large investments in China in battery capacity, and control over the supply chain of cobalt and lithium.
Tying into electric vehicles is autonomous driving and autonomous transportation. Jones said China just announced a new train from Beijing to beyond the Great Wall that runs at speeds in excess of 250 miles an hour. "How do you get on the train? 3D facial recognition if you're Chinese. No people, no paper," he said.
In terms of competitiveness, Jones said that HiSilicon is doing designs at 5nm with TSMC, and they already have 7nm chips in production. VeriSilicon is also starting to do designs at 7nm. "The rest of the companies are significantly behind, but that's going to change. If one company can do it, other companies can figure out how to do it," he said.
Jones provided an interesting take on why China is eager to get into semiconductor design and production. "Is this competition with the US?" he asked. "That's only part of the story. If you look at the growth of China, today you have a middle class of about 400 million people. You have 10 million graduates a year. You have 700 million people that work. And you have an aging population."
What can drastically change this scenario is Artificial Intelligence, which could eliminate most of the factory worker and service jobs. "If they can make electronics grow and provide new jobs.. the country can continue to be economically stable. If there isn't the ability to switch into the AI age where you create new jobs, create new industries, there's potentially a high-level of instability," Jones said. "The leadership is saying, 'If we don't build employment, if we don't grow technology, if we don't grow industry, we're going to have high unemployment. And if you have that among the 10 million graduates you have every year, that's a big problem."
The U.S., by not allowing products to be shipped to China, has created an environment in China which says, "'Okay. Now we have an enemy and we have to become self-sufficient. We have to accelerate that self-sufficiency.' That is now motivating people in China, motivating companies," Jones said.
"In my opinion, China's going to continue to grow, and grow independent of the U.S. in many cases. Collaboration will make things a lot better. But if we're going to be standing on the sideline trying to slow them down, it's not going to work," Jones concluded.
Also see:
ISS: The 2020 Outlook for Consumer Electronics
ISS: 2020 Outlook on Automotive Electronics