By ALAIN LEGAULT, Vice President, IP Products, Hardent
Electronic manufacturers are constantly introducing ever more advanced displays with higher performance to serve an ever-growing set of embedded display applications including mobile, AR/VR, automotive and many other application areas. While the advancement in display technology makes each generation of products better than the last, it also places increasing demands on display interfaces, particularly in regard to video display bandwidth.
The use of video compression can ease display bandwidth requirements while also addressing other needs such as power efficiency, cost, and overall size, without significantly increasing latency. Two visually lossless display compression codecs from the Video Electronics Standards Association (VESA), available in the MIPI DSI-2 display interface specification, let product developers choose the codec that best meets their needs.
Display bandwidth crunch
Displays are growing in number and improving across multiple parameters in a wide range of products, including mobile devices, AR/VR head-mounted displays (HMDs) and vehicles. For example, between 2010 and 2020, display performance in high-end mobile devices increased significantly in terms of resolution, frame rates and pixel depth, as shown in FIGURE 1.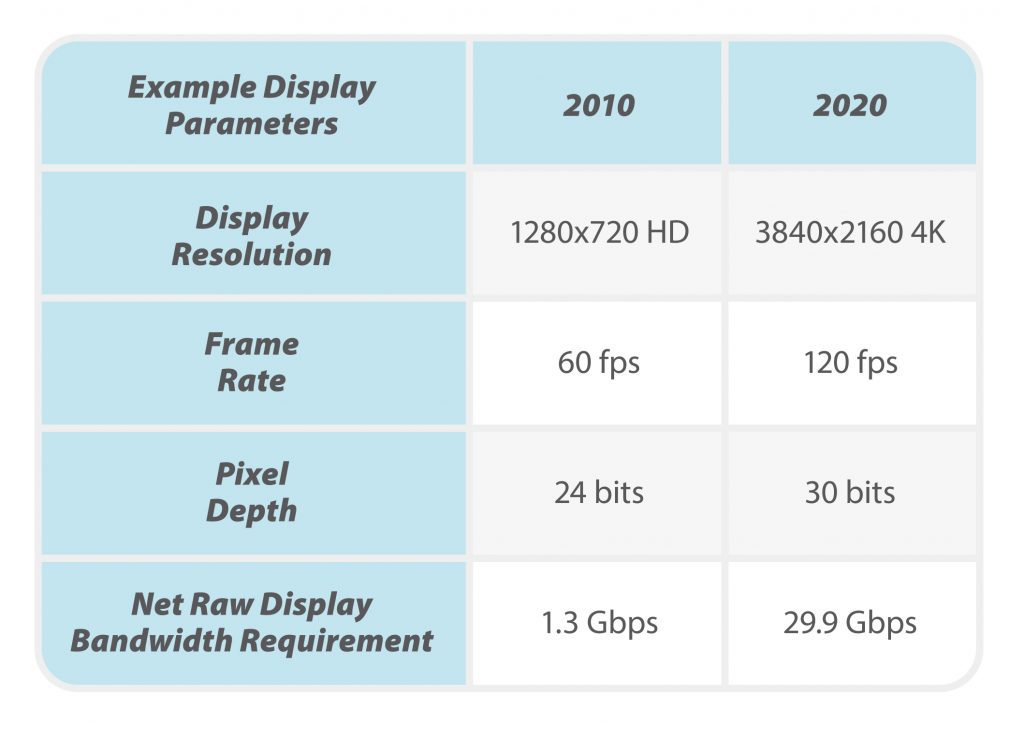 This trend has created a bandwidth crunch for display interfaces. As Fig. 1 shows, the demand for mobile device display bandwidth grew by a factor of 23 in the past decade. More generally, across the major industries, demand for display bandwidth has been growing approximately 40 percent per year, while the bandwidth of the underlying display physical (PHY) interfaces has increased at only half that rate.
To solve this dichotomy, developers of future products can choose to implement physical interfaces with much higher bandwidth (typically this means implementing a greater number of physical data lanes) or use compression to reduce or slow the need for additional physical data lanes. Both solutions have benefits and trade-offs.
Click here to read the full article in the October issue of Semiconductor Digest.