BY Terry A. Francis, Director of Technology & Senior Analyst, TECHCET
Global supply-chains are being disrupted by the U.S./China trade wars, driving increased awareness of the strategic importance of rare-earth elements (REE). China currently controls the global market for these critical materials with over 79% share of the world's mined production, and currently holding approximately 37% of the world's REE reserves. China has recently reduced rare-earth oxide (REO) production by 30%. REEs are vital building-blocks for batteries, catalysts, lasers, magnets, emerging memory devices, and other high-value components of the modern world. In the recent past, U.S. companies were happy to pay reduced prices for REE from China such that U.S. production shut down, and the remaining mining in the U.S. now ships ore concentrate to China for refining.
REE are heavy metals distributed in moderate quantities around the world. The name is really a misnomer because REE are not very rare in the earth, and are found in over 300 known mineral rocks at an average concentration of 150-220 ppm (compared to copper at 55 ppm). Finding and mining of REE is not difficult, but their chemical properties make them extremely difficult to separate into individual elements. A mix of dilute REO must be concentrated, and then reacted with acids and bases to separate out the individual pure oxides under strict process and EHS controls.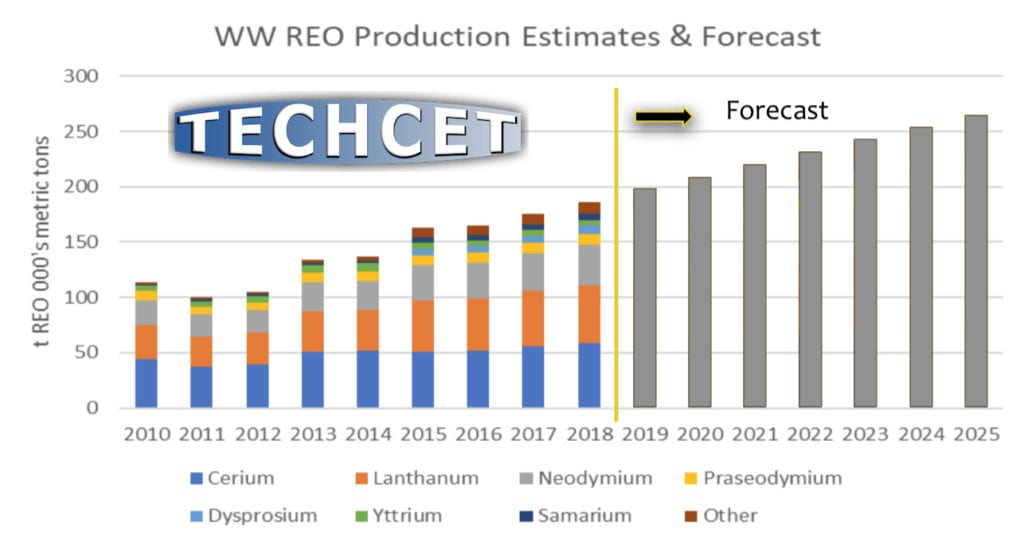 Research into REE alternatives has so far found no other materials capable of providing equal performance, despite government funding in Japan, Europe, and the US (DARPA's "React"). Demand for batteries for electric vehicles and other products that use REE soared to 130 million tons last year. TECHCET sees strong global demand growth for several REE, such as neodymium, praseodymium, dysprosium, and lanthanum (Figure 1). 
Weak consumption lowered prices of rare earth in the third quarter of 2018, and prices fell for praseodymium, neodymium, terbium, and dysprosium. We anticipate prices of most rare earth products will rise over the next few years. This will help the supply-chain reach pricing levels that will sustain the profitability and growth of the dominant producers, while also incentivizing continued global investments in exploration and resource development.
Global Supply
China dominates REE production, and so has direct and indirect control over pricing. China has a majority ownership of mines inside the country and has made direct investments in external mines or in the out-take of these mines. TECHCET has identified 62 global REE mining locations, but after thorough analysis considers only 28 mines as having shown activity or potential of producing REO in the next 3-5 years (2021-2026). Outside of China, the largest sources of REO mining and production are located in Australia, Russia, Vietnam, and India. Canada has a large potential reserve with multiple companies, but the capacity has not been developed, and many companies still ship ore to china for refining and purification.
The challenges in securing a fair, binding purchase agreement for REE is not unique to REO sales. Potential purchasers continue to buy predominantly from China and, whilst they are interested in establishing a non-Chinese supply-chain to diversify their supply risk, they also expect new entrants to supply at a substantial discount to the established Chinese suppliers (Figure 2). Companies need to be well positioned with a low-risk, permitted and "development ready" project, and not bound to an inferior pricing position for many years.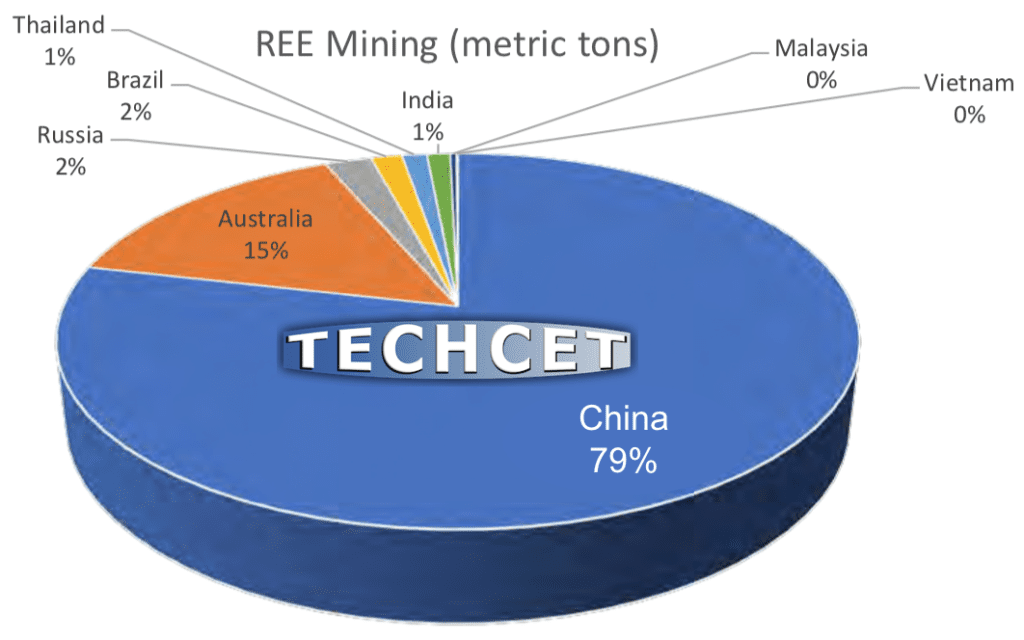 Tariff Strategies Likely Ineffective
Since REE production in the U.S. is not at industrial quantities, a tariff on raw REE would increase the cost in the U.S. with the intent to create profitable local production. This action has two issues: the cost of building capacity, and the low market prices. An existing mine, like Mountain Pass in California, required a half-billion dollars to begin operations. Russia recently invested onebillion dollars to start a new REE mine.
The second issue of low market prices is connected to China's strategic investments over the last 20 years in refining and separation technologies. Chinese companies are now more efficient than international competitors and can make profits while offering low prices. Mountain Pass REE mining operations re-started in 2016, but went bankrupt just a year later when it could not compete at the market prices set by Chinese companies.
TECHCET is tracking two new REE refining projects by qualified companies that have applied for permits within the last year to begin operations in the state of Texas. Even with the need for this capability within the US, we estimate that 2023-2025 will be earliest impact of these new suppliers. In addition to an economical source of raw material in the rare earth market, it is critical to have the technical expertise and the operating cost structure to be able to build a business supplying REE.
About the author: Terry Franciscovers metal chemicals and specialty wet cleans for TECHCET. His work experience includes CTO, Sr. Director, technical application expert, process manager and engineering management from companies such as Matheson, Air Products, Applied Materials, Burroughs, NCR, AMI, and National Semiconductor. He has over 40 years of experience in the semiconductor industry and has managed businesses from $2M to over $100M in revenues. In addition, he is experienced in material, chemical, and electrical engineering as well as the R&D and development programs in the Chemical/OEM/IDM sectors in the microelectronics industry. He holds a M.B.A. from National University, and a B.A. in chemistry from Oregon State University.