TECHCET announced that global revenues for semiconductor manufacturing and packaging materials grew approximately 12% year-over-year (YoY) in 2021 to ~US$57.8 B, and are expected to grow 7% in 2022 to over US$61.7 B. The COVID-19 pandemic has created strong demand for both logic and memory ICs to support continued Work from Home and School from Home, and as such demand is expected to increase despite expanding availability of virus vaccines. The compound annual growth rate (CAGR) 2020-2025 is forecasted at > 6% as per the latest TECHCET Critical Materials Reports (CMR) and shown in the figure below.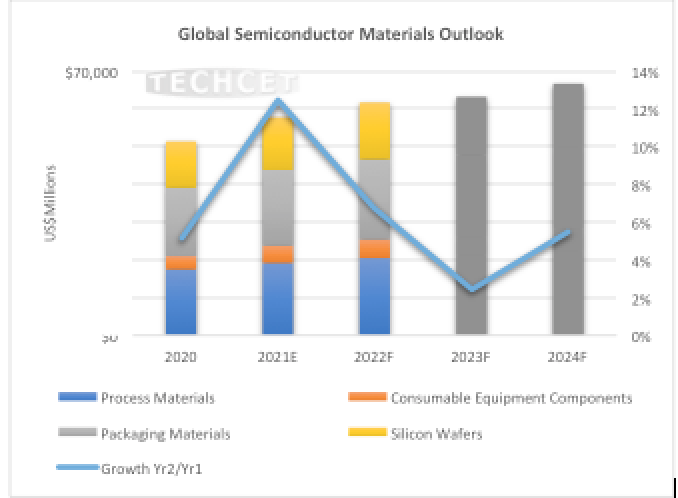 Strong growth in 3DNAND and advanced logic devices is expected to be the leading driver for materials revenue growth through 2025. As indicated by TECHCET's Critical Materials ReportsTM and market research consulting:
Top Concerns About Supply Availability – Demand Outstripping Supply
Silicon wafer supply-chain is increasingly strained by growing demand with minimal additional wafer making capacity in the near-term.
Multiple materials segments including gases and wet chemicals are being impacted by raw material availability issues from China, driven by electric power limitations and regulations, in addition to increase in local demand for materials.
Equipment Parts capacity is likely to remain below demand for the next year as equipment and raw materials needed to increase volumes are experiencing long lead-times, 2X-3X normal.
Even if the pandemic subsides later this year, the supply tightness is expected to continue beyond 2022 as parts will be needed to support growing 3DNAND and leading-edge logic device production.
Continued high growth in ALD/CVD precursors is expected, as leading-edge Logic and Memory chip demand will accelerate consumption in this materials segment. Additionally, more precursors are being demanded by new processes for advanced devices incorporating 3D-stacked scaling and new patterning processes.