Riding on the growing demand for generative artificial intelligence (AI) tools, US-based semiconductor giant Nvidia had briefly vaulted past the $1 trillion market capitalization mark. In the process, it has become the seventh US company to achieve this milestone, joining Microsoft, Apple, Alphabet, Amazon, Meta, and Tesla. The only non-US company in the club is Saudi Aramco, found GlobalData, a leading data and analytics company.
The success of these technology giants can be attributed to several factors such as ground-breaking products and services that have revolutionized their sectors, effective leadership, a global customer base, and a strong international presence that fueled expansion and attracted investors.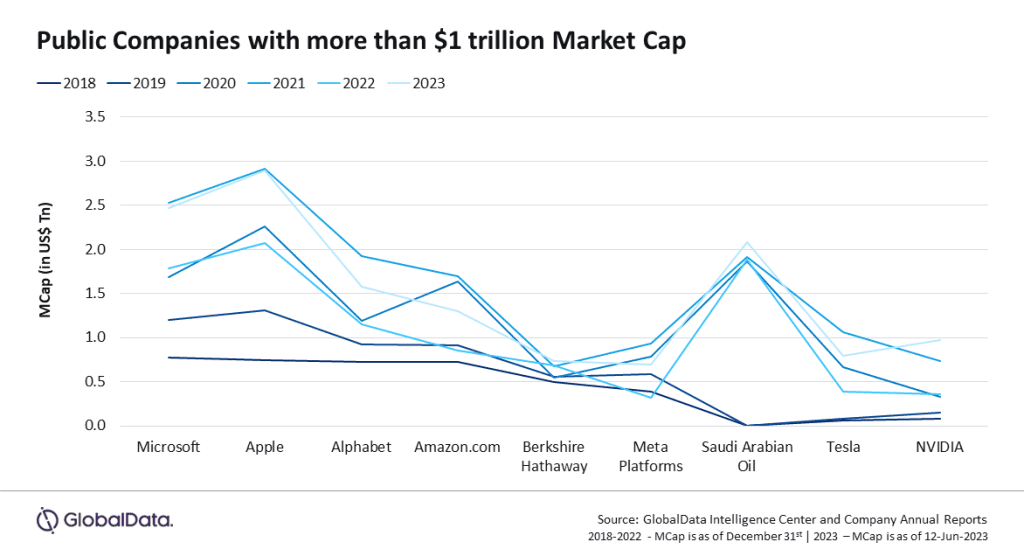 Murthy Grandhi, Company Profiles Analyst at GlobalData, comments: "Due to increasing fascination with AI, driven by significant advancements in generative AI, NVIDIA experienced a remarkable surge in its stock value, which tripled in less than eight months."
In 2021, both Tesla and Meta Platforms briefly attained the coveted $1 trillion market capitalization, but it was short-lived as Tesla faced a decline in its share price due to concerns regarding electric vehicle (EV) demand, as well as the impact of CEO Elon Musk's involvement in the extensive restructuring of Twitter Inc.
Meta, on the other hand, experienced a significant drop in its share price due to the repercussions of Apple's privacy changes in iOS, as well as a decline in its core advertising business.
However, the dynamics are evolving, and Meta Platforms is showing signs of a remarkable recovery. Its stock has been on a bullish trajectory, skyrocketing by over 100% year-to-date. The company's recent cost-cutting measures, along with a rebounding advertising market, position it for future success.
Meanwhile, Tesla has also witnessed a bullish trend in its share price year-to-date, although it is still trading 58% lower than its peak value of $407.36. Tesla's stock is known for its volatility, making it one of the most unpredictable investments. While short-term rallies may occur due to strategies like the utilization of traditional advertising and upcoming product launches like the Cybertruck pickup, Tesla is far from reaching the trillion-dollar club.
Back in November 2007, PetroChina became the first company in the world to achieve a market capitalization of $1 trillion during its initial public offering (IPO). However, since then, the company's stock has experienced a significant decline, plummeting by over 80% from its IPO value.
Grandhi concludes: "Nevertheless, attaining a market capitalization of $1 trillion presents unique challenges. As these companies expand and gain more prominence, they attract heightened scrutiny from regulators who are concerned about their market dominance. Issues related to antitrust regulations and potential monopolistic behavior arise, necessitating careful adherence to regulatory requirements and the skilful navigation of these complex concerns."