The impact of COVID-19 this year and next will cause off-premises cloud service providers (CSPs) to shift their priorities to help end users, customers and partners adapt to new norms.
The COVID-19 pandemic is significantly affecting the business world, with impact felt from the data center compute, storage and networking markets all the way up to the applications running in the cloud, as reported by the Omdia Cloud & Colocation Services for IT Infrastructure & Applications Market Tracker.
"On one hand, data-center operators are experiencing massive surges in consumer usage of compute resources due to school closures, social distancing and government work-at-home mandates. This is making it increasingly imperative to provide a reliable, scalable and secure cloud," said Devan Adams, principal analyst at Omdia. "The new rules for society have created new norms, resulting in increased demand for e-learning, remote working, binge television watching and other at-home activities. On the other hand, IT infrastructure services—i.e., IaaS, CaaS, PaaS—are experiencing equally negative effects as many small-and-medium businesses (SMBs) either temporarily shut down or prepare to close their doors permanently as they are unable to remain financially viable."
Accounting for the two contradictory effects COVID-19 is having on the cloud services market, Omdia has forecast the impact of the pandemic on 2020 and 2021 cloud service revenue:
In 2020, software as a service (SaaS) market revenue will increase by 4 to 5 percentage points compared to previous estimates. In 2021 the market will see a 2 to 3 point increase.
In 2020, IT infrastructure service revenue will decrease by 2 to 3 percentage points versus previous estimates. In 2021 it will suffer a 1-to-2 point shortfall.
It should be noted that COVID-19 only has a partial impact on Omdia's overall 2020–2021 forecast updates. Other important aspects have been factored as well, including prior 2019 actual results, new and updated cloud services, and data center footprint expansions.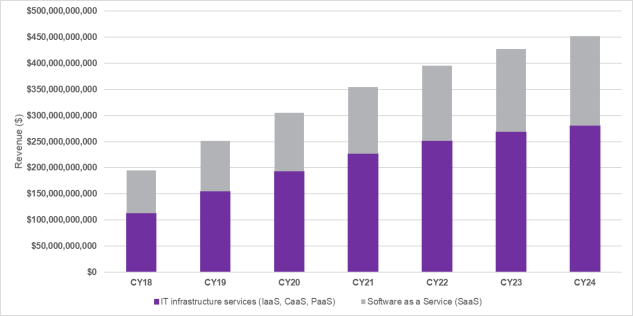 Cloud service providers push their focus to the edge
Edge service delivery is the latest trend in the cloud services market as businesses prioritize lower latency, higher bandwidth solutions that are closer to their end-users. Some of the most notable telco and enterprise use cases where edge services are deemed the most critical include IoT, 5G/ LTE, smart cities, retail shopping, surveillance and security and autonomous vehicles. To address the latest customer needs, communications service providers (CSPs) are upgrading their portfolios accordingly, including:
In March, Microsoft introduced Azure Edge Zones and Azure Private Edge Zones to provide consistent Azure services and application platform and management at the edge. The Zones are currently available for preview in North America as part of Microsoft's early adopter program with AT&T and are expected to expand to more carriers.
Also in March, Google Cloud partnered with AT&T to release several 5G edge computing solutions based on AT&T's network and Google Cloud. The offerings delivered on AT&T's network will use Google Cloud's capabilities like Kubernetes, artificial intelligence, machine learning and data and analytics. The solutions will be accessible globally.
This month, IBM announced edge services designed for enterprises and telecommunications providers. IBM's edge services run on Red Hat OpenShift, which is Kubernetes-based, and can be applied across different multi-clouds and edge environments; the new solutions included IBM Edge Application Manager, IBM Telco Network Cloud Manager, Edge-enabled applications and IBM edge-focused ecosystems (IBM Edge Ecosystem and IBM Telco Network Cloud Ecosystem).