TECHCET—the electronic materials advisory firm providing business and technology information— is closely tracking issues in the critical materials supply chain, including those related to CMP (chemical mechanical planarization) slurries needed for semiconductor production. The CMP slurry supply chain is experiencing strain from limited production capacity in the midst of continued strong demand from chip fabricators. Slurry suppliers are struggling to balance the demands for more product with the cost of adding capacity, especially if more infrastructure is needed. Hesitant to trust grandiose market predictions, suppliers continue to rely on short term forecasts in their capacity planning. Since the consumables shelf life varies from roughly 6 to 12 months for most products, there is a limit to the inventory that device makers can carry. Therefore, suppliers and fab customers must work closely together to manage inventories and to control costs. The latter is key as fabs seek for ways to reduce consumables costs as layer counts for logic and 3D NAND devices increase.
TECHCET forecasts the Chemical Mechanical Planarization (CMP) slurries market for semiconductors to grow almost 9% in 2022 from the previous year. The total slurry market will top US$2.0 billion for the current year and will reach US$2.6 billion by 2026,as highlighted in TECHCET'S CMP Market Report (CMR ™). The strongest growth over the forecast period will be for polysilicon, new metals (i.e., ruthenium, cobalt, molybdenum, and zirconium) and oxide (ceria).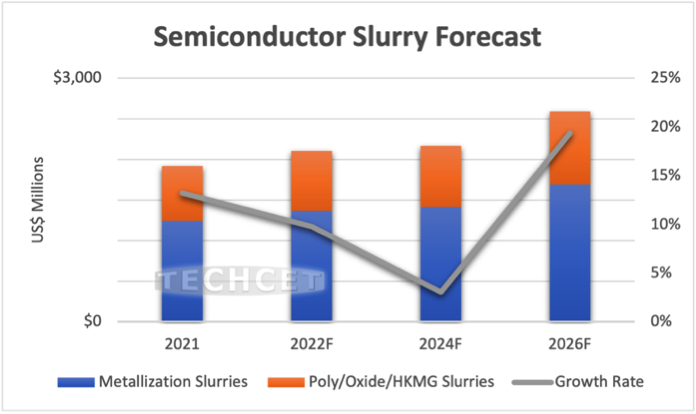 "Overall, the copper CMP slurry market will grow over 6% CAGR through the 2026 forecast period as logic device wafer starts continuing to increase," stated Dan Tracy, Sr. Director at TECHCET. Similarly with growing wafer starts and increased layer counts, tungsten CMP, consumed primarily in 3DNAND Flash, will also grow at over 6%. The newer metal segment is forecasted to grow at 14% CAGR as new interconnect structures ramp up in the industry. With such steep growth projections, chip fabricators hope for more investment in slurry capacity, especially in the US where chip expansions are expected to exceed US$130B over the next 5-years. Suppliers will remain cautious, seeking longer long-term agreements and subsidies for material expansions, i.e., CHIPS Act funding.