Compound Photonics U.S. Corporation (CP), the leader in compact high-performance microdisplay solutions, today announced the release of its CP2K234 series of Liquid Crystal on Silicon microdisplays targeting next generation AR/MR (Augmented/Mixed Reality) smart glasses, head-mounted display (HMD) and heads-up display (HUD) applications. With its industry leading small 3.015 μm pixel, native 2048×2048 resolution and a unique 1:1 aspect ratio, this 0.34" diagonal display enables retina resolution (60 pixels/degree) when combined with next generation 50°+ wide field-of-view waveguides. The CP2K234 is available as either a polarization (amplitude) or phase (holographic) modulator.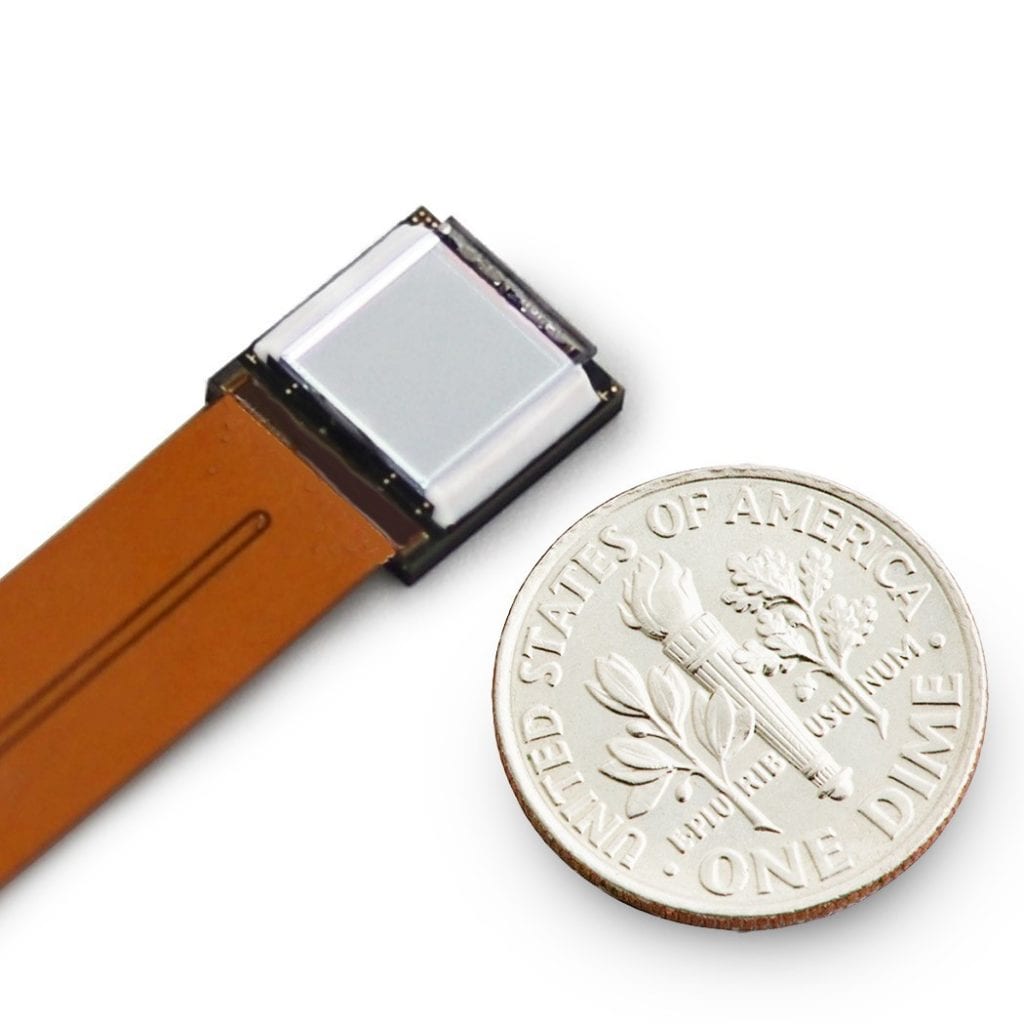 "Based on an extensive survey of customer needs, we identified the requirement to fill a larger, symmetrical field of view with enough pixels to enable a more naturalistic viewing experience," commented Ed Passon, SVP Marketing & Customer Engineering of Compound Photonics. "The all-in-one Integrated Display Module (IDM) package (11 x 11.5 x 3 mm) includes the complete display subsystem with MIPI input. The 2K2 IDM enables customers to build extremely compact systems to meet the form factors required for AR devices. In addition, the inclusion of 64 steering pixels horizontally and vertically provides flexibility in design and compensation of human vision factors."
CP's NOVA display driver architecture has customizable, frame-by-frame control of frame rate (up to 240 Hz), color sub frame rate and other parameters to optimize for low latency, short persistence and power according to type of image content and use case. This flexibility to dynamically adjust the display mode allows system designers to achieve the best performance-to-power consumption trade-off for demanding AR/MR applications. For phase/holographic mode applications, the 3.015 μm pixel and 4+ million available pixels of the CP2K234 offer the ability to generate higher quality holographic content.
Yiwan Wong, CEO of Compound Photonics, further commented, "CP continues to lead the industry in rapid innovation for microdisplays. With our 1080p microdisplay product introduction in Spring of 2019 and our recent announcement with Plessey Semiconductors Ltd on μLED collaboration, CP leads the industry in addressing the full breadth of current, emerging, and future requirements for AR/MR smart glasses and HMD/HUDs. CP's 1080p and 2K2 LCoS reflective displays are available today; emerging μLED emissive display technology is being jointly developed with Plessey; and ultimately we aim to achieve true holographic 3D display via CP's LCoS phase display solutions in the future. For the first time, we can provide customers in the AR/MR space with an extensible software configurable platform based on CP's efficient drive architecture that can operate with a wide range of display types to support various application requirements."
CP2K234 amplitude samples and development kits in IDM packaging is available now and slated for production in Q4 2020. Samples for phase modulation will be available in Q4 2020. The current CP1080p26 series continues to be available in production as well.