COVID-19 has had an impact on the entire healthcare market. During the peak of the first wave, companies from the industrial and automotive sectors worked on repurposing their sensors and production lines to provide pressure sensors for respirators and temperature sensors for thermometers. At the same time, companies making sensors for wearables and other mobile devices used for remote monitoring of patients experienced saw increased demand, caused in part by the surge in telemedicine worldwide.
In addition, strong demand for COVID-19 tests pushed diagnostic players to repurpose existing systems to detect the SARS-CoV-2 virus or associated antibodies. Over the past six months in particular, numerous microfluidic technologies have enabled either rapid point-of-care tests or high-throughput solutions for central labs. The demand for these tests is incredibly high (millions of tests per month are needed), which has contributed to boosting the revenue of many companies in the respiratory-testing area.
These respiratory-testing companies have placed many testing machines at existing and new customer sites, and have sold an impressive number of test kits resulting in an initial revenue spike in Q1 2020, and even higher spikes in Q2 and Q3. This growth seems on track to last into early 2021 and beyond as the pandemic continues, the flu season arrives, and health organizations test increasingly higher numbers of people than they were several months ago. The winners in respiratory testing include Abbott, bioMérieux, Cepheid, GenMark and Luminex, among many others. In this context, Yole expects the point-of-care segment of the microfluidic product market to enjoy an impressive jump from US$4.5 billion in 2019 to US$6.3 billion in 2020, growing at 15.1% CAGR between 2019 and 2025 to reach $10.4 billion in 2025. This represents 40% of the total microfluidic product market in 2019.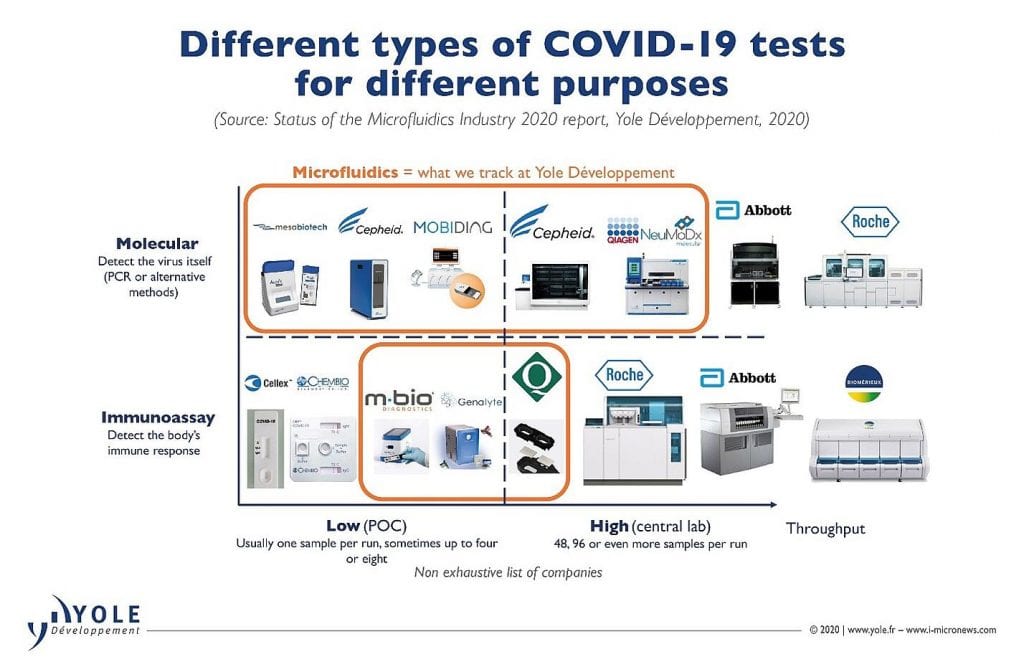 Evolution of COVID-19 Testing
No doubt this increased production of tests will be especially useful for the upcoming flu season. But what will happen next year, if (we hope) reliable COVID-19 vaccines are validated and marketed, and the new coronavirus eventually disappears? Will diagnostic companies' sales fall to pre-pandemic levels, and all these investments in production lines be wasted? Don't worry. This is not a one-shot deal: Once the pandemic is over, most testing machines will remain in place, and customers will use them to run other tests the companies offer – usually for other kind of infectious diseases – driving sales of single-use disposables in coming years.
The pandemic has shown us that more efficient diagnostic tools are required. Rapid, inexpensive, widely accessible testing for infectious diseases is crucial if we are to face such challenging situations. The real struggle for diagnostic companies, especially in the field of microfluidics where recent platforms have a small assay menu, is placing instruments (i.e., the test machines that run the disposable cartridges and read the results) at customers' locations, from hospital settings and urgent care to field testing sites, and this has now been achieved. This will drive consumables sales in the future, even beyond the pandemic, and take the microfluidic-based point-of-care testing market to the next level.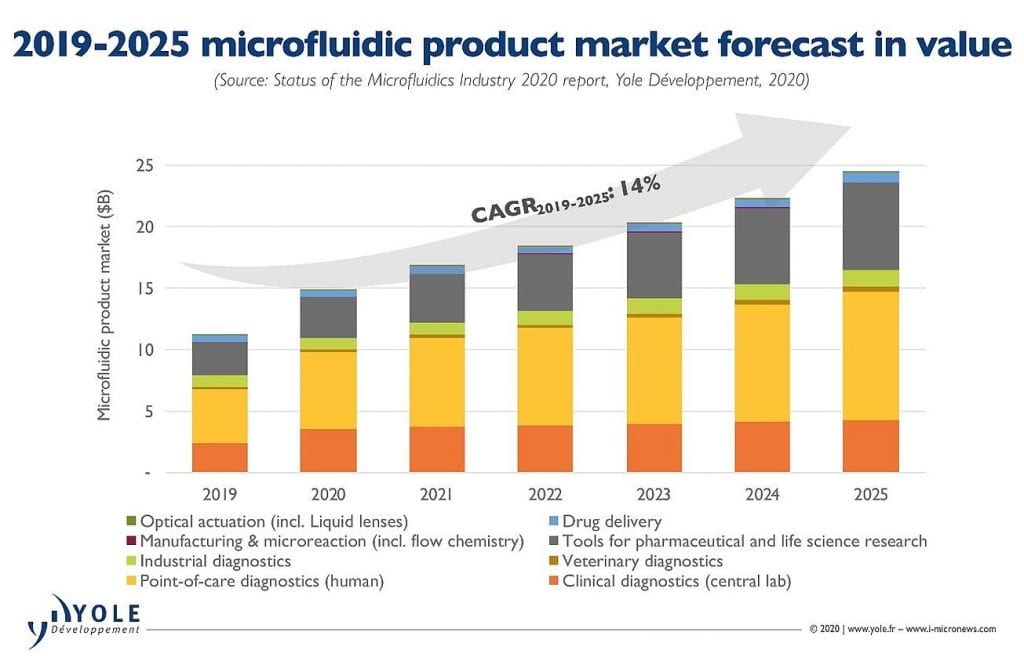 In the meantime, new significant opportunities are opening for point-of-care diagnostic test-makers, and rapid, miniaturized microfluidic technologies may be the winners here. Rapid passenger screening in airports, and rapid employee or visitor screening at the workplace will become essential for preventing the virus' spread. In total, this could represent billions of rapid tests needed per year.
COVID-19 has slowed down business growth in many areas but has really helped microfluidic-based point-of-care diagnostics take it to the next level, and this is only the beginning.
Yole Développement is a member of SEMI and the MEMS & Sensors Industry Group (MSIG), a SEMI technology community that connects the MEMS and sensors supply network in established and emerging markets enabling members to grow and prosper. Visit us today.
Sébastien Clerc is a technology and market analyst in Microfluidics, Sensing & Actuating at Yole Développement (Yole). As part of the Photonics & Sensing team, Clerc has authored a collection of market and technology reports dedicated to microfluidics and other micro-devices for major market segments: medical (including diagnostics, pharmaceutical, biotechnology, drug delivery, medical devices) and industrial (including environment, agro-food). At the same time, he is involved in custom projects such as strategic marketing, technology scouting, and technology evaluation to help academic and industrial players in their innovation processes.
Thanks to his technology and market expertise, Clerc has spoken in more than 20 industry conferences worldwide over the last four years. Clerc holds a master's degree in Biomedical Technologies and a master's degree in Innovation and Technology Management, both from Grenoble Institute of Technology (Grenoble INP – Grenoble, France).