While the market for data-center switches is experiencing both positive and negative impacts from the coronavirus crisis, the net effect of the pandemic will be a 3 to 4 percent reduction in revenue and ports during the first half of 2020 compared to previous expectations.
The global market for data-center switches will total $5.4 billion during the first six months of the year, down 9.9 percent from $5.9 billion during the same period in 2018, as reported by the Omdia Data Center Network Equipment Market Tracker. However, the market is expected to rebound robustly in the second half of 2020, with revenue rising to $7.3 billion, up 20 percent from $6 billion during the same period in 2019.
"The pandemic is significantly affecting the data-center switching market in areas including component supply, manufacturing and reseller and end-user sales," said Devan Adams, Devan Adams, principal analyst at Omdia. "The impact was Initially felt in Asia, where a significant number of components for data-center equipment are manufactured. Since then, the coronavirus's influence has spread to other regions outside of Asia, such as North America and Europe. Supply shortages have slowed or halted shipments of data-center equipment around the globe as workforces dwindle and non-essential businesses suspend operations."
These events will affect supply and demand of data-center equipment in 2020 and beyond.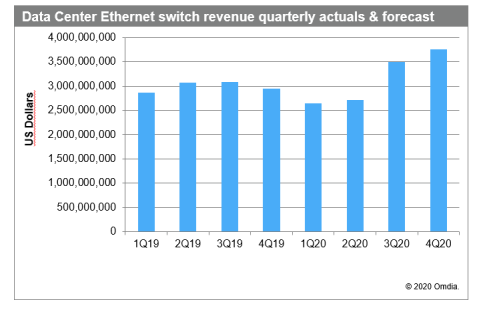 Crisis spurs requirements for switches
Ironically, the pandemic is also delivering some benefits to the switch market.
"Data centers are experiencing massive surges in consumer internet usage due to the coronavirus-inspired increase in demand for e-learning, remote working, binge television watching and other activities," Adams said. "This is good news for many switch vendors, whose products are key elements in handling the traffic bursts data centers are experiencing."
Companies enjoying a major increase include cloud service providers (CSPs) like Microsoft, which announced a 775 percent monthly increase in its Teams collaboration app in Italy during March. Moreover, Google Cloud stated Google Meet, its video conferencing solution, saw its day-over-day growth reach over 60 percent during the past few weeks.
"With schools closing, families practicing social distancing and governments mandating employees to work from home, the need to operate a reliable, scalable and secure data-center network is paramount—especially in heavily affected countries like the U.S., Spain, Italy, Germany and China," Adams said. "Furthermore, many service providers are adjusting their network traffic routes by prioritizing demands from certain industries like healthcare and government whose online services are being overwhelmed by the data traffic spikes."
Coronavirus concerns
While there have been data surges in DC networks, many CSPs are implementing their own customer relief efforts to help many of their struggling customers, especially the small business owners that operate in non-essential industries. Many of these businesses are shutting down, conducting employee layoffs and significantly reducing their budgets. Many large service providers are trying to support these companies by donating to charities, establishing relief funds and grants, relaxing bill payment penalties and offering free or reduced prices for services running on their networks.
The mixed signals highlighted above make it very complex to forecast the effect of coronavirus on the data-center switching market. As businesses and customers adjust to their new norms during these uncertain times, purchasing behavior changes are inevitable.
As a result, Omdia's data center equipment forecasts are subject to change as the current environment continues to shift. As a result, Omdia will be closely monitoring and adjusting its forecasts throughout the year.