According to a recent study from market research firm Global Market Insights, Embedded system market has emerged as one of the most profitable industry verticals in recent years. The market is anticipated to experience remunerative growth trends in the forthcoming timeframe due to its applications across numerous fields such as automotive, telecommunication, healthcare, industrial, consumer electronics, and aerospace & defense among others.
Embedded systems that provide real-time functioning have also been some of the most prominent factors that have helped augment the market gain significant traction across a number of industries.
With reference to the healthcare segment, increasing implementation of embedded systems for rugged operating conditions that have high-temperature fluctuations as well as greater exposure to shocks and vibrations is a major factor driving their demand in the sector.
Along with this, other applications of embedded systems include amplifying sound in an electronic stethoscope, to monitor patient vitals, and help run several imaging systems like MRI and CT scanners.
In addition, extensive usage of embedded systems in the biomedical sector enables doctors to manage patient health as well as enable decision making via telemedicine. Moreover, several biomedical sensors majorly rely on embedded systems like CPAP machines, glucose monitors, and pacemakers, which makes them extremely integral in the day-to-day operations of the industry.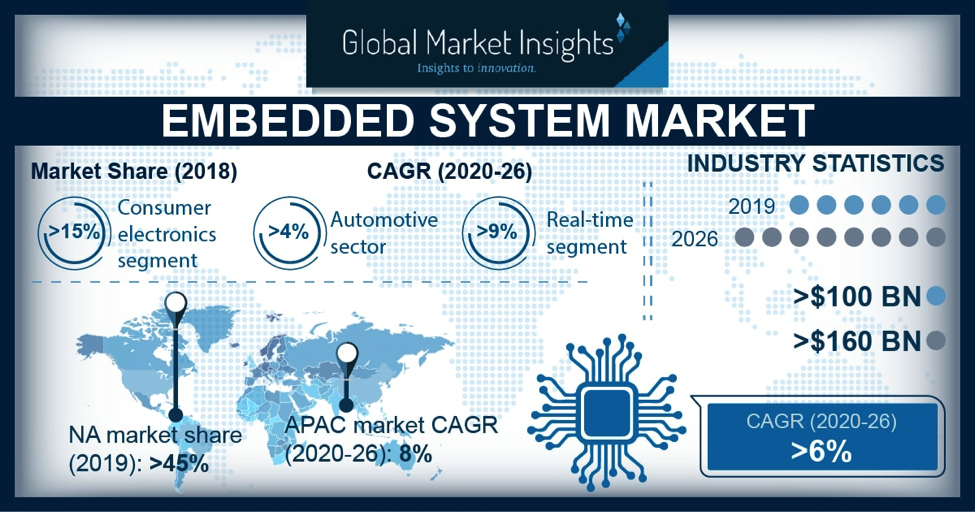 According to reports, in 2019, the network Embedded System Market segment held over 5% of total market share. Network embedded systems are compatible to several networks, such as WAN, LAN, and internet to access resources. These connections can be wireless or wired.
Embedded systems linked to a web server permits control and accede by the web browser. For instance, the home security system connected to the Local Area Network (LAN) allows access to every sensor connected to the protocol TCP/IP. Based on these aspects, studies suggest that network embedded systems segment is expected to record modest growth by 2026.
Speaking of the component segment, the FPGA (Field Programmable Gate Array) segment is anticipated to lead the market share over the forecast timeframe. This segment's rapid growth is attributed to the growing transformation across industrial infrastructures. FPGAs will witness a growing demand over the coming years owing to various initiatives introduced by the government to enhance and increase the use of automated machinery across various industries.
This would create business conditions where the demand for FPGAs would increase sharply, which would subsequently augment the Embedded System Market growth. Additionally, companies are actively implementing automation in their manufacturing, assembly, and supply chain processes, which coupled with the incorporation of robotics, is boosting the need for embedded systems.
Meanwhile, the network embedded system sector represented a market share of more than 5% in 2019 and is set to witness significant growth through 2026. Embedded systems are linked to several networks, like WAN, LAN, and the internet, in order to access resources. All these connections can be wireless or wired.
Europe embedded system market is anticipated to hold greater dominance in the global regional landscape. The Europe market is expected to record 5% CAGR from 2020 to 2026, primarily given to increasing demand for advanced technologies integrated in newer vehicles.
Moreover, burgeoning demand for telemedicine in Germany along with increasing number of intensive care residents may propel the embedded system market of Europe.
Industry participants are leveraging numerous organic and inorganic strategies such as new alliances, product launches to strengthen their presence in developing economies. In Feb. 2019, Infineon Technologies AG introduced a new series of embedded power ICs for automotive consumers, aiding automotive applications like window lift & sunroof with cutting-edge motor control solutions.
Key Companies covered in Embedded Systems Market are Analog Devices, Inc, ARM Holdings, Atmel Corporation, Broadcom Limited, Cypress Semiconductor Corporation, Fujitsu Limited, Infineon Technologies, Intel Corporation, Lattice Semiconductor, Marvell Technology Group Ltd., Microchip Technology Inc., NXP Semiconductor N.V., Qualcomm Technologies Inc., Renesas Electronics Corporation, Samsung, STMicroelectronics, Texas Instruments, Inc., Toshiba Corporation, ENEA Software AB, Express logic, Graphene Semiconductor Services Private Limited, Green Hills Software, HCL Technologies Limited, IBM Corporation, Mentor Graphics Corporation, Microsoft Corp., National Instrument, Qualitat Systems, Qualcomm Inc., SEGGER Microcontroller GmbH, VIA Technologies, Inc.