Capacity used to manufacture OLED and LCD panels will decline in 2023 for the first time in the history of flat panel displays (FPDs), according to Omdia's recently released OLED and LCD Supply Demand and Equipment Tracker. Even though the 2023 decline is small, it is significant considering that FPD capacity expanded continuously at a compound annual growth rate (CAGR) of 22.6% between 2000 and 2022.
"As panel supply shifted from being extremely tight between 2H20-1H21 at the height of the pandemic-driven demand surge, to unprecedented oversupply in 2H22, FPD prices and panel maker profitability have cycled from record highs to record lows," commented Charles Annis, Omdia's Display Research Practice Leader.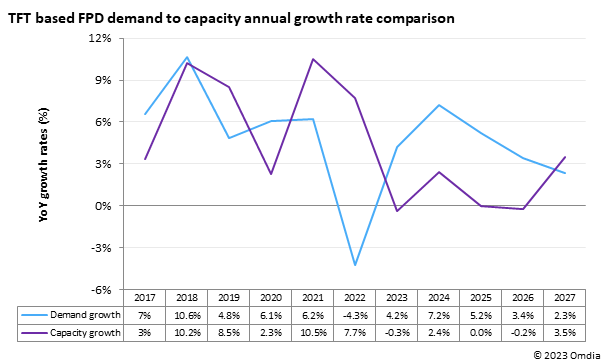 With the FPD industry continuing to suffer from excess capacity, panel makers are now accelerating the consolidation of under-utilized legacy factories, as well as delaying new factory ramp-ups, and pushing out future investment plans in order to reduce operating costs and conserve cash.
Slowing capacity growth can cause trouble for FPD supply chain companies that rely on new factory construction for business, but at the same time, it enables the industry to self-correct to a healthy balance between panel supply and demand with more stable pricing and profitability.
"Area demand for active-matrix OLEDs, LCDs, and EPDs will increase by almost 61 million square meters from 2022 through 2027, a CAGR of 4.5%. This growth will be driven primarily by a continuous shift to larger display devices, particularly televisions. Over the same period, manufacturing capacity is forecast to increase by approximately 22 million square meters or a CAGR of 1.1%."