The technology sector continues to be a driving force behind the global economic growth. Despite the ongoing challenges posed by geopolitical issues and interest rate hikes, the global top 25 technology companies gained more than $2.4 trillion in valuation in the first quarter (Q1) of 2023, reveals GlobalData, a data and analytics company.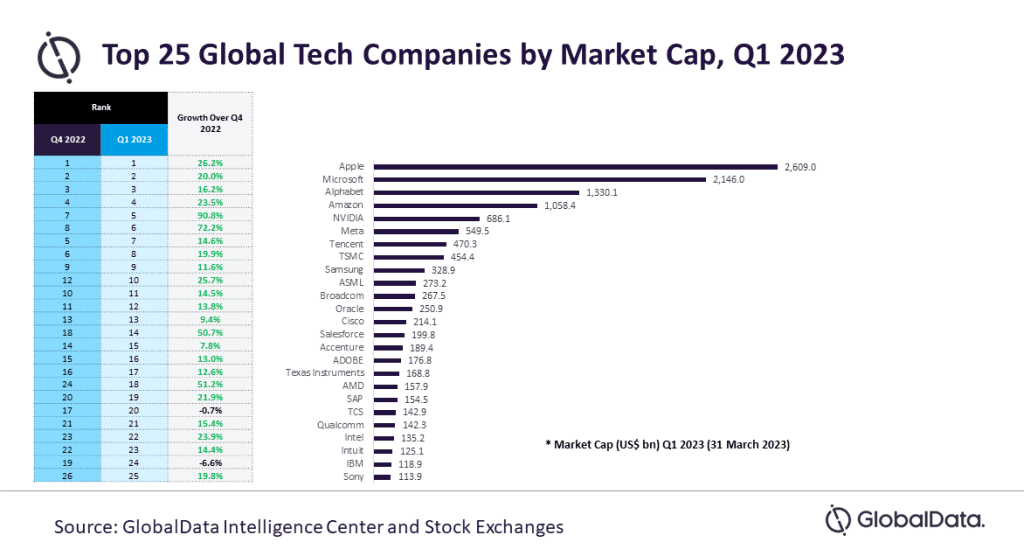 Ragupathy Jayaraman, Business Fundamentals Analyst at GlobalData, comments: "Megacap tech stocks like Apple, Amazon and Microsoft recovered remarkably from the losses they suffered in 2022 with valuation growing at more than 20% in Q1 2023 compared to Q4 2022. The top 10 gainers Nvidia, Meta, Salesforce, AMD, SAP, Intel, ASML, Amazon, Microsoft and Apple reported more than 20% in their quarter-over-quarter (QoQ) valuation. Specifically, Nvidia, Meta, Salesforce and AMD reported more than 50% gain in market cap in Q1 2023.
Meta, Apple, Amazon, Microsoft and Google (FAAMG stocks) continue to dominate the top 25 global tech stocks' valuation, contributing more than 60% with $7.7 trillion. These stocks posted more than 15% growth in MCap, in which Meta topped the list with 72% QoQ growth in Q1 2023.
Jayaraman explains: "Enhanced focus on metaverse and strong digital advertising efforts had a positive impact on Meta's performance. Apple continued to be the largest tech company in terms of valuation with $2.6 trillion. It gained almost $550 billion in MCap in the first quarter of 2023. Due to supply chain issues and weak demand, the company anticipates a reduction in its shipment targets for the fiscal."
Microsoft crossed the $2 trillion landmark in August 2022 and after a tumble in the next few months, it again crossed in March 2023.
Jayaraman continues: "Despite a minor slump in the middle of Q1 2023, Amazon's stock gained momentum towards the end of the quarter with a $1.06 trillion MCap compared to $856 billion at the end of Q4 2022. With an increased focus on stabilizing profit margins, Amazon is looking towards various cost-cutting initiatives and business diversification."
The semiconductor sector recovered in the first quarter with Nvidia, TSMC, Samsung, Texas Instruments and Intel posting substantial growth. Nvidia outperformed all the other companies in the top 25 global tech stocks with a 91% growth in QoQ valuation.
Jayaraman concludes: "Nvidia experienced significant benefits from the rising excitement surrounding artificial intelligence, particularly in the context of ChatGPT. Additionally, the stability of the data center business and a cyclical upturn in the gaming industry contributed greatly to its success.
*Technology companies include software and hardware developers, IT service providers (including internet-based service providers), and manufacturers of electronics, including semiconductors, mobile devices, etc. Companies generating majority of business from these product/services offerings have been considered under the scope. GlobalData ranks the Top 25 companies based on MCap performance.