Part 2 of 2-part series on MSEC 2019 highlights. Read Part 1.
Neural Networks on Chip
To be sure, low power is king when bringing machine learning to the sensor edge. Battery-powered, always-on sensing devices require it since frequent recharging is the death knell of any electronic product. That's why semiconductor companies are offering new ways to conserve power.
"MEMS sensor suppliers have made significant strides in the power, size and performance of their devices," said Aspinity CEO Tom Doyle. "Yet these gains deliver only incremental power improvements to the system."
Doyle advocates a new architectural model that uses an analog neuromorphic processor to analyze all sensor data at the start of the signal chain instead of sending it downstream so power-hungry chips such as DSPs can digitize it before analysis.
"The technology industry wants to take advantage of the many benefits of always-on sensing applications," said Doyle. "Before we can reach mass proliferation, however, we need to resolve the power issues that are deal-breakers for some applications. We believe the answer to this challenge is architectural. All the data gathered by always-on sensing systems is analog in nature, yet as soon as it's captured, it's digitized immediately for analysis. Determining which data is important up front eliminates the digitization and processing of irrelevant data so that voice-first devices such as smart speakers and wearables/hearables can run for long periods of time without requiring battery recharge."
Syntiant CTO Jeremy Holleman agreed that on-device intelligence is the future.
"Did you just fall? Is your heartrate a bit off? Deep learning provides a toolset that yields vastly superior decisions," said Holleman. "The problem is that deep learning is computationally intensive. The answer is a neural network that performs on-device edge inferencing."
Holleman added that Syntiant's neural decision processor was recently certified as Amazon Voice Service (AVS)-compliant for wake-word detection, making it easier to design voice control in battery-powered devices such as earbuds and wearables.
MSEC Technology Showcase Winner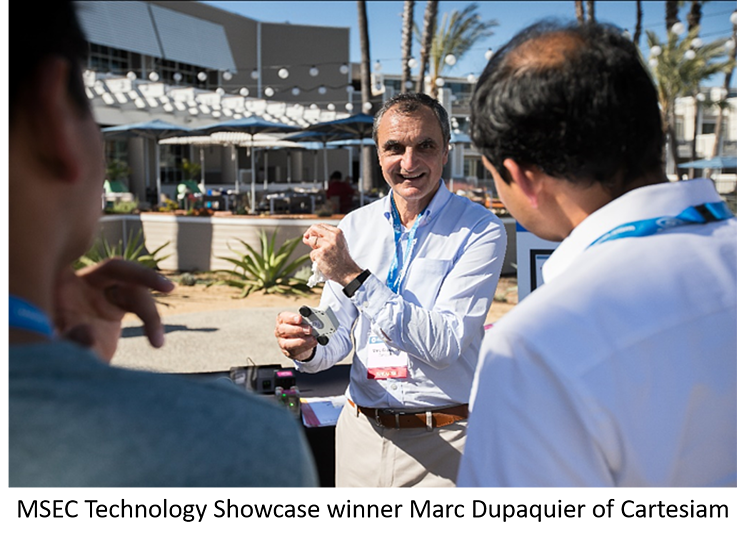 With the groundswell of interest in intelligence at the edge, it was no surprise that Cartesiam won top honors among all competitors in the MSEC Technology Showcase for its NanoEdge AI, software that brings AI to the edge of the signal chain, making it easier for designers to create intelligent objects that can learn and understand.
"Unlike other AI algorithmic technologies for sensing devices, NanoEdge enables both learning and inference at the edge, providing accurate and adaptive intelligence," said Cartesiam Managing Director and Co-founder Marc Dupaquier, who accepted the award. "It's also the only tool of its kind that does not require data scientists on board for implementation, which saves a tremendous amount of money. Our clients can build a machine learning library and embed it into their own code within weeks to realize the same caliber of unsupervised neural network that was once the exclusive domain of AI cloud vendors."
MSIG 2019 Hall of Fame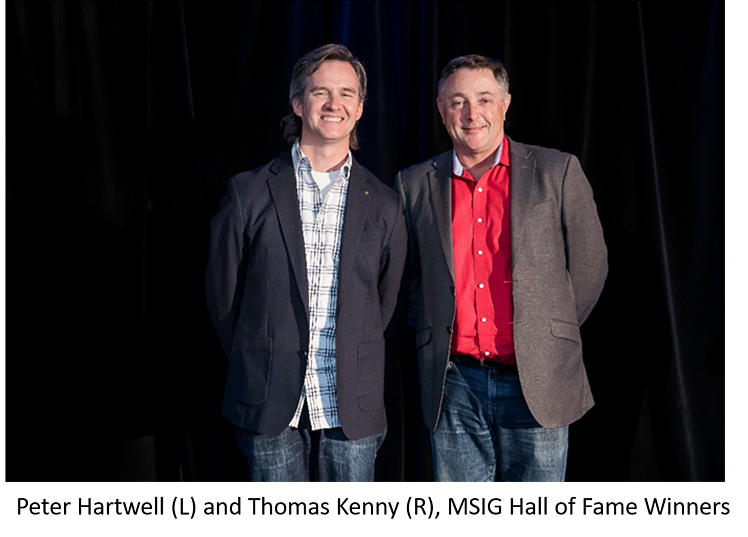 At this year's conference, MSIG Director Carmelo Sansone recognized two longtime contributors to the commercialization of MEMS and sensors: Peter G. Hartwell, Ph.D., chief technology officer at InvenSense, a TDK group company; and Thomas Kenny, professor and senior associate dean of engineering at Stanford University.
Hartwell leads technology strategy and the InvenSense advanced technology research group. He has more than 25 years' experience commercializing silicon MEMS products, including advanced sensors and actuators, and developing MEMS testing techniques.
Kenny's academic accomplishments include authoring or co-authoring more than 250 scientific papers and holding 50 issued patents. He has also advised more than 50 graduated Ph.D. students from Stanford.
MSEC 2020
Mark your calendar for next year's MSEC, October 12-14, at Coronado Island Marriott Resort & Spa in Coronado, Calif. Get updates from MSIG on MSEC and other upcoming events including MSTC 2020.
Stay in Touch with MSIG
MEMS & Sensors Industry Group (MSIG), a SEMI Strategic Association Partner, is the industry association representing the global MEMS and sensors supply chain. To learn how MSIG enables professionals in the MEMS and sensors industry to innovate, address common challenges and accelerate business results, visit us today.