Led by continued demand for AI, the total semiconductor industry grew 8.4% in 3Q23 from 2Q23 hitting $139bn according to Omdia's latest Competitive Landscape Tracker. The industry has now grown for a second straight quarter, after previously declining for five consecutive quarters.
"The increase in the semiconductor industry wasn't solely due to AI demand, as growth spread throughout other semiconductor segments," said Omdia Principal Analyst Cliff Leimbach. "Fourteen of the top fifteen companies experienced a quarterly increase in semiconductor revenue in 3Q23, and 80 of the 126 companies (63%) tracked grew revenue in the third quarter."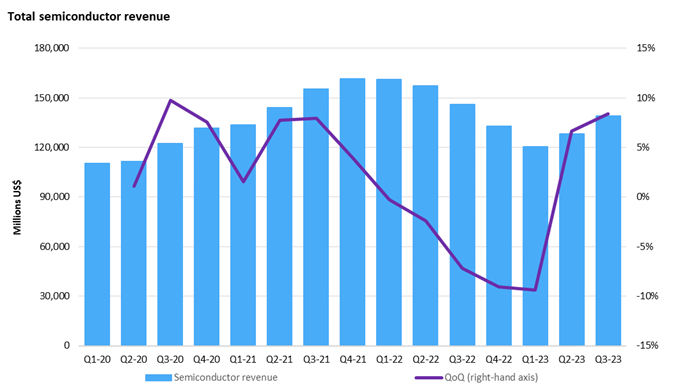 AI continues to drive the market, but improvements observed throughout the industry
Demand for AI continued to be a major theme for the semiconductor industry in 3Q23. Two firms that have benefited from AI, NVIDIA, and SK Hynix, continued to record large semiconductor revenue increases. NVIDIA, which makes GPUs that are used for data-intensive AI, increased semiconductor revenue 18% to $12bn. NVIDIA's semiconductor revenues are up $7.3bn from a year ago when 3Q22 revenues were $4.6bn. SK Hynix, which is dominant in the high bandwidth memory (HBM) used in AI applications, increased semiconductor revenue 26% to $6.7bn.
Since the memory market was at the lowest in 1Q23, SK Hynix's revenue has increased by $2.9bn. The rise of AI has significantly improved revenues for firms with a large presence in this area.
However, other areas of the semiconductor market also increased in 3Q23. The wireless segment also progressed along with the release of new smartphone models and better inventory dynamics than previous quarters. Growth was lower in the automotive sector, up 4.3% in 3Q23, but this segment has been reliably steady, having last declined in 3Q20 and currently representing 13.5% of all semiconductor revenue. The consumer segment also improved, up 7.9% from 2Q23, showing the breadth of the increased revenue in the semiconductor market.
Memory market continues improvement
The memory segment was the hardest hit segment during the semiconductor market decline which started in 2022, declining from $43.6bn in 1Q22 to $19.3bn in 1Q23. From the low point in 1Q23, the market bounced back going from $19.3bn to $24.5bn in 3Q23. Four of the top five memory makers increased memory IC revenue by double-digit percentage points in 3Q23 from 2Q23. AI demand is a large part, but other applications are increasing in demand as well.
Top-10 Market Share
NVIDIA has risen the ranks and has become the second largest semiconductor firm by revenue. This has split up the long-time pair at the top of the semiconductor market shares of Intel and Samsung Electronics. These two firms have traded the position of number one and number two over the years.