Double-digit percentage sales growth in power transistors strengthened last year, climbing 14% in 2018 to reach an all-time high of $16.3 billion after setting the previous record in 2017 with an 11% increase, according to IC Insights' 2019 O-S-D Report—A Market Analysis and Forecast for Optoelectronics, Sensors/Actuators, and Discretes.  Strong growth momentum in power transistors carried into the first quarter this year with worldwide sales rising nearly 10% compared to the same three-month period in 2018, but the rate of increase is expected to slow substantially in the second half of 2019 with shortages of parts ending in most market categories, according to the 350-page O-S-D Report.  Power transistor sales are forecast to grow 5% in 2019 to reach a new record-high $17.1 billion before dropping 2% in 2020 to $16.8 billion  (Figure 1).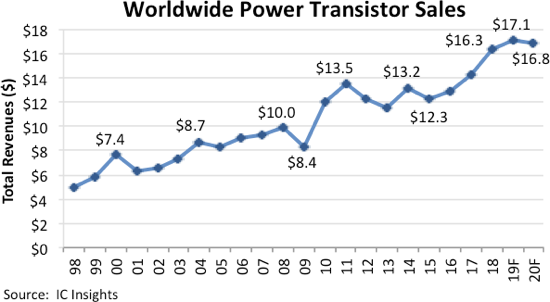 In the past two years, power transistor revenues have been driven higher by a combination of strong unit shipments and increases in prices that resulted from shortages of devices and not enough manufacturing capacity to keep up with demand. Power transistor shipments grew 8% in 2018 to a record-high 62.8 billion devices after rising 9% in 2017, says IC Insights' 2019 O-S-D Report, which is forecasting a 6% increase in unit volume this year to 66.7 billion worldwide. Average selling prices for power transistors increased nearly 6% in 2018 with delivery lead times for some widely used parts—such as power MOSFETs—exceeding 40 weeks in the second half of last year compared to eight weeks in normal market conditions.
Power transistor makers have steadily added manufacturing capacity in the past year, but most suppliers were still trying to catch up with demand in the first quarter of 2019. Tight supplies of most power transistor product types are expected to end in the second half of this year, partly because of a slowdown in the global economy and lower growth in demand for device shipments toward the start of 2020. If unresolved, the growing trade-war between China and the U.S. could also negatively impact the transistor market in 2019.
In 2018, all but one power transistor product category saw sales growth, with the exception being RF/microwave power transistors, which registered nearly a 1% decline in the year, according to the new O-S-D Report. The strongest 2018 sales growth in power transistors occurred in power FETs for 40-100V applications, up 21%, and insulated-gate bipolar transistors (IGBTs), rising 20.3%. Among other major power transistor categories showing strong sales increases in 2018 were: power FETs for up to 40V applications (+17%); power FETs for 100-200V applications (+16%); and IGBT power modules (+15%). Field-effect transistors (including those used in module systems) accounted for 58% of total power transistor sales in 2018, says the report. Total IGBT products (modules and discrete transistors) represented 32% of power transistor sales in 2018.
After the two-year double-digit growth bubble in 2017 and 2018, the power transistor market is expected to settle back to more-normal increases in the mid-to-low single-digit percentage range during the next five years, with the exception of a 2% drop being forecast in 2020 by the O-S-D Report. Power transistor sales are projected to rise by a compound annual growth rate (CAGR) of 3.3% between 2018 and 2023, when worldwide revenues are projected to reach $19.2 billion.