TECHCET—the electronic materials advisory firm providing business and technology information— reports that the Metal and High-ĸ Atomic Layer Deposition (ALD)/Chemical Vapor Deposition (CVD) precursor market will reach US$835 million in 2022, almost a 13% growth from 2021. Market growth is expected to slow slightly in 2023 due to conditions with the global economy. However, growth will soon after accelerate through 2026 due to fab expansions in leading edge Logic and Memory, as highlighted in TECHCET'S ALD and CVD CMR™ Market Reports.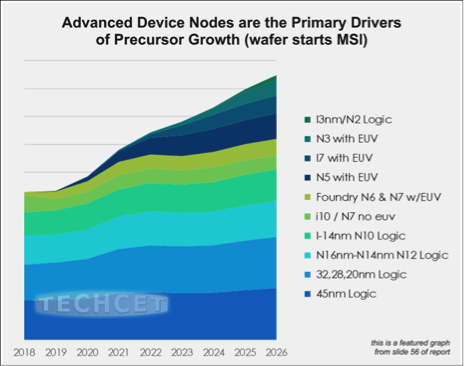 "Overall, this Precursor segment will experience a 2021 to 2026 CAGR of almost 9% as strong growth is forecasted for Hafnium, Cobalt, and Tungsten precursors. Although we see saw supply interruption of some cobalt precursors coming out of Russia, this will not impact the overall market which is expected to top US$1.1 billion by 2026," states Lita Shon-Roy, President/ CEO of TECHCET.
Device producers in the semiconductor industry are seeking out new manufacturing solutions designed to improve both cost and performance. This will increase opportunities for CVD and especially ALD processing to deposit new materials, device structures, and features like the following:
Hafnium (HfO2) to continue as high-k dielectric in Logic Gate Stack with minor contribution from Lanthanum VT-doping material (La2O3)
Tungsten (WF6) growth is driven by 3DNAND vertical scaling
Potentially Molybdenum (Mo) using solid precursors to transit from R&D to HVM in the next few years; this could then capture market share from the WF6 segment
Cobalt precursor consumption is driven by higher growth in sub 20 nm Logic nodes than older nodes and high potential use in additional metallization layers
Future technology for improved devices center on new precursor development for transistors such as high-κ gate dielectrics, metal gate electrodes, strain/stress epi of the channel and channel materials, memory cells and high-κ capacitors, interconnect wiring, barriers, seed layers, and photolithography (with associated multi-patterning techniques).
There are numerous challenges to be addressed around continued dimensional scaling and new device features for new materials deposited by ALD. Film uniformity, deposition coverage, and integrity are all needed to meet requirements for manufacturability and yield. Area selective deposition has gained popularity in the past 5 years as the growing R&D community aims to implement this approach in future devices.