TECHCET—the electronic materials advisory firm providing business and technology information— reports that the demand for high-purity Silicon Parts for semiconductor manufacturing equipment will continue strong in 2022. This forecast is expected as equipment sales grow and fabs expansions continue to ramp. The Silicon Parts market is expected to top US $900 million, a 10% increase from US $824 million in 2021. TECHCET forecasts the 2021 to 2026 CAGR for this market to grow at an almost 6% rate, as shown in the graph below and described further in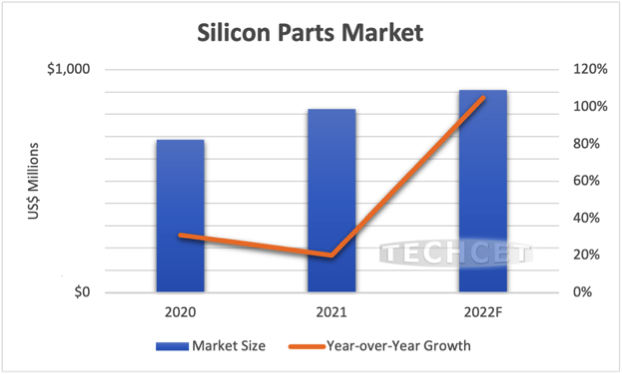 "Silicon Parts are primarily consumed in etch equipment systems, so market growth is heavily tied to chip production and influenced by new etch equipment sales," states Dan Tracy, senior analyst at TECHCET. Additionally, the replacement part segment represents about 70% of the market as these consumable parts have a finite lifetime, and need to be replaced per a fab's maintenance schedule. Given industry fab investment trends, about 66% of the new and replacement parts are for the 300 mm fab manufacturing segment.
Silicon parts development and specifications are aligned to the requirements of the Etch Equipment makers, as these OEMs influence silicon parts per tool and the design of each part. TECHCET estimates that sales from part fabricators to equipment OEMs represent approximately 50% of total silicon fabricator sales. This is due to huge equipment growth in 2021, and direct sales from fabricators to chip fabs representing approximately 50%.
A major shift in market shares from US to Asia fabricators has been happening over the past 5-10 years as can be seen from the data provided in TECHCET's CMR. Key Silicon Part fabricators include Hana Materials, who now leads with nearly 30% share followed by Lam/Silfex, WorldEx, and Coorstek. TECHCET expects China-based silicon part suppliers to play an increasing role in the market, especially in working with equipment makers and fabs in China. These companies will develop their business to serve the global market as well.
For more details on the Silicon Parts market and growth trajectory, including supplier profiles on companies like Silfex, Worldex, Hana Materials, FerroTec, Global Wafers, Hayward Quartz Technology, and more, go to: https://techcet.com/product/silicon-equipment-components-research-report/