As per the report by Global Market Insights Inc. "Worldwide semiconductor memory market was valued at over USD 160 billion in 2022 and will surpass a revenue collection of USD 340 billion by 2032 with an annual growth rate of 7.5% from 2023 to 2032."
Several memory chips developed for applications in intelligent machines and virtual reality gadgets by the gaming industry players are being used in gaming hardware. In addition, the growing inclination towards gaming in China and other Asian countries would significantly influence the semiconductor memory market growth in the coming years.
Besides, semiconductor memory offers faster access times compared to other types of data storage, which is further estimated to propel the market demand in the future. For example, a byte of data can be written or read from semiconductor memory in just a few nanoseconds.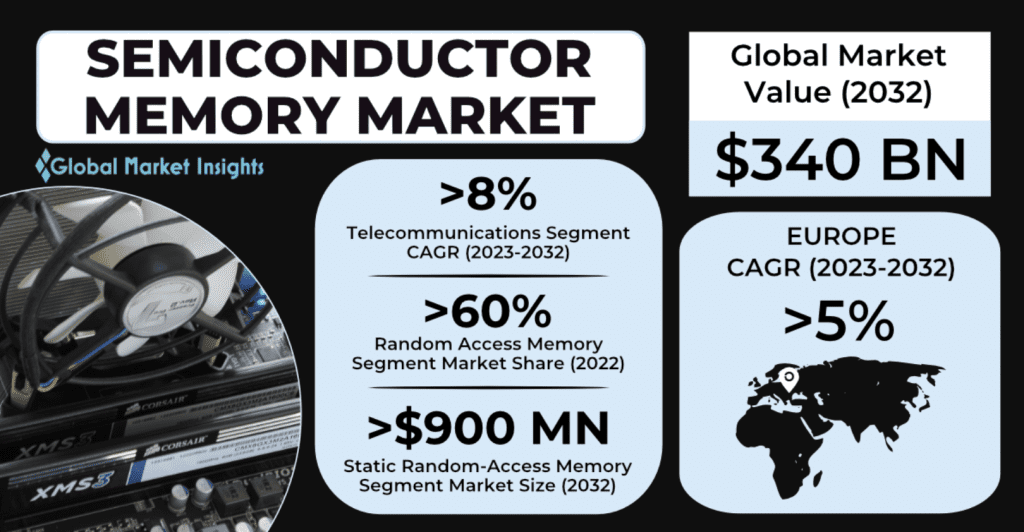 The competitive landscape of the semiconductor memory industry is highly intact. The key market players are engaging in new data center establishment, R&D investment, and undertaking mergers, acquisitions, and partnerships to bolster their presence in the industry. For instance, in 2022, Samsung Electronics Co., Ltd. collaborated with NAVER Corporation to develop semiconductor solutions customized for hyper-scale artificial intelligence (AI) models. The newly developed solutions are expected to take large-scale AI performance and power efficiency to a new level.
Overall, the semiconductor memory market is segregated in terms of type, application, and region.
Considering the type, the random-access memory (RAM) segment will demonstrate sturdy growth through 2032, owing to the rising adoption of semiconductors in automotive & electronic systems, such as SRAM, DRAM, and MRAM. Besides, automobile manufacturers are making use of RAMs for everything, right from engine control to lane-change warning, which is slated to bolster its demand in the ensuing years.
Based on application, the aerospace and defense segment will be valued over USD 6 billion by 2032 end. The growth can be attributed to the rising need for memory chips due to ongoing technological innovations in military weaponry. To cite an instance, China's leaders have made significant investments in technical fields that support artificial intelligence (AI), quantum computing, hypersonic, and microelectronics, with intentions to create a "fully modern" military by 2027.
Regionally, the North America semiconductor memory market was valued at over USD 40 billion in 2022 and is slated to demonstrate massive growth by 2032. The regional growth can be attributed to the developments in automation and digitalization as well as the use of memory-based elements in technically advanced products in the electronics industry in North America. In addition, various central governments are constantly investing in stabilizing the semiconductor industry, which will further offer lucrative growth opportunities over the coming years.