TECHCET—the electronic materials advisory firm providing business and technology information— announced that resist sales for semiconductor manufacturing will top $2B in 2021, an 11% increase over 2020. CAGR is estimated to be 7% through 2025.  Ancillaries (developers, solvents, edge bead removers) and extension materials (anti-reflective coatings) are anticipated to grow 9.9% in 2021 over 2020 with a 5-year CAGR of 7.1%.
"Once the new fab expansions by Intel, TSMC, and Samsung come online, volume demand and revenues will increase further," said Dan Tracy, Ph.D., TECHCET's Sr. Director of Market Research.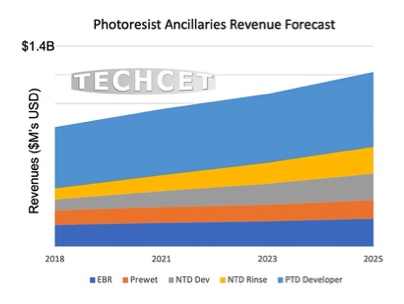 Litho Materials Trends:
EUV materials are projected to show strong growth, 60% CAGR 2020-2025 driven by DRAM and 3DNAND production
ArF / ArFi resists will grow with 3DNAND and Logic wafer starts, but EUV resists will start to replace some ArFi resist steps which will dampen longer-term growth; CAGR ~6.4%
KrF resist is also expected to see healthy growth with a CAGR of 7%
Suppliers in China are accelerating efforts to get KrF resists qualified for chip manufacturing. They already supply I-line, and G-line resists
Wafer starts are expected to increase >13% for advanced Logic and >18% for 3DNAND in 2021over 2020.  Strong growth in mobile computing, cellphone, server, and automotive segments is driving high demand for these chips and, in turn, for materials.