TECHCET— the electronic materials advisory firm providing business and technology information on semiconductor supply chains — announced that the Total Semiconductor Materials market will contract by at least -3% in 2023 given the industry wide slowdown and reported higher levels of inventory in the materials supply chain. This year's decline will result in revenues for Semiconductor Materials to total US$69.6 billion, down from the US$71.7 reported in 2022. However, leading-edge logic and automotive/power device production will limit the overall decline in materials revenues for 2023.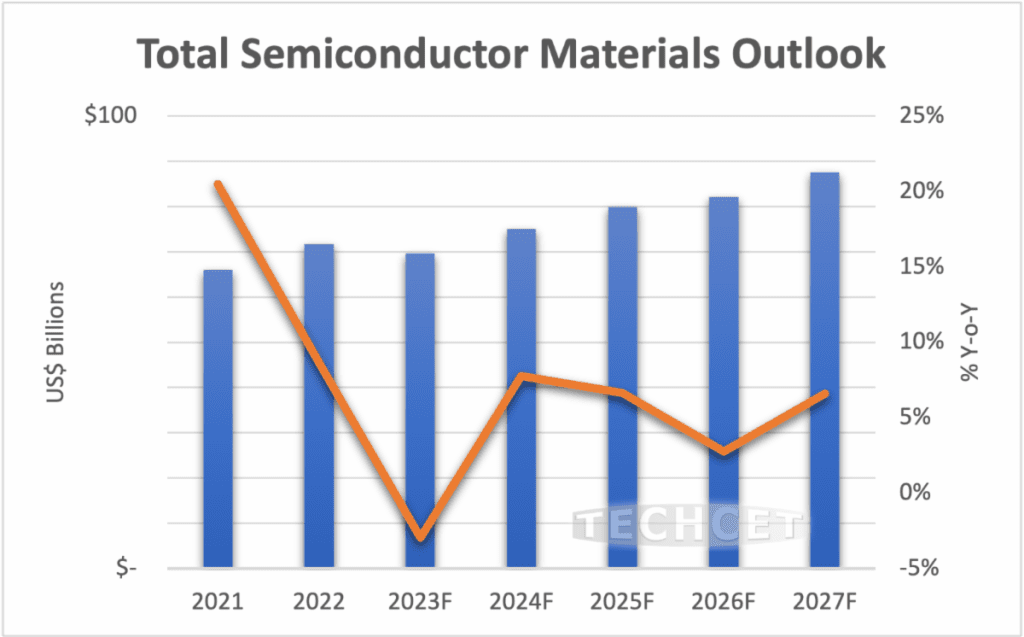 TECHCET is forecasting a strong recovery in the market in 2024, with total material revenues increasing 8% to almost US$75 billion. CAGR growth over the next 5 years is forecasted to be 4%, which will result in the market reaching US$88 billion by 2027.
The 2023 slowdown has corrected material supply constraints across the supply chain. Though, demand for materials will strengthen as the industry recovers and new fabs ramp up globally. Tightness in supply is expected to resume for 300 mm wafers, epitaxial wafers, some specialty gases, and possibly copper alloy targets. The degree of any supply shortages will be a function of material supplier expansion delays. Some expansion projects have been pushed out given the current slow market environment.
Strong market demand in 2024 and beyond will be driven by advanced photoresist and ancillary chemistries for EUV related processing (20% CAGR) and for 3D NAND fabrication (>5% CAGR). Advanced precursor volumes and revenues will soar for new capacitor and interconnect structures in advanced logic and next generation memory. TECHCET also expects the Specialty Gas market to grow by >7% CAGR through the 2027 forecast period.
To find out more: see TECHCET at SEMICON West at NY CREATES Booth (North Hall 5845) from July 11-13. Lita Shon-Roy, Diane Scott, Dan Tracy, and Kevin McLaughlin will all be there to share market insights and industry updates. Or visit our website: https://techcet.com/product-category/critical-materials-reports/. New reports are out now for ALD/CVD Precursors, Gases, CMP Consumables and Ancillaries, Photoresist, Silicon Wafers, Wet Chemicals, and Quartz Equipment Components.