TECHCET—the electronic materials advisory firm — announced that the 2021 worldwide ceramics parts market for fabricated ceramic parts is expected to reach US$2.00B, growing 37+% from 2020, driven by semiconductor production growth and spending on new fab equipment. The market will experience a 13% CAGR from 2020 to 2025, which aligns with forecasted fab construction projects and fab expansions globally. Ceramic demand looks very positive; however, ceramic material production capacity is challenged to meet volume requirements for newly advanced process nodes in the midst of strong growth from all device segments.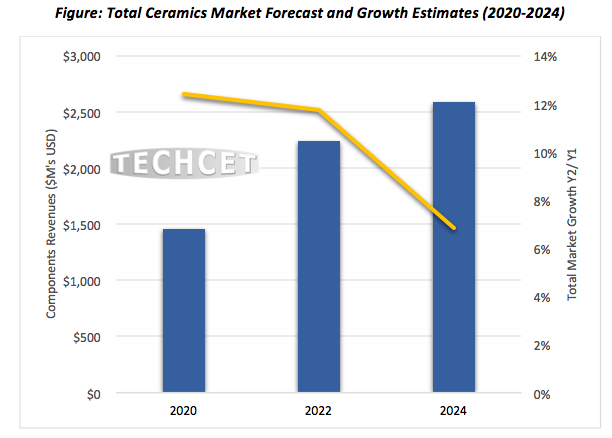 Currently, the industry is grappling with a chip shortage situation caused by two factors:
Ongoing demand for chips that support computing and mobile applications that arose during the COVID19 pandemic
The resurgence of the automotive market that had gone dormant during the first 6 months of 2020 when the COVID19 pandemic began
As indicated in TECHCET's newly released "Critical Materials Report™ on Ceramic Equipment Components," automotive chip applications are a key driver of 200 mm chip production and subsequently 200 mm parts fabrication. High growth in this area is requiring 200 mm parts fabricators to increase production volumes at a surprising rate, suspected to be even higher than 300mm this year.
150 mm fabrication, although older technology, has more available capacity than 200mm. Parts fabricators are consequently increasing instead of decreasing 150mm parts production.
Aluminum nitride, AlN, has become a highly popular ceramic material for heater applications and heated wafer chucks. With increased usage in new systems, AlN consumption is expected to increase over the next several years.  Being that it is produced by less than a handful of suppliers, AlN purchasers will always have a difficult time with lead-times with the OEM equipment market heats up again.
High purity, high density (low porosity) homogeneous materials such as AlN, SiC, CVD SiC, and polysilicon will flourish in new etch, PECVD, ALD, and thermal processing applications, where low defect and high thermal uniformity performance is critical. Over the next 5 years, the AlN and SiC markets will continue to exhibit stronger growth than Alumina and other ceramic materials due to needs for increased productivity, evolving intellectual property rights, reduced defects and process requirements for next-generation thermal processes.
Companies that participate in ceramics and SiC market segments include: Ferrotec, Coorstek, SK Solmics, Hana Materials, Morgan, Kyocera, Asahi Glass, Tokuyama, NGK, Maruwa, and Watlow.