TECHCET warns of possible bull-whip effect from the 2020-2021 steep chip growth. A key factor that may ease any sudden inventory correction is limited materials capacity. All materials from wafers to wet chemicals are seeing signs of strain as lead-times are steadily increasing. Leadtime push outs result from the supply-demand imbalances and logistic bottlenecks caused by the still lingering effects from the COVID-19 pandemic in 2020.
As shown below, from TECHCET's proprietary Wafer Start Forecast, leading-edge device wafer starts are growing in excess of 12% in 2021. This, combined with the legacy devices, drives robust growth rates and adds to the supply-demand strain. Wafer suppliers and other process materials companies are challenged to meet demand from chip fabricators worldwide. TECHCET is hearing complaints of lead-time increases from nearly every material market segment, including wafers, targets, wet chemicals, and equipment consumables, among others. Lead-times of equipment consumables (parts) are at an all-time high, increasing 50% to 100% in most cases; some delivery lead-times are exceeding 9 months as opposed to 1-2 months, as stated in TECHCET's recent Critical Materials Reports on Ceramics and Silicon Parts.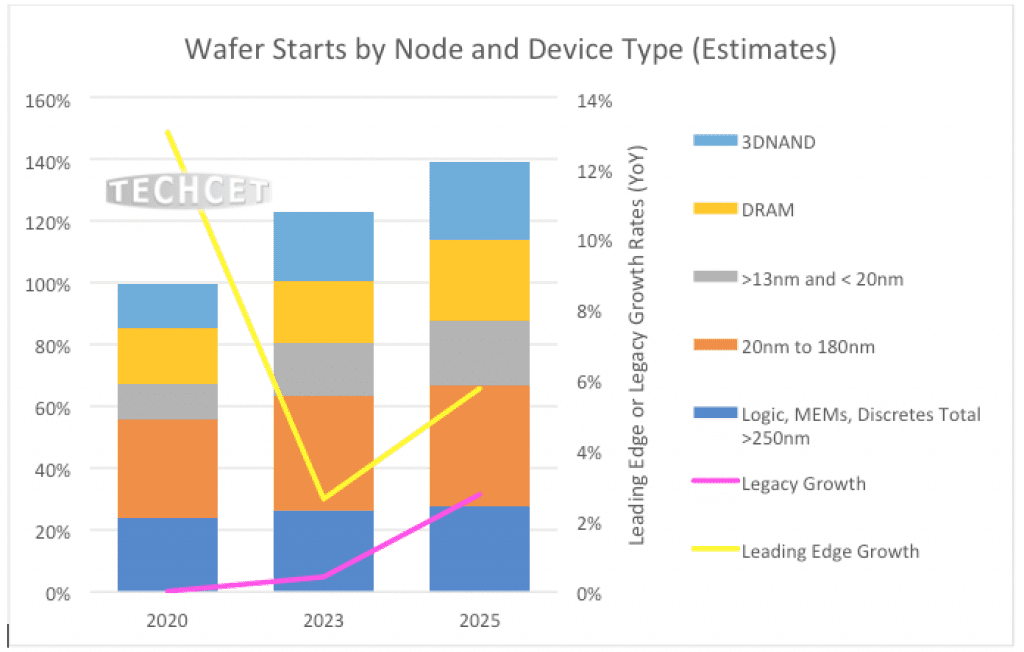 Over the past 15-20 years, materials suppliers have been hesitant to invest in additional capacity, especially in those regions of the world (US and Europe) that are losing chip production share relative to Asia. Past experience with unpredictable swings in the semiconductor market has lead some materials companies to over-invest, not aware of the downturn; the result is having to operate at a loss or close their doors. Looking at history, lower or negative growth dips tend to occur every 3-5 years. Hence, suppliers have experienced these cycles at least 4 times over the past 2 decades. As a result, suppliers have been very hesitant to invest.  This behavior will likely limit overall growth throughout the value chain.
"As chip-making capacity grows, inventories will start to build; this type of behavior typically results in a slower growth by year 3," stated Lita Shon-Roy, TECHCET's President & CEO. "We normally don't see more than two years of strong consecutive wafer start growth, and it is not clear whether this will result in a hard correction by 2023 or a soft landing.  The bull-whip effect happens when a large swell in demand pulls on the supply-chain.  Like a traffic jam, everyone speeds up just to get halted somewhere along the Highway. And as capacity is finally put online, the market corrects itself, demand drops, and supply shoots past demand."  Shon-Roy expects to see this occur sometime in 2H2023 or early 2024, cautioning that the economy will play a role in whether we come to a screeching halt or if the slow-down will be gradual enough for suppliers to adjust production levels to match demand.
Despite these cycles, the semiconductor market is expected to maintain strength over the next 5 years with CAGRs well above 5% YoY in spite of the challenges that COVID19 has brought to the world. As a result, growth investment in semiconductor production and materials is strong and is expected to continue in upcoming years.