TECHCET— the electronic materials advisory firm providing business and technology information on semiconductor supply chains — has announced that the market segment for Semiconductor CMP Ancillaries (pad conditioners, CMP rings, filters, and brushes) will reach US$1.55 B by 2027, growing at a CAGR of 6%. However, the market is expected to decline slightly this year and return to growth in 2H2023. "Increases in revenues experienced through 2021-2022 were the result of increases in equipment demand, replacement parts, and raw material shortages," indicated TECHCET's Chief Strategist, Karey Holland, PhD. Looking at 2023, this market is expected to slow by -2.2%, which follows the decline in overall chip demand for the year. Inflation, threat of recession, and rising interest rates, in combination with a growing memory chip inventory from 2022 are all factors leading to reduced demand for this year. TECHCET forecasts this chip demand slowdown to recover by 2024, as shown in the figure below, from TECHCET's newly released Critical Materials Report™ on the CMP Ancillaries Market.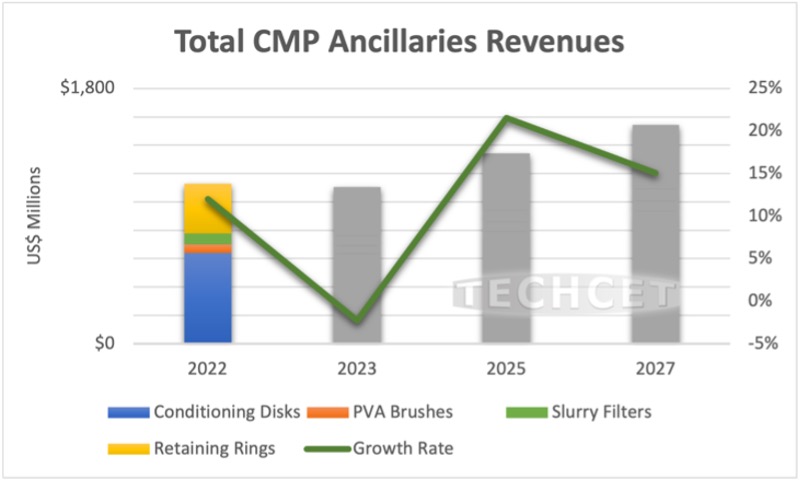 "Coming growth for the CMP Ancillaries market segment is largely influenced by the need for more CMP process steps with each new generation of device (both logic and memory)," said Dr. Holland. Right now, FinFET transistors require about 41 CMP steps (for total metal and dielectric CMP steps). 2 stack 3DNAND have about 28 CMP process steps and another 8 additional CMP steps will be added as 3DNAND makers transition to next generation nodes.
Technology developments in new logic nodes like GAA/Nanosheet ForkSheet are adding new challenges to CMP, using thinner layers and requiring better thickness control and new materials. This will place an addition burden on filters and pad conditioners. New materials like cobalt, ruthenium, molybdenum, and zirconium will force fabs to revisit CMP cost of ownership because these new materials and processes will impact the service life and types of materials used for ancillaries, like pad conditioners, filters and brushes. For example, demand for lower surface roughness on dielectric layers as these layers get thinner is driving demand for nano-ceria slurries which may also require new versions of the slurry filters.
TECHCET anticipates there to be more distributed production in regions of high growing demand to help offset any future availability delays with chip expansions. Additionally, new production facilities are expected to be built from the ground up in Arizona and Texas to support the expansions for TSMC and Samsung.