By Pete Singer, Editor-in-Chief
What if you could see 60 days into the future? Alex Smith, a VP at Edwards Vacuum, sees a day when that's possible – at least when it comes to certain areas of fab operations. "If you could see 60 days into the future, what would you start doing now?" he asks.
With the advent of AI and machine learning, combined with greatly increased tool monitoring and diagnostics – i.e., smart manufacturing – it's becoming increasingly possible to predict what's at least likely to happen 60 days in the future. The advantages are obvious: "If we know that a particular dry pump is going to land in my service center in 60 days, I can make sure the resources are there, both people, time, materials and machines are all available and optimized, waiting for that particular product to come in," said Smith.
Now imagine that happening across hundreds of tools in the fab and thousands of subsystems, throughout the entire supply chain, and you are seeing the future of semiconductor manufacturing yourself.
Two case studies
To better understand how this might be applied in the real world, let's look at two case studies. In one case, a fab had limited insight into the performance of the vacuum and abatement system, and its impact on process tool availability, so a time-based maintenance approach was employed. Such time-based maintenance couldn't completely eliminate the risk of a down event since it was largely based on the age and run time of the sub-fab equipment. A large inventory of spare parts had to be readily available, putting additional pressure on supply chains. Also, unexpected demands were made on maintenance teams to provide additional service support.
By implementing a risk management program, a team at Edwards was able to understand the root causes of faults and work with the fab's cleanroom team to uncover more efficient ways of working. This led to collaboration on how to synchronize the maintenance of the vacuum and abatement system with valuable bottleneck tools, where there is no capacity for the tool to be down. The end result: 1,437 hours of tool time was freed up without the risk of wafer loss – an excellent result for the first year.
In another case, a foundry's vacuum and abatement systems had evolved over the years, concealing hidden variables affecting the potential performance of the wider fab. Unplanned vacuum system failures during wafer processing were a pressing concern. Advancing semiconductor manufacturing processes were also placing increasing demands on vacuum and abatement equipment. Again, a time-based maintenance regime was in place on vacuum pumps supporting critical process tools. This interrupted valuable production schedules, where expensive process tools were often taken down too early or just as a precaution. Even on reduced maintenance intervals pump faults still occurred, contributing to tool downtime and wafer loss.
With the advanced insight gathered on how changing manufacturing processes affect the deterioration of pumps, the Edwards team made recommendations to optimize pump configuration. With the confidence provided, the Fab team agreed to extend maintenance intervals by at least 6 weeks (25%), without any risk of unplanned downtime. The overall effect was to reduce the risk of wafer losses, and performance improvements continue to be visible across the entire Fab, as tool availability and Fab yield improve.
Prescriptive service
Figure 1 shows how Edwards defines five levels of service maturity, ranging from the "do nothing" model to reactive, planned preventative, predictive and, ultimately, prescriptive.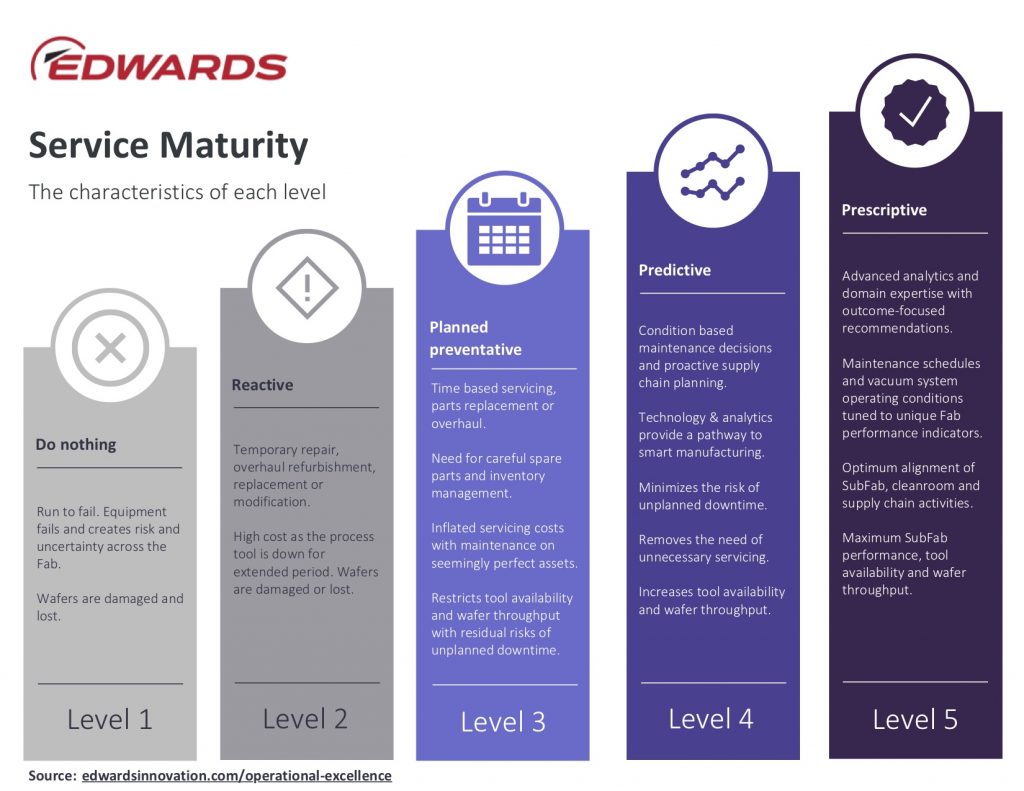 Smith describes the do nothing model as a break/fix service model, akin to how some people drive their cars until the service light comes on and hope they can make it to the service station. "Because they are paying a fixed price for that service, they want to make the interval as long as possible," he said. "But at that point, they're probably going to have to replace more components." Bringing the car in for regularly scheduled maintenance leads to longer longevity and reduced costs.
The prescriptive model goes well beyond that. "We tie that into smart manufacturing," Smith said. "We can understand how the equipment is being used and how effective it is. We can look at the predictability of it, and — because we've got the full supply chain — we can identify upgrade opportunities that will make that equipment more efficient and ensure that it still meets the needs and the requirements of the customer."
Conclusion
Today's semiconductor fabs are already running at record high utilization rates, greater than 97%, and the focus is now on opportunities to increase fab efficiency and reduce costs. At the same time, Corporate Social Responsibility (CSR) and sustainability priorities are growing, and chip makers are working to reduce environmental impact. Finding new ways to better manage all of that is leading to an entirely new business models where the focus is more on operational expenses (OpEx) rather than capital expenditures (CapEx).
Learn more: The case studies described in this article are available in full at edwardsinnovation.com/operational-excellence