By Pete Singer, Editor-in-Chief
At a press conference on Tuesday during SEMICON, Ajit Manocha, SEMI's President and CEO, provided a preview of the 2022 SEMI market forecast due to be released next week. "Despite the pandemic, this industry has done extremely well, and that's really something very remarkable," he said.
Semiconductor sales are expected to grow >20% to more than $550 billion in 2021 after growing 10.8% to $464 billion in 2020. "In 2017, 2018 and 2019, we did high double digit, but 20% is a new record this year," Manocha said.
Shortages, initially in the automotive sector, are spreading across the board, mostly at legacy technologies. "Chip shortage has become so important and so critical that every child in the world knows because most children now are dependent on older devices because of the telehealth and home schooling, you name it," he said, explaining that his three grandchildren each have three mobile devices. "The three year old has three devices, it's really remarkable," he said.
Forecasts for 2021 total wafer fab equipment sales ranges from $80 to $90 billion, representing a growth of ~23-38% (Figure 1). 2021 Materials market expected to hit to a new high of ~$62B with growth of ~11% (Figure 2). "These are remarkable numbers," Manocha said.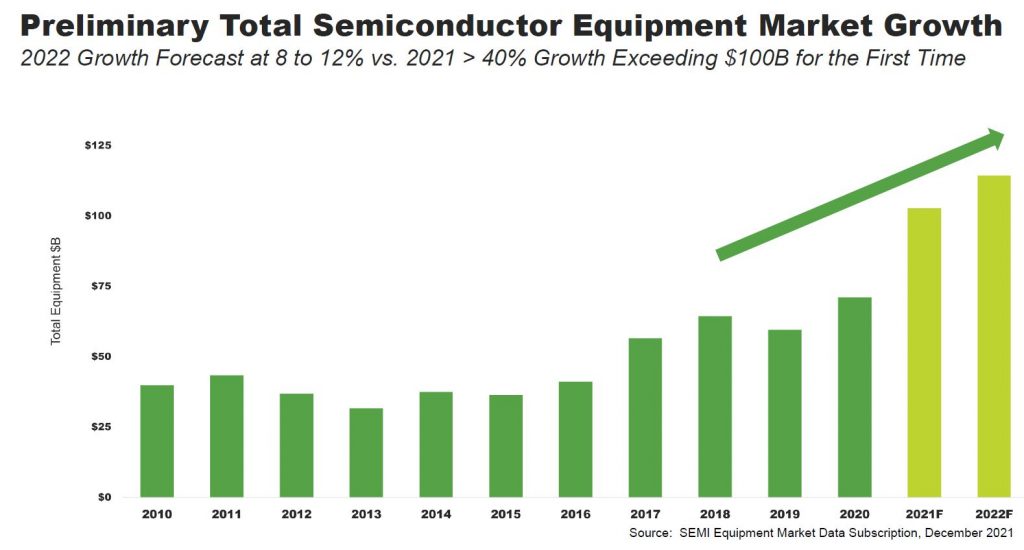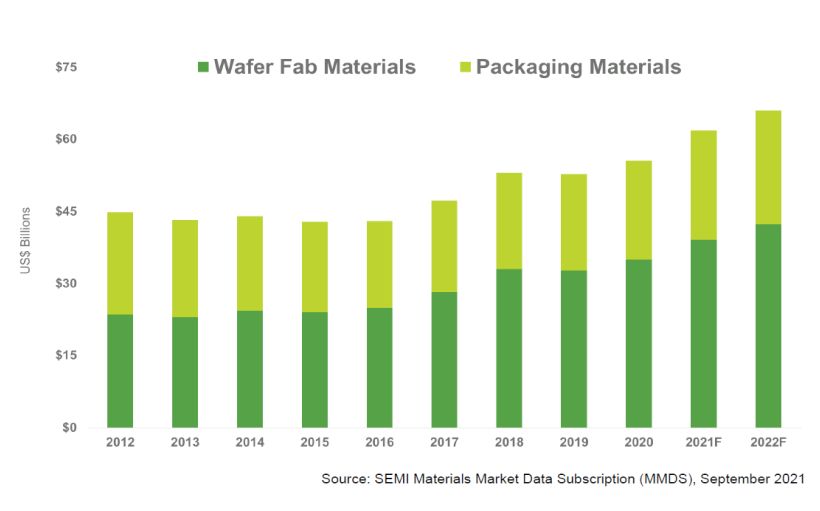 SEMI expects semiconductor capital spending grow with many new 200mm and 300mm new/major capacity fabs coming online between 2020-2024. "SEMI collects the information from all the announcements on wafer fabs around the world. As of September, 25 eight inch (200 mm) fabs have been announced to open between now and 2024," Manocha said. Of these 25 fabs/expansions, 5 will be in the Americas, 1 in Europe/Mideast, 19 in Asia (14 in China, 3 in Japan and 2 in Taiwan). Total 200mm capacity is expected to grow 18% from 2020 to 2024.
Sixty 300mm fabs/expansions are expected: 6 in the Americas, 10 in Europe/Mideast, 44 in Asia (15 in China, 5 in Japan, 8 in South Korea, 1 in Singapore and 15 in Taiwan. Total 300mm capacity is expected to grow 48% from 2020 to 2024.
"If all these fabs come into play by 2024 through 2025, we'll exceed a one trillion market sooner than 2030," Manocha said.
That matches up with previously reported data from International Business Strategies (IBS) that the global semiconductor market is expected to reach $1.2 trillion by 2030. "I think $1.2 trillion by 2030 is very likely," Manoch said.
"Some of these fabs may not happen, because some of the geo-economical issues or other issues. Companies announce and then delay – things change — but I've never seen that kind of number in my life," Manocha added.
SEMI also presented a roundup of 2022 semiconductor growth forecasts from a variety of analyst firms, which range from 15.8% to 4.2% (see Figure 3). The average is about 9.5%.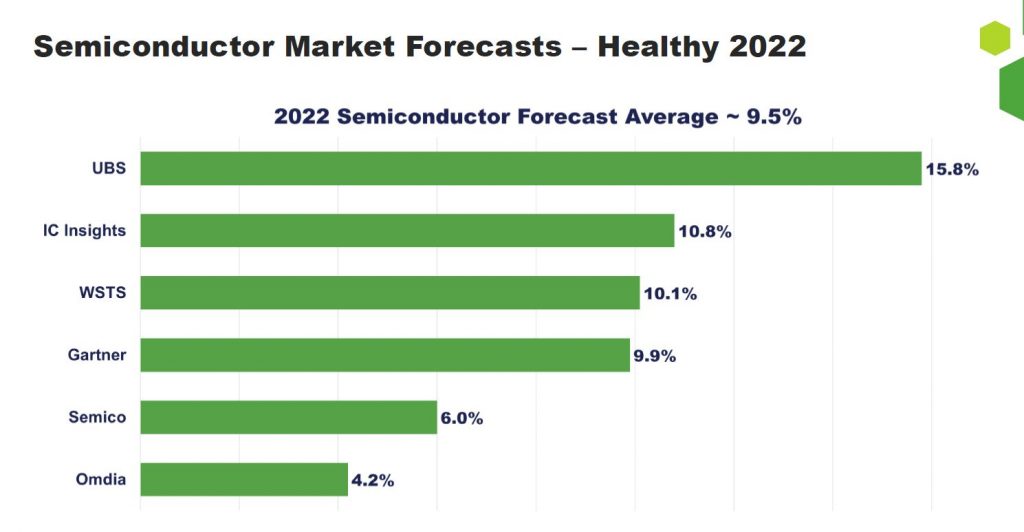 Potential headwinds for the industry include ongoing trade/export restrictions and geopolitical/economic issues; global COVID-19 pandemic control and pace of vaccine rollout still major concerns, and the industry talent shortage becoming more pronounced with current push to expand capacity. "If we're going from half a trillion to one trillion, then we'll need a lot more talent," Manocha said.