Martin Vallo, Yole Développement, Lyon, France
With the integration of light emitting diode (LED) technology, lighting has evolved from a basic, functional feature to a distinctive feature with high-value potential in the automotive industry. Indeed, LED technology has given manufacturers the opportunity for strong differentiation via lighting design and additional functionalities. This is particularly true for exterior lighting, which is profoundly mutating in terms of both technology and supply chain (Figure 1). Following the trend of individualization, automakers are searching for possibilities to distinguish their car models. The styling of 3D-shaped Daytime Running Lights (DRLs), miniaturization of low and high beam headlamps and new supplemental lamps contribute to strong car brand identity. Besides the original functional lighting, new styling illumination is on the way, such as dynamic lighting and animation, logo illumination, welcome scenario projection and glowing bodies. Additional lighting modules such as laser boosters or digital micromirror devices (DMDs) can increase lighting distance massively, up to 600m, or deliver new functions due to their high-resolution.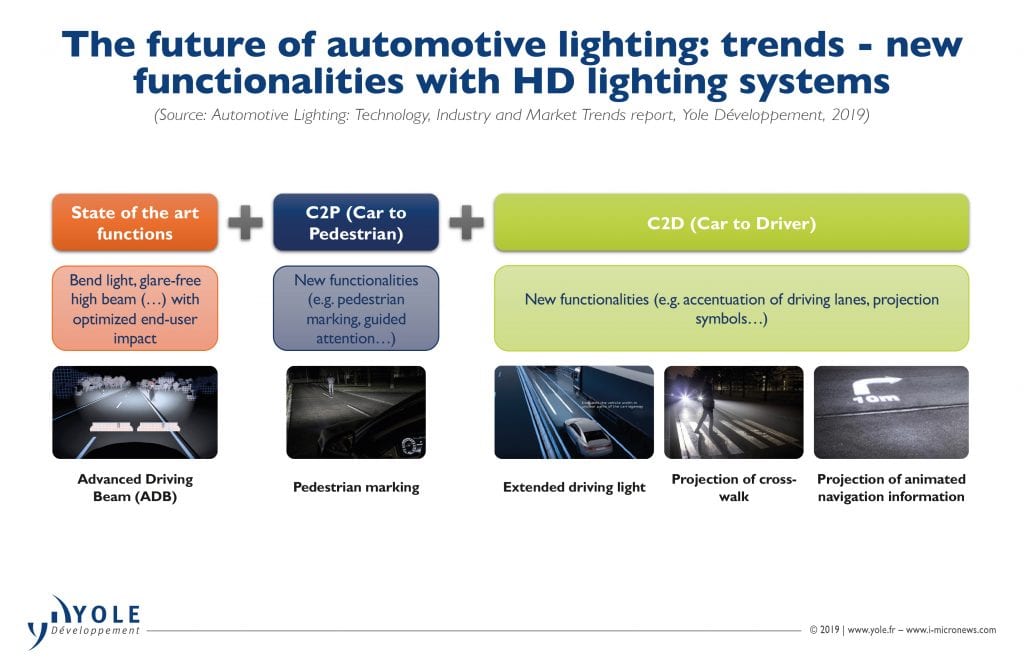 The integration of new solid state lighting (SSL) technologies is transforming automotive front lighting and its applications, offering more design flexibility, increased efficacy, and intelligent functionalities.
LEDs are rapidly gaining popularity as their cost decreases and efficiency, luminance and package size improves. For example, full LED headlamps first saw commercialization in 2008 on luxury cars like the V10 Audi R8. They penetrated the C-segment medium-size vehicle market in 2012, with the new Seat Leon, and are now being commercialized in emerging markets. Nowadays, nearly all car makers and Tier-1 part suppliers have developed full LED-based headlamp systems and such technology is a must-have in the C and also the D, large vehicle, automotive segments. This implementation continues in the lower B, small car, segment. Renault Clio and Opel Corsa models come equipped with full-LED lighting as standard on the base model or LED Matrix headlights as an option. The strategies of light source suppliers indicate "LEDification" – implementing lower-cost solutions for emerging markets will propel automotive lighting revenue.
Digital lighting will further revolutionize automotive lighting
Digitalization of cars is a megatrend in the automotive industry, heading to electric and autonomous vehicles. The developments related to this trend lead to new approaches to safety, comfort and information services. Exterior lighting is gaining significance because the trend in autonomous driving shows the importance of communication between all road users.
Digital lights will allow smarter lighting functionalities, safer Adaptive Driving Beam (ADB) designs with cameras and artificial intelligence in the loop. Several different beam shaping technologies have the potential to take high definition (HD), high resolution pixel light to the next level. With various systems like micro-structured Adaptive Front-lighting Systems (μAFS), liquid crystal displays (LCDs), MEMS laser scanners or DMDs, different functions are possible. Additionally, the advanced front lighting system (AFLS) architecture integrates other inevitable building blocks. These include cameras and sensors enabling detection and identification of objects, and engine control units (ECUs) for fast computing of information and software for effective image processing and automation of functions. Based on image processing functions and intelligent settings in the projection module, critical areas of oncoming traffic that might face glare are removed from the high-beam distribution, but the rest of the high-beam field remains intact for the driver's convenience. New technologies are still being developed to increase functionality and efficacy of such systems (Figures 2 and 3).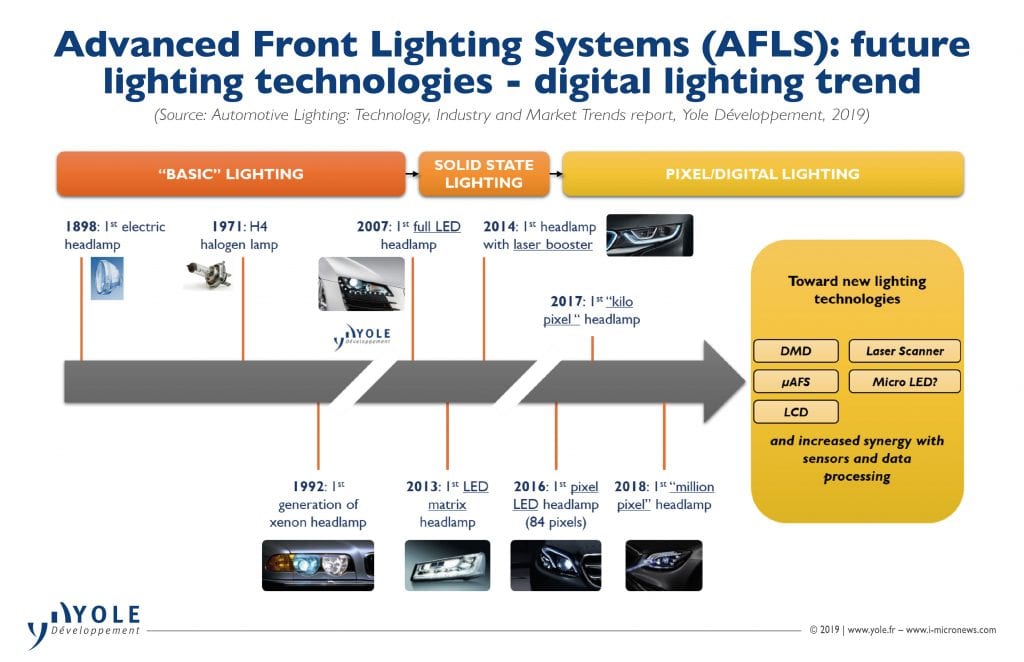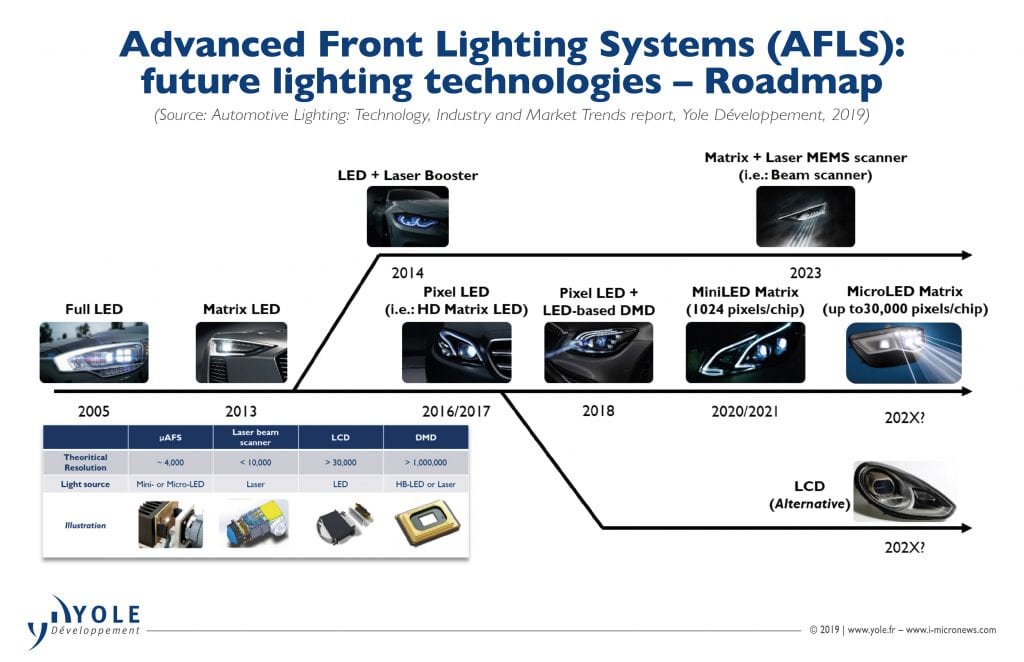 To provide ideal lighting functions like projecting navigation information onto the road or simultaneously dimming multiple narrow areas, the resolution still needs to be improved. This can be realized by using spatial light modulators (SLMs) or microLED arrays, which are responsible for high-resolution image generation, forming the light distribution. With the new digital headlight technologies, light distributions must be reinvented. High resolution combined with flexible software and wide-ranging sensor integration open up options that were inconceivable before. The main motivation must always be to improve the safety for drivers and other road users. Focusing on that, three functional pillars can be defined:
Better performance – Less glare: Multiple cut-out-areas with variation in size and intensity will be possible. Dark areas will be reduced significantly and cut-off lines or transitions can be adopted in every driving situation in an extremely variable manner. The current low- and high-beam functions can be optimized to near perfection and the visibility range of the low beam as well as the usage-time of high beams will be raised to a maximum
Driver assistance: High resolution headlights can display sharp symbols, lines or figures directly on the road in front of the car and close to the point of interest area of the driver.
Interaction and future communication: We can expect some fully new and innovative types of light functions. Digital light then will be used to communicate with and within the surroundings of the car. This is a highly attractive and necessary feature for upcoming autonomous cars. A helpful function is to provide Construction Zone Light (CZL), kind of guideline projection for temporarily narrow lanes. Today, digital lighting is a key area of investigation for the automotive lighting supply chain as it represents the future of automotive lighting. Two approaches are being investigated for image generation, namely additive and subtractive approaches. Images from DMD, LCDs and Liquid Crystal on Silicon (LCoS) are formed with illumining optics to ensure precise illumination of the corresponding SLM. The Adaptive Front-Lighting system (known as μAFS technology) forms the light distribution by projecting the light emitting surface of each LED pixel onto the road. Pixel LED technology is a novel light source consisting of more than one thousands pixel points per chip, with tiny pitch.
Most HD light-enabling technologies are still emerging, but could also support the development of new functionalities. DMD has only appeared in small volume as an additional module in Mercedes-Benz S-class Maybach 2018. The manufacturing of the DMD module is challenging because it requires precise alignment of the light source with the DMD chipset. Also, due to the limited reflectivity of the DMD, thermal losses occur so that the module heats up. This leads to a limitation in the maximum illuminance of the DMD and, hence, the luminous flux. The most preferable technology among car makers is Matrix LED arrays, evolving to Micro Pixel LED technology. Today, we can see full-LED matrix headlights with 128 LEDs per cluster in the VW Touareg, providing 13 adapted light scenarios. In 2020, true Micro Pixel LED technology containing thousands LED dies will be implemented for the first time. However, the second generation is already being developed providing more than 25,000 pixels per chip.
An interesting fact is that such lighting systems are providing ever more synergy with projection/display systems as their function is evolving toward communication, like projecting information onto the road. And new parameters now have to be taken into account for related developments, such as resolution, field of view (FOV), optical efficiency, and luminous flux. The efficiency of ADB functions are given by pixel density. Adding more columns to the currently available systems leads to diminishing returns in terms of functionality. It seems the pixel race has started, as it did several years ago in the digital camera world.
However, several barriers have still to be overcome in areas including technology, manufacturing, and regulation. Those challenges will be reinforced as digital light further tightens the relationship between lighting, automotive sensors and data processing.
Automotive lighting: A mutating industry
The market is already booming. And now, automotive lighting is becoming one potential critical node for autonomous driving, because lighting systems could represent a key location for integrating sensors such as local cameras, radar and light detection and ranging (LiDAR). Furthermore, technology and application evolution brings more complex systems, more components and subassemblies, while maintaining quality. This requires new strategies for cost reduction in particular. Implementing costly advanced front lighting systems including intelligent lighting, precise sensing, fast computing and software control will have to be standardized, creating a platform and architecture that can be used across different cars. New engineering and manufacturing methods enable additional integration and thus create new modules. More integrated components enhance the functional content of headlamps supporting freedom of design and at the same time, reduce the number of interfaces and improve reliability. However, miniaturization and integration of the new components is not enough in the automotive industry. More sensor competence is greatly needed. Companies are therefore paying ever more attention to this mutating industry.
A good example of this trend is the recent acquisition of BrightWay Vision, a developer of Forward Monitoring Systems for Advanced Driver Assistance Systems (ADAS), by KOITO, a Japanese tier-1 lighting supplier. This acquisition strengthens the development of high-precision camera systems, which allow images to be captured under bad weather conditions. Following intensive research on autonomous driving, ZKW has unveiled the "Dragonfly project" with strategic partner, automotive engineering company IAV Automotive Engineering and other partner companies. The lighting specialist has built a demo vehicle integrating sensors and cameras in headlights and thereby enabling automated driving functions. After ZKW was acquired last year by LG Group for more than 1.1B€, it is now implementing possible synergies in the areas of sensor cleaning, development and data processing.
Likewise, traditional automotive component suppliers are now expanding their business. CK Holdings, the holding company of Calsonic Kansei Corporation, a leading Japanese automotive component supplier, has acquired Fiat Chrysler Automobiles subsidiary Magneti Marelli for 6.2B€.
Several new players are likely to enter this market in the future, and some current leading tier-2 light source suppliers are therefore trying to reinforce their position. In this field, Osram has developed a joint venture with Continental to supply lighting modules and ECUs, which will become the heart of lighting system development in the future. Samsung has started to be visible in the automotive lighting segment due to its new high-power LEDs for headlamps and mini LED array scalable chip design for ADB Solutions. Unfavorable developments in the automotive industry have negatively impacted Osram's business development and stopped its transformation into a high-tech company that currently provides not only smart chips but also functional assemblies. As of the writing of this article, the board was considering two bids, one from a private equity consortium Bain and Advent, and one from ams, after the Austrian sensor maker raised its takeover offer.
This industry's evolution is likely to continue as solid state lighting technologies are integrated. The rapid evolution of these technologies, coupled with the AFLS trend and increased use of non-visible lighting systems such as LiDAR, radar, and cameras and autonomous emergency braking (AEB) might further change things in an industry that's already mutating.
About the author
Martin Vallo, PhD serves as a Technology & Market Analyst specialized in solid-state lighting technologies, within the Photonics, Sensing & Display division at Yole Développement ( Yole). With 9 years' experience within semiconductor technology, Martin is involved today in the development of technology & market reports as well as the production of custom consulting projects at Yole.
Editor's Note: This article was originally published in the October 2019 issue of Semiconductor Digest.