TECHCET—the electronic materials advisory firm providing business and technology information on semiconductor supply chains — has announced that the Quartz Equipment Components Market for semiconductor manufacturing is expecting a downturn of -5% in 2023, as highlighted in the bi-yearly update to TECHCET's Quartz Components CMR™ Market Research Report. This forecast is dependent on multiple variants, including declining demand, and end-market inventory sales. The market is also expected to respond differently in different regions given chip fab investment plans and government subsidies. The quartz market downturn comes after a strong year of sales in 2022, which totaled US$2.11B, increasing 23% from 2021.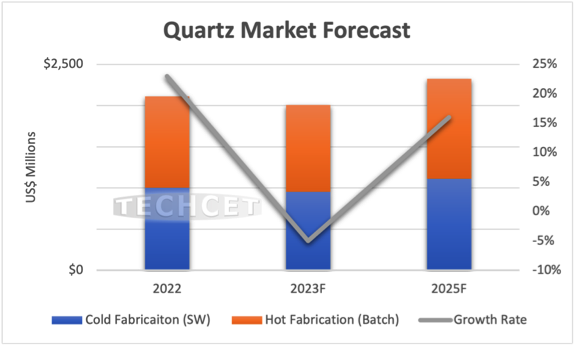 Some minor signs of demand slowing for quartz components have already begun in some regions. Currently, inflation is becoming an issue affecting the cost structure. Shipping costs have returned to low level, while labor and energy costs are still at high level, and this is likely to continue until further deepening of the market correction. 
Ongoing fab expansions are expected to balance the anticipated 2023 decline in revenues, which should return to growth in future years. Recent fab announcement and investments totaling more than US$500B will help to boost longer-term growth. For the quartz suppliers, new expansion activities by Felihua and Beijing Kaide in China are expected in 2023, and Maruwa is expanding in Japan in 2024. Ferrotec has also invested in Malaysia, though the time frame of their expansion build is unclear.  
To get a live update on the market on equipment components and other critical materials, don't miss the 2023 CMC Conference in Austin, Texas from April 18-20 on "Are Critical Materials for Chip Expansions Ready for Launch?" To register and for more information, visit https://cmcfabs.org/2023-cmc-conference/