TECHCET— the electronic materials advisory firm providing business and technology information on semiconductor supply chains — states that the slowdown in the Semiconductor Industry is starting to impact the Sputtering Target market (excluding precious metals), now expected to see a decline of at least -2% in target revenues for 2023. This follows a strong 2022 totaling US$818 million in revenues, growing > 7% from 2021. This is slightly lower than originally expected, due to wafer starts and shipments declining in the second half of 2022, as highlighted in the quarterly update to TECHCET's Critical Materials Report™ on the Sputtering Target Market. An increase in demand is expected by the second half of 2023. The market should return to net positive growth in 2024, in preparation for what will be robust demand from $500B worth of chip expansion plans over the next 5 years.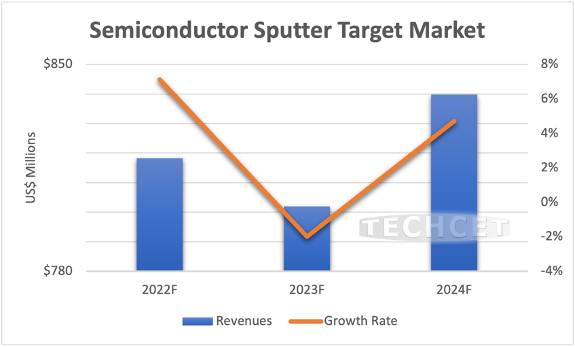 "Target suppliers have indicated that supply/demand balance for Copper/Copper Alloy targets have improved with slowing industry conditions," states Dan Tracy, Sr. Director at TECHCET. Since 2020, the supply/demand balance for these target materials have been tight, thus constraining availability in light of strong demand. Suppliers have also reported that lead-times for their target manufacturing equipment is returning to normal. The 2023 industry slowdown will benefit suppliers as they expand their capabilities and prepare to support the next upturn.
Many commodity metal segments experienced higher pricing pressures in 2021 through early 2022. While commodity metal pricing has pulled back from these higher levels as the global economy has slowed, target suppliers report high-purity metal pricing has not pulled back in line with commodity prices. In addition, machining costs and metal processing are key cost factors in the final target costs.
Longer term, there are structural issues in the supply of key metals given strong demand projections. This is especially due to green energy/zero emission related demand, and limited growth projections with mining output.
​For more details on the Sputter Targets market segment and growth trajectory, including profiles on suppliers like Linde, KFMI, Honeywell, JX, Furuya Metal Co., and more, go to: https://techcet.com/product/sputter-targets/