TECHCET—the electronic materials advisory firm providing business and technology information— announced that the wafer supply will remain constrained into and possibly through 2024. With 300 mm wafer capacity tightening, it will likely remain tight in subsequent years unless greenfield capacity is brought online. Based on current forecasts, 300 mm prime wafer demand will be at >99% of utilization production capacity in 2022. Epitaxial capacity utilization is also likely in the 99% range currently. Global 300 mm wafer production capacity will need to expand by 6% or more over the next two years to avoid a shortage in meeting the current 300 mm wafer shipment forecast. However, no new plants have been announced, which means that large capacity additions (if investments/building plans started today) will not happen until 2024 at the earliest. With so much need for growth, new investment for 300 mm greenfield will cost at least US$2 billion and take 2+years to complete before production will be able to start. In addition, suppliers have announced new greenfield investments will require LTAs based on higher pricing.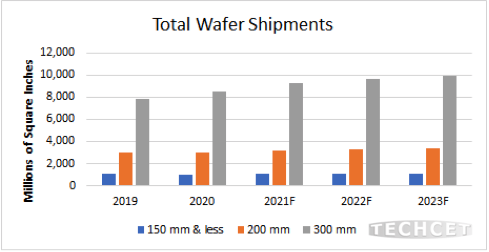 Larger fab customers likely will not feel the full impact of supply constraints and higher prices. However, the impact is likely to be more significantly experienced by "second-tier" customers.
For 300 mm wafers, "robust" reclaim and reuse efforts in place to reduce demand for test and monitor wafers. This reduces the need for wafer suppliers to support these wafer products. There is upwards pricing pressure reported in the market, including for 150 mm and 200 mm wafers.
Where will new greenfield investment by the top-tier suppliers occur?

New greenfield projects will likely be in Japan and in Southeast Asia, where electricity costs are lower.
Perhaps with funding through the U.S. Chip Acts, there will be an opportunity for 300 mm wafer manufacturing in the U.S. to support the planned fab investments announced by Intel, Samsung, and TSMC.
Critical Materials Reports™ and Market Briefings: https://techcet.com/product/silicon-wafers/