TECHCET announced 3D NAND memory evolution is driving increased use of WF6, NF3, and heavy noble gases (Kr and Xe), which may lead to a supply shortage. WF6 demand growth, with a CAGR of 14.2%, is expected to outstrip supply by 2024/2025. The high growth is due to increased use of tungsten in 3DNAND and fab expansions. NF3 demand growth, with a CAGR of 15.8%, is also expected to outpace supply by 2025. It is heavily used in chamber clean and etch processes across the semiconductor and FDP industry. NF3's demand growth is driven by 3DNAND and FDP post Covid recovery.
"Due to vertical scaling of 3DNAND, the demand for tungsten deposition (WF6) and chamber clean gases (NF3) for dielectric PECVD and tungsten ALD continues upwards and may cause a supply shortage in 2024 unless suppliers increase capacity," said TECHCET's Sr. Analyst Dr. Jonas Sundqvist. "As of now, no suppliers have specifically announced capacity increase." Hopefully, in the future, suppliers will announce capacity increases for WF6 and NF3 to combat this shortage.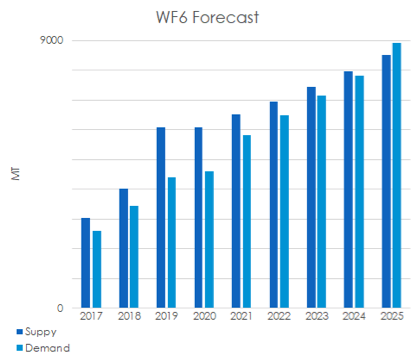 There is significant growth expected in Asia and in the US for gas companies. The US has announced numerous leading-edge fab expansions that will pull on the supply of specialty and rare gases (EUV). Fab Investments in Taiwan, Korea and China drive global demand adding a 
demand from memory fabs. Due to limited investments in EU fab infrastructure, EU Fabs will more and more have to rely on gas imported from overseas.As indicated in TECHCET's New Critical Materials Report™ on Electronic Gases 2021, the recovery for specialty gases is stronger than first anticipated and this will continue into 2022 due to ongoing chip fab expansions. Specialty gas has a 2020-2025 CAGR of 7.6%, while bulk gas has a CAGR of 4.2% from 2020-2025.