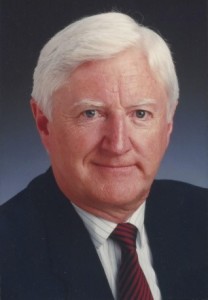 With sadness I post that Daniel J. Rose, Ph.D.—founder of Rose Associates—passed away on September 20, 2016, due to complications of Alzheimer's disease. Dan Rose received a Ph.D. in materials engineering from the University of British Columbia, and subsequently spent five years managing packaging manufacturing operations at Fairchild Semiconductor. He worked with and become friends with industry luminaries such as Intel's founder Robert Noyce, and National Semiconductor's founder Charlie Sporck.
In February of 1970, he founded Rose Associates, which initially provided engineering and manufacturing support to the semiconductor industry, establishing factories in the US and assembly plants in the Far East. In 1977, Rose Associates began conducting market research in electronic materials. In January of 1985, Rose Associates began publishing the Electronic Materials Report (EMR) monthly newsletter, and In 1986 held its first annual Electronic Materials Conference.
Dan Tracy, Ph.D.— SEMI Senior Director, Industry Research & Statistics—was one of Rose's associates who joined the trade organization in 2000 when it acquired Rose Associates' business. Tracy wrote a wonderfully heartfelt remembrance as a LinkedIn Pulse article (https://www.linkedin.com/pulse/dr-daniel-j-rose-phd-dan-tracy?trk=hb_ntf_MEGAPHONE_ARTICLE_POST).
—E.K.