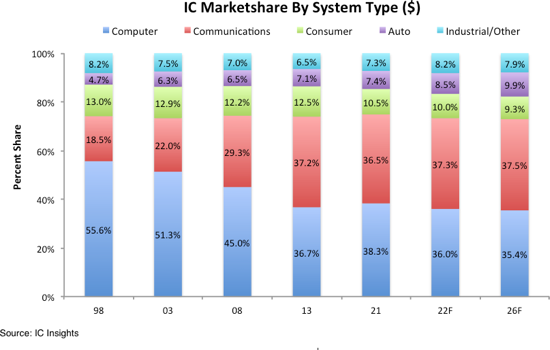 Automotive IC sales expected to post average annual growth of 13.4%; Communications and Computer segments remain largest applications.
Technical experts available at BCICTS 2022 and IMAPS 2022 to discuss packaging applications.
SEMICON West 2022 —CyberOptics
At SEMICON West 2022, Editor-in-Chief Pete Singer caught up with Subodh Kulkarni, President and CEO, of CyberOptics who provides some insights into the the company's next generation WaferSense® Auto Teaching System™ (ATS2) and new ReticleSense® Auto Teaching System™ (ATSR) that were introduced at the show. ATS2 and ATSR are multi camera sensors used with CyberSpectrum™ software to teach accurate wafer and reticle hand-off calibration for proper alignment and set-up of semiconductor tools. The sensors "see" inside to capture three dimensional off-set data (x, y and z) in real-time to quickly teach wafer and reticle transfer positions – all without opening the tools. Process and equipment engineers can conduct repeatable and reproducible setups and maintenance checks, speed trouble-shooting and eliminate technician-to-technician variation.
Semiconductor Daily Digest in your inbox